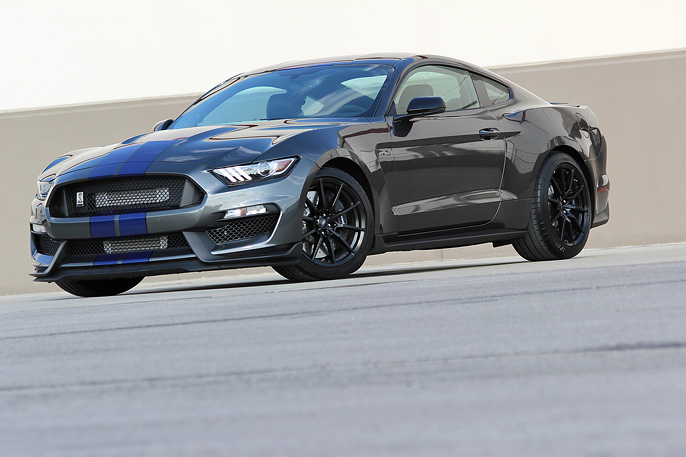 PROCHARGER NOW SHIPPING GT350 SHELBY MUSTANG
MAKING THE BEST MUSTANG BETTER….WITH BOOST!
How to do make the ultimate Mustang better? Well, we can admit the bar was set pretty high by the engineers at Ford on this one. However, we here at ProCharger Superchargers had a sneaking suspicion that just a touch of boost could raise that bar just a few notches higher!
---
BEAUTIFUL SUPERCHARGED MUSIC BEING SUNG AT 8,300 RPM…
Let's be honest the sound of the 5.2L VooDoo engine is mesmerizing to say the least. The flat plane crankshaft firing order just hits all the right notes making the hair stand up on the back of your neck, especially at 8,000+ rpm. We can't imagine the hours Ford engineers logged dialing in this motor to create such proper TQ and HP curves. All we know is that it's only natural for its power adder to enhance that power curve in the proper manor.
What do we mean by that exactly? Well, this Shelby GT350 is designed to be the ultimate "drivers" mustang and all out corner carving terror with a true balance between grip/power. To achieve those goals you need a predictable power curve, one that a centrifugal supercharger such as ProCharger delivers. Thanks to our efficient compressor design we have achieved enormous gains in TQ across the entire rev-range to enhance the entire driving experience from the entry of a corner, to the exit at wide open throttle.
With a ProCharger supercharger there is no "lag" in power to be waited on, no scary/dangerous throttle understeer situations. To put it simply this system flat out enhances every aspect of this amazing Flat Plane Crank engine with loads of predictable power, from the bottom of the rev-range all the way to that beautiful 8,300 rpm limiter.
---
A SYSTEM DESIGNED FOR LARGE HP GAINS AND BEYOND.
How about up to 150+ or more REAR WHEEL HP right out of the gate with just 6psi of boost and pump gas?
Bet we have your attention now,… since that's a pump gas friendly gain of over 175hp at the crankshaft on low boost! The ProCharger GT350 Mustang supercharger system comes 100% complete down to the ECM/PCM programing included, with NO permanent modifications to your Shelby. That's correct, you can enjoy all that power without cutting, drilling, bending, or any other modification to this wonderful Shelby Mustang.
For those wanting to turn this system up for running E85 or more boost, we have you covered. The GT350 ProCharger Supercharger kit, comes standard with DeatschWerks 95lb (1000cc) injectors, fuel pump booster, and massive air to air intercooler. With head units ranging from P-1SC-1 to F-1A-94 you can be ready for bolting on up to 1,200HP! Featuring a robust CNC billet bracket design, dedicated belt drive, and SFI approved aftermarket balancer adds up to a power adder system you can rely on.
Quick Specs:
Head Units – P-1SC-1 through F-1A94 (up to 1,200hp)
Intercooler – 1,008 cubic inch front mount air-to-air intercooler
Belt Drive – 8 rib Dedicated with SFI approved balancer
Fuel System – 95lb (1000cc) Injectors
NOW SHIPPING!
The wait is OVER, and yes you can now get your hands on this highly anticipated supercharger system. The tuner kits for shops and people doing their own fuel systems and tuning are already shipping, today. Full systems with ECM programing and fuel components are just days away from leaving the doors. However if you want to make sure your system will be leaving soon, we urge you to place your orders now to secure your spot on the list.
Tuner Kits — Now Shipping
Full Systems — Taking Orders Now
FOR MORE INFORMATION….
As always if you have any questions on this Ford Mustang GT350 Shelby supercharger system or any of the amazing supercharger kits we offer. Please do NOT hesitate to drop us a line at the following contact methods. We are open M-F 8:30 to 5:30pm CST.

Phone — 913-338-2886
Email — [email protected] (sales)
Email — [email protected] (tech)
Two other ProCharger blown GT-350's as seen as Mustang Week 2016 (one is a GT-350R)
This pair were crowd stoppers over the course of the week for good reason!