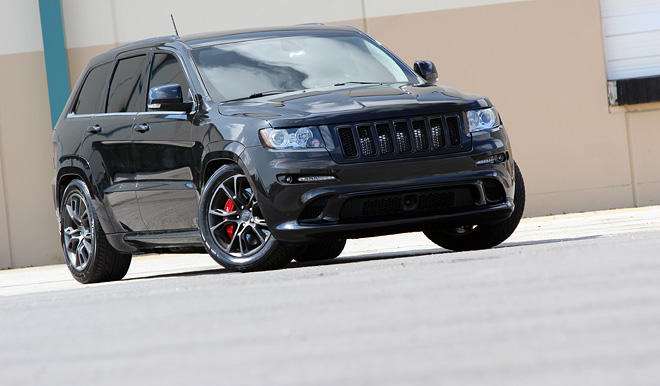 PROCHARGER JEEP SRT'S GO FROM THE HUNTED, TO THE HUNTER!
The 2012-2014 ProCharger Jeep SRT supercharger systems are now shipping all over the country like crazy!
And the reports are already flooding in about how exciting it is to be able to bolt on such brutal amounts of horsepower! OK so using the word "brutal" is a bit harsh we know, however that is literally the only word to describe just how massive that rush of acceleration is on these new WK2 Jeep SRT's. (After adding the ProCharger supercharger system of course) The feeling of being forced into the back of your seat with all 4 tires clawing for traction as 680 screaming HEMI horsepower hits the pavement.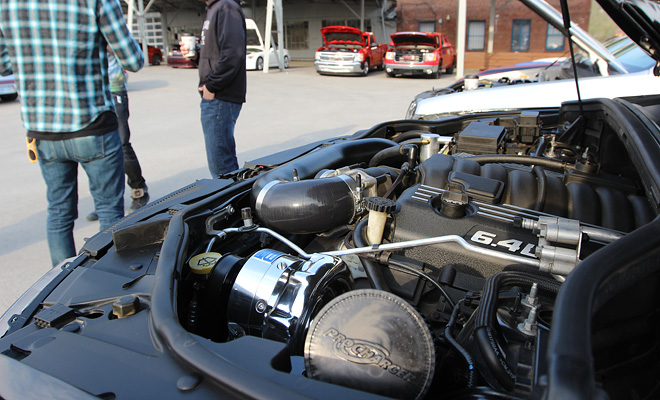 So what does 680 HP worth of ProCharger Jeep equal in the real world? How about the 3.4 second 0-60 times that our customers are reporting already! That's on 100% stock Jeeps, stock tires, stock ProCharger kits!Usually anything that accelerates that fast, requires a ticket and long wait in lines at the amusement park. Forget the lines, forget the tickets, and get ready to feel the rush every time your foot goes to the floor.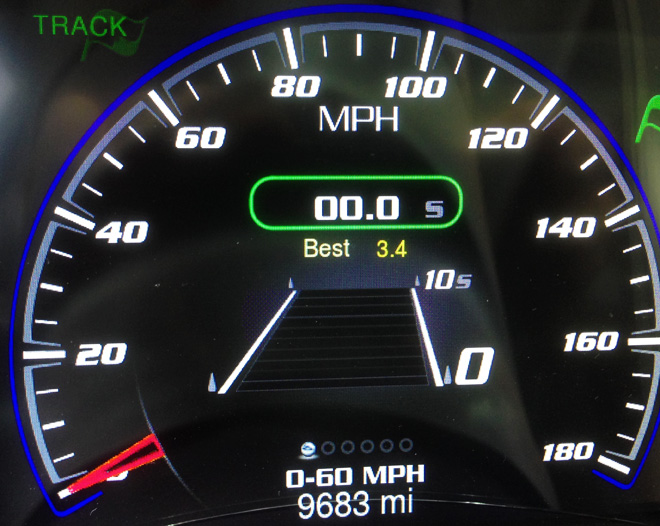 In the last blog we compared the ProCharged Jeep SRT to the Mercedes ML63, which was about as fair of a comparison as you can possibly get. Both being large luxury SUV's packing loads of HP. However the price vs. performance didn't really fare too well for the Mercedes ($98,400 AMG vs. $64,380 Jeep Grand Cherokee SRT) with over a 1.4 second advantage for the Jeep in the 0-60 department alone.
This time lets skip the fact that this is a 5,150lb SUV and see how it stacks up against other performance "cars" one might find at their office park, subdivision, or on the drive home. We could make this list twice as long, or include a few "super-cars" that can nudge out this heavy weight hauler by a few tenths of a second. However these cars listed are a pretty good idea of average performance cars that won't stand a chance against a ProCharged Jeep SRT.
0-60 times*
ProCharged Jeep SRT = 3.4 seconds**
Shelby GT500 = 3.5 seconds
Challenger Hellcat = 3.6 seconds
Corvette C7 = 3.8 seconds
Mustang GT = 4.4 seconds
Camaro SS = 4.7 seconds

*Based on Manufacture claims
**100% stock truck (with exception of Intercooled ProCharger system), stock tires and exhaust, stock system (Using Launch Control)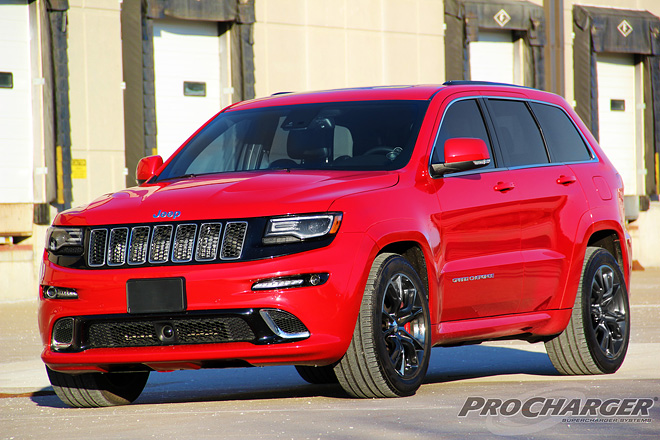 Even though this ProCharger supercharger system bolts on crazy amounts of horsepower, we here at ProCharger spend lots of time engineering systems to not only look OEM, but also to be easy to install. Yes, we said easy, so easy that an average car enthusiasts with a set of common hand tools, can install this system in their garage on a saturday afternoon. We know not all of our customers are going to install this system themselves; however, we have countless dealers across the country that will be more then willing to install this system for you. We will be happy to get you in touch with the dealers closest to you.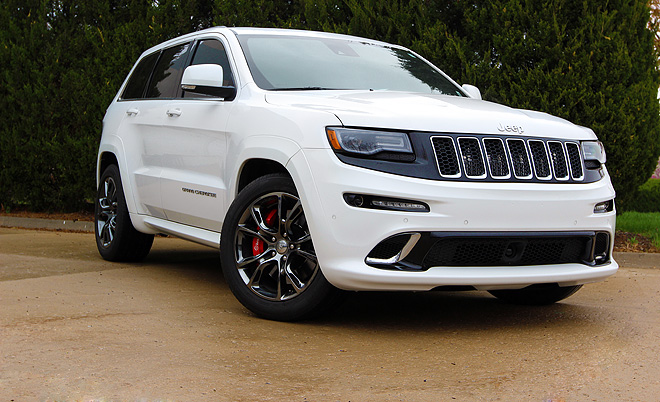 Obviously Henry Ford was known for the lack of diversity in color choices (black). However that's not the case here at ProCharger, so we offer up three different finishes for both the head unit, and the bracket system. You can mix and match between satin, polished, or wrinkle back finish to tailor your system exactly how you want it to look.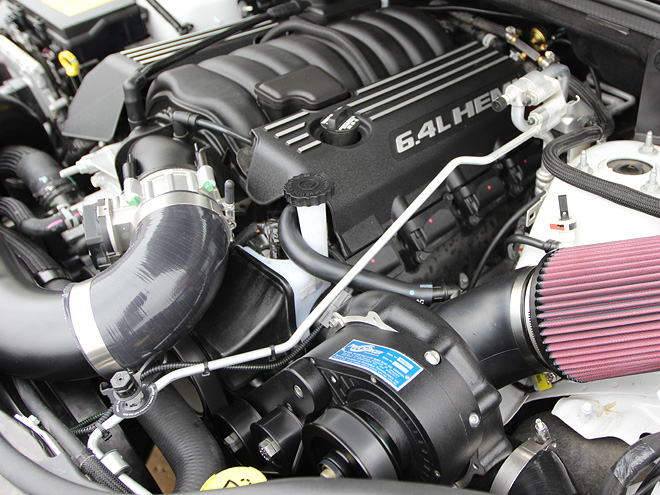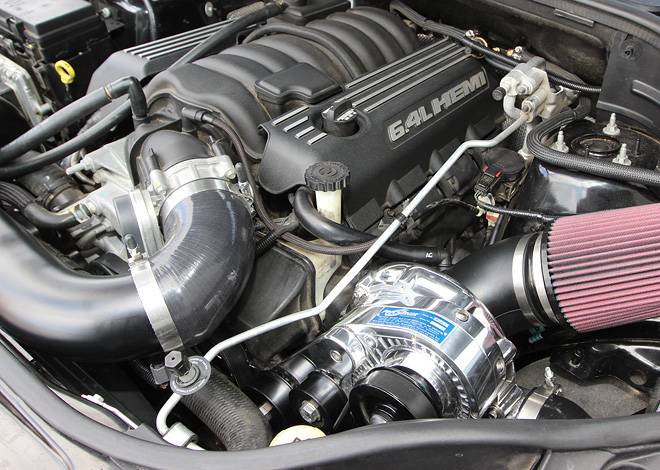 These Jeeps make big power, and big power demands big intercoolers. ProCharger went over the top in adding the largest and most effective air-to-air intercooler we could fit behind that grill. Not only does this intercooler keep the air charge temps down, and the power up. It also makes a HUGE visual statement to anyone that sees it in their rearview mirror.


This ProCharger supercharger system was designed with long lasting performance in mind. Thanks to the amazingly efficient P-1SC-1 supercharger and highly effective intercooler, massive power gains are possible with only 7psi of boost! Such a low boost number means you can be safe to run quality pump fuel from any gas station in the country (91+ octane).
If you are ready to turn your Jeep SRT Grand Cherokee into a power-producing, street-screeching monster, drop us a line and we'll show you the way. We're happy to answer any questions you have about this system or any other ProCharger supercharger system in our vast product lineup.
Email:
[email protected]
Phone:
(913) 338-2886
And remember to follow us on Facebook, and use #procharger or @procharger when sharing your ProCharger-powered ride!