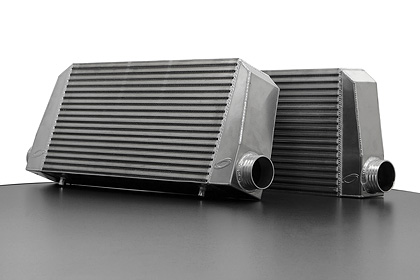 PROCHARGER INTERCOOLERS: HIGH PERFORMANCE THROUGH INNNOVATION
(Click for Larger Image)
Everyone knows that ProCharger is committed to building industry leading superchargers systems for street cars/trucks, and that we are almost unrivaled in the racing market. But did you also know for the past 20 years ProCharger has also been leading the way in bringing you highly effective air-to-air intercoolers, with the largest choice of sizes/models to ensure both effectiveness and flow are maintained not only for stock motors, but modified motors as well?
It's true, intercoolers play a huge roll in creating high HP while also maintaining engine reliability in a supercharger system. However, this important part is often never mentioned when comparing supercharger systems. In this blog we will cover the items that set the ProCharger intercoolers apart from the rest, to help illustrate what gives our supercharger systems the coolest air charge temperatures, and thus the largest, most reliable power gains available.
ProCharger was the original, introducing the aftermarket's first intercooled supercharger system over 20 years ago, a major innovation and nearly 3 years ahead of its nearest competitor. And that innovation continues. For all of the vehicles listed below, ProCharger offers the largest, most effective intercoolers with the broadest range of intercooler options.
Design
For starters, ProCharger uses the highly effective (and durable) "Bar and Plate" design for street/strip intercooler cores-the core itself is not only engineered to be of the proper size for the application, but also the core "spacing" of the bars and plates to ensure proper airflow flow to fluid systems behind the intercooler (IE: Radiator/Condenser).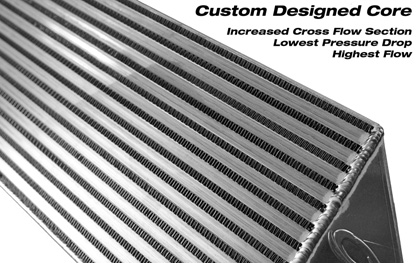 (Photo shows height of core stack)
One of the often overlooked aspects of an intercooler is weight. We all know that if its lighter, its faster, so with that in mind ProCharger engineers design light weight stamped sheet metal aluminum end tanks for our intercoolers, instead of commonly used (heavy) cast aluminum air-to-air units – not to mention the weight of a pump, secondary heat exchanger, coolant reservoir and coolant of an air-to-water-to-air intercooler system. ProCharger intercoolers are also of the highest quality, always manufactured at the ProCharger plant in Kansas City.
Testing
When testing/designing intercoolers, ProCharger has a three-fold approach:
1) Intercooler designs begin as 3D computer models
2) Intercoolers are tested in an Aerodynamic test cell
3) Intercoolers are installed and tested in the real world, at the track and on dyno
ProCharger not only tests to ensure the pressure drop across the core's flow path is at its absolute lowest, but also checks for proper temperature reduction between inlet and outlet. When intercoolers are being tested for their effectiveness, we are looking for the coolest air charge possible, but we also want to make sure the supercharger isn't working to hard to "push" air through the core itself. The computer models and test cell data can help us build a great performing core right out of the gate. The final piece of the puzzle is "real world" testing at the track to see how the intercooler works with the rest of the cars cooling system, as well as adequate aerodynamics.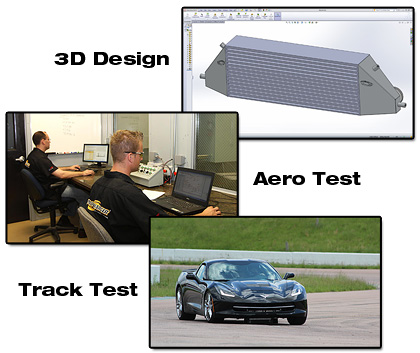 Sizing and Options
Another important aspect that sets ProCharger apart is that for most of our systems, we offer multiple interercooler sizes (or arrangements) to best fit your HP goals or driving habits. In this next part of the blog we will illustrate some of the various sizing and lay out options available for a few different supercharger systems.
For the 2011+ 5.0L Mustang, the animation below illustrates (3) different intercooler options in the form of the HO intercooler system, Stage 2, and Race. The HO intercooler features a highly efficient crossflow intercooler core for stock or slightly modified applications. Our Stage 2 offering swaps to a large side to side flow core that is 3.5″ thick offering great flow for modified applications pushing the power levels. For those going for the ultimate in charge cooling, the Race Intercooler with 4.5″ thick core can be ordered that features a MASSIVE 1296 cubic/inch Cooling Core! As you can see all (3) intercoolers fit behind the factory 5mph impact bumper, and no modification to the car is needed for installation.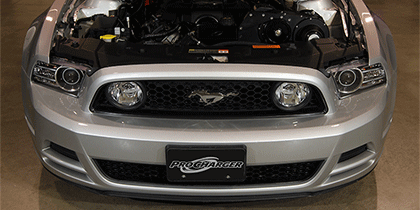 HO Intercooler = 540 cubic/in Cooling Core
Stage 2 Intercooler = 1008 cubic/in Cooling Core
Race Intercooler = 1296 cubic/in Cooling Core
The C7 Stingray Corvette is a car that is just at home on the road course as it is at the drag strip. At ProCharger we knew having an intercooler layout for each was needed. So using the same massive 972 cubic inch cooling cores, we developed both horizontal and vertical layouts, to match different driving habits. We recommend the vertical style unit for drag racing applications where high hp and absolute maximum cooling of the air charge is needed in short bursts. The horizontal unit is better-suited for road racing applications, where long periods of wide-open-throttle demand maximum airflow to other factory cooling systems.
Vertical Intercooler = 972 cubic/in Cooling Core
Horizontal Intercooler = 972 cubic/in Cooling Core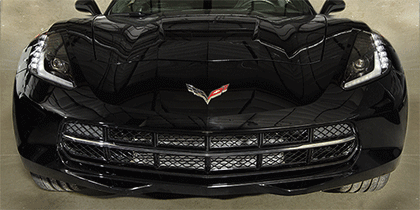 The next animation shows the two intercooler options available for the 2011+ 6.4L SRT Challenger. The HO intercooler features a high flow, top-to-bottom core design that maximizes available airflow through the cars front fascia. However, for those pushing horsepower/boost levels, and wanting the largest air-to-air intercooler available for new HEMI-powered cars, the Race Intercooler option with its 970 cubic inch core is also available.
Stage 2 Intercooler = 423 cubic/in Cooling Core
Race Intercooler = 970 cubic/in Cooling Core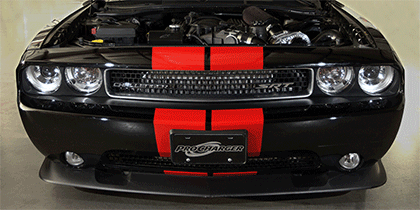 One of the most modified platforms we sell superchargers for is the new Gen 5 Camaro SS. To ensure we have the perfect intercooler for its wide range of power levels, ProCharger is happy to offer (2) different intercoolers. Much like as the 2011+ Mustang 5.0L, the base HO system offers a high-flowing vertical core design for stock or mildly modified vehicles. For those pushing the power levels with modified motors or using their Camaro SS for heads-up racing, we offer the Race unit that switches to a side-to-side core and 4.5″ thick core, for the ultimate in charge temp cooling.
HO Intercooler = 486 cubic/in Cooling Core
Race Intercooler = 1296 cubic/in Cooling Core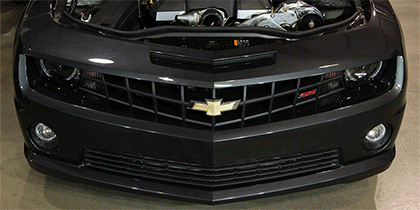 For those truck lovers out there, we didn't forget about you–below you can take a peak at the two different intercooler options available for the Ford F-150 Raptor. The Stage 2 intercooler is standard with its high flow vertical core design, and the Race intercooler option is for truck racing applications, or where low speed/high load conditions demand even higher intercooling efficiency (such as towing, etc).
Stage 2 Intercooler = 486 cubic/in Cooling Core
Race Intercooler = 1296 cubic/in Cooling Core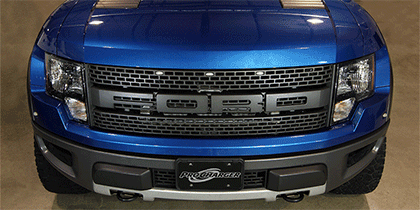 For more information on intercooling in general, including the benefits of air-to-air vs air-to-water-to-air for street use, please visit our Intercooling page HERE
Thanks for reading, and if you have any questions or comments, please feel free to reach us at 913-338-2886 or email us at [email protected]