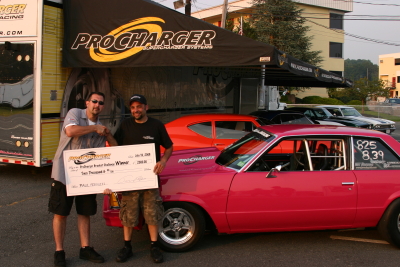 PROCHARGER GIVES AWAY $3,000 AT SUPER CHEVY SHOW
It was a weekend full of hot weather and hot cars at the Maple Grove Super Chevy event, July 18th-20th. ProCharger again brought the big rig to Pennsylvania to show off some of our meanest customer cars and to give away $3,000 in the ProCharger Bracket Challenge.
Several ProCharged customers showed up with their street machines for the car show and ended up making their way to the ProCharger display to show the onlookers how happy they are with their supercharged beasts. There were a few times at the ProCharger display area where it was actually a little difficult to walk around because there where so many ProCharged customer vehicles!
The action really got going on Saturday when we started the ProCharger Bracket Challenge, a bracket race only open to ProCharger equipped vehicles. The field ranged from a 7 second dragster to a GM truck that pulled a race trailer to the event! The action was great but the finals is where it really got interesting with a match up between Cory Seiverling in his Chevy crew cab street truck / tow rig and Paul Ferrucci in his eight second Malibu. After running consistent 8.40's all day Ferrucci ended up with the win, and proved the consistent predictable power of a ProCharger, when he ran an 8.391 quarter mile on an 8.390 dial-in! Seiverling took the runner-up prize of $1,000 and Ferrucci ended up with the $2,000 grand prize. Congratulations guys!