PROCHARGER FOR ALL YOUR SCREENS: TV, YOUTUBE, SOCIALS AND MORE!
BOOST MEDIA FOR ALL: PRO MODS, OUTLAWS, STREET, AND MORE!
It doesn't matter where you look these days in the world of horsepower, chances you'll find some ProCharger supercharged awesomeness. Could we possibly cover it all in this blog? NO WAY! However, here are some random highlights that caught our eyes over the last few months, so we hope you enjoy them!
---
PROCHARGER SETS NHRA PRO MOD RECORD! (JOSE GONZALEZ)
It's not much of a secret anymore, but the ProCharger powered Pro Mods are on a roll. And all of us here in the ProCharger corporate offices are so excited to tune in each event, to watch all these amazing drivers, crews, and teams do battle on the TV. Between the sights and sounds of these cars, it's easily become one of the most fun classes to watch, and we can't see that slowing down anytime soon. Also, a MASSIVE congrats to Jose and his team for this amazing pass as seen below.
---
ALL GIRLS GARAGE BOLTS ON 300+ PONIES!
Cristy Lee, Sarah Lateiner (better known as Bogi) and Faye Hadley are the ladies behind All Girl's Garage, airing on Motor Trend, and they added a ProCharger Intercooled Supercharger System to a customer's 2017 Mustang GT. Making an extra 300hp crank horsepower, said customer has more than enough steam to get groceries, do burnouts for days, and humiliate other drivers at the green lights
If you want to watch this video in full length, with all the details, please click HERE.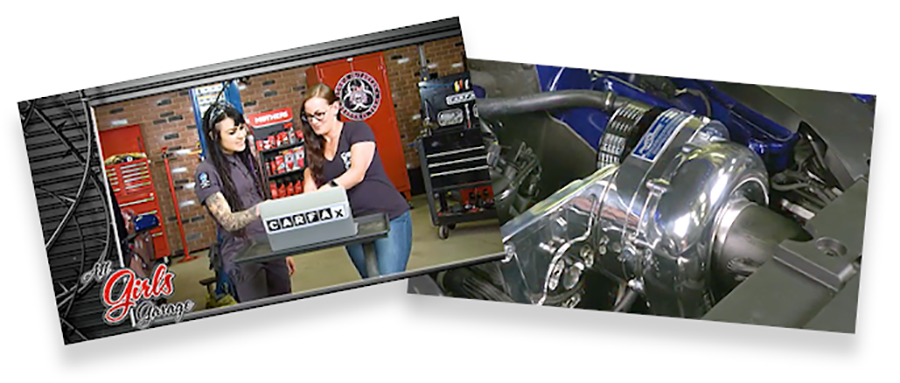 ---
LATE MODEL ENGINES: 1,548HP / 1,784HP ON PROCHARGED 427″ LS!
The guys at Late Model Engines were given a super strict budget to build this motor by the gang at LSXtv.com and WOW did it deliver. Making 1,548 on the smaller ProCharger F-1A-94, then belting out a mind-melting 1,748hp with the ProCharger F-1X strapped to the bracket. The best part, this was done on a normal serpentine belt, just as it would be run in say a Corvette, or other LS swapped project car or truck.
---
THE FAST LANE TRUCK: DRIVES PROCHARGER F-250 7.3L SUPERDUTY!
Since ProCharger was the very first to add boost to the new Ford 7.3L gas motor known as "Godzilla"…we already knew how much fun these trucks were to drive with boost. However, it was amazing to see the guys at FLT take one for a spin and have the very same smile on their faces. The ProCharger kits give you loads more HP to pull, pass and play… making these super-duty trucks feel ultra-light and nimble. (Just don't blame us, when you have way too much fun showing off, and burning those rear tires off).
---
MURDER NOVA PUTS HIS PROCHARGED 1955 CHEVY ON DYNO!
Most don't know, but this is one of the cars that Oklahoma Street Racing superstar Shawn Ellington has owned the longest. Yes, the man behind the "Murder Nova" has a deep love for this Tri-Five chevy, and we are beyond excited to be the power adder of choice for him to get it back to enjoying some time behind the wheel of it. Now, what was wild is that he is running a none-intercooled setup, which is kinda unheard of these days, however interesting to see the good power results even from the efficient ProCharger boost, no intercooler, and some E85 for fuel. We look forward to seeing more of this build in the future.
---
THE GUYS FROM ENGINE POWER TV CRACK THE 1,000HP MARK!
For this episode, they grabbed a new Mustang off the showroom floor and proved that 1,000hp at the crank can be achieved the easy way. The guys added just two simple modifications to make this monumental horsepower goal. 1) The ProCharger Stage 2 supercharger system, featuring a P-1X head unit, and 2) a custom fuel system to feed this thirsty monster. In the end, the result is…
If you want to watch this video in full length, with all the details, please click HERE.
---
WELDER UP / STEVE DARNELL RIPPIN' HIS PROCHARGED 1957 CHEVY!
We have all seen the Semi-trucks, the Rat Rods, and all the tricked-out toys that Steve Darnell has created. Well, when it comes time for his personal car to get some boost, we are beyond excited he chose ProCharger as his power adder of choice. We will admit when we first saw this LS swapped TriFive on the internet, it took us at least 15 min. to peel our eyes off the monitor. The level of detail in the build is out of this world and screams "Welder Up" through and through. Enough of the chit-chat, we hope you enjoy this video as much as we did.
---
IS PROCHARGER THE UNOFFICIAL SUPERCHARGER OF MONDAY NIGHT?
Between OKC, Memphis, New Orleans, and No Prep Kings… the list of ProCharger racers has now grown to 25 and climbing using ProCharger as their power adder of choice. Now, this didn't happen by accident, this is thanks to all the hard work these racers put into dialing in the power these big centirfugals make and getting to the ground on these unprepped tracks and streets. Here is a quick rundown of some of the guys (and gal) running ProChargers…
Boddie, Travis Santa Cruz, Ryan Martin (daily driver and race car), Dave Comstock, Damon Merchant, Doc Love (daily driver), James Goad (daily driver and race car), Robin Roberts (daily driver) John Quick, JJ da Boss, Jeff James, Anthony Smith, Larry Roach, Brent Self, Scott Taylor, Jack French, AZN (daily driver), Farm Truck (Gone o rail), Brent Austin (daily driver and race car), Derek Travis, Jackie Knox, John Gentry, Kayla Morton, Shane Mcalary, Shaun Wilhoit (daily driver)
Again, we are PROUD to watch these drivers, builders and crews do battle each week on our TV sets and at the track events. And we can't wait to see how 2021 unfolds for these racers!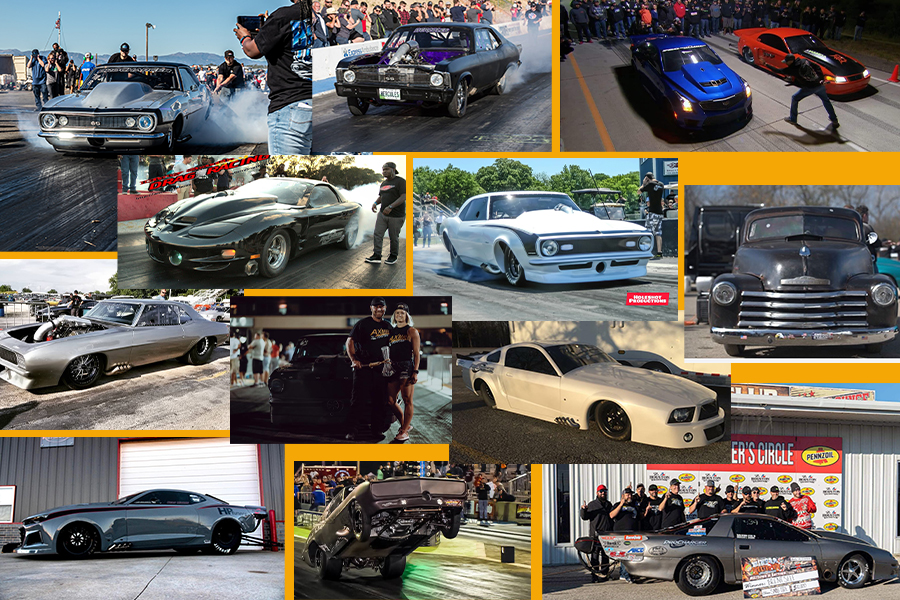 ---
HOONIGAN: PROCHARGED CUTLASS VS. TANNER FOUST'S DRIFT TAXI!
Built in a home garage, by its owner… and taking on one of the most famous LS swapped VW's on the planet. We can't help but be proud of Brian King and his car known all over the internet as the "AWD Cutlas." Taking cues from the Trailblazer SS drivetrain and adapting it to work in the Cutlas was all done by Brian, then adding a custom supercharger bracket to hold a ProCharger F-1X was just icing on the cake. Don't let the ultra-clean engine bay full of custom homemade carbon fiber fool you, this thing is a SERIOUS piece of hardware. Don't just take our word for it, just enjoy this video!
---
VICE GRIP GARAGE: PROCHARGED INDEPENDENCE CHEVELLE BUILD!
In a world filled with 3500hp ProCharger ProMods, and crazy builds like the Cutlas shown on this blog… it's also refreshing to see someone get "back to basics"…and show that a little boost goes a long way. Derek did exactly that, as he took arguably the easiest engine to make big reliable power with (Big Block Chevy), and added the easiest power adder around…a ProCharger system. And to make it even more simple, since it was such low boost, he even decided to run it none-intercooled to cut down on install time. We are so excited to see this car brought back to life and ready to tear up burnout contests across the U.S.! (Teaser: it just did its first event, and stunned the crowd with red and blue smoke pouring off the rear tires!)
---
ENGINE POWER TV: 997 HP FROM PROCHARGED SMALL-BLOCK!
So we just talked about the "back to basics big block" up above, so how about a small block? Well, the guys you know and love at Engine Power TV (Pat and Mike) did exactly that, when they strapped on a simple 8 rib Intercooled ProCharger set up to their 406 cube build. The results were amazing with 997 hp from 100% off-the-shelf parts from the Summit catalog without even getting crazy with boost! Now the question is, what would YOU put this motor into?
---
STOP WATCHING AND START SUPERCHARGING!
Give our sales staff a call or email us at the following contact methods below. Or you can click HERE to find a dealer nearby to help out with your vehicle. We will be happy to assist you with any technical questions about supercharger systems and the results you can expect.
Phone – (913) 338-2886
Mon – Frid 8am – 5:30pm CST
Sales Email – [email protected]
Tech Email – [email protected]