PROCHARGER = FAST MUSTANG
Being innovators of horsepower with the broadest offering in the industry, we at ProCharger like to recognize those who, like us, continue to push the envelope of performance.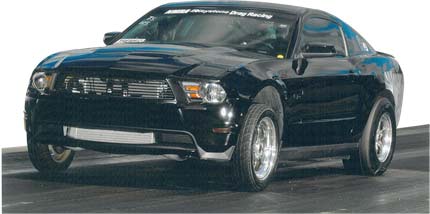 Recently at the NMRA All Ford World Finals in Bowling Green, KY, a ProCharged 2011 Mustang GT featuring only bolt on mods and a D-1SC ran an amazing 10.29 @ 132 mph. The GT was equipped with a BOSS intake, full exhaust, cat delete, aluminum drive shaft, and an automatic transmission with a stall converter. The intercooled D-1SC at 14 PSI helped propel them deep into the 10's.
The guys over at American Muscle have done it with the first 2011 V6 Mustang in the 11's. How did they do it? With a ProCharger of course. When they set their sights on running 11's, they knew the HO Intercooled ProCharger Tuner Kit would give them the best dollar per horsepower return in the industry. The P-1SC-1 equipped V6 pony car posted an impressive 11.94 @ 115 MPH at Maryland's Cecil County Dragway. They followed the run up with an 11.90 pass @116 MPH. No matter what flavor of Mustang you have, there is no
denying the Ultimate Power Adder will throw you back in your seat with a smile on your face.