ProCharged Racers Dominate the Winner's Circle

ProCharged vehicles shine on the race track. And 2022 has been another amazing year for ProCharged racers. 2022 has also been super exciting for ProCharger staff, as we've resumed our participation in several key race events. Check out all the fun our racers have been having and we've been having!
ProCharger Cheers on Racers at Indy, LS Fest
One of the most exciting things for ProCharger in 2022 is resuming our participation in major race events. We so missed the face-to-face connection with fans and racers. In the past few weeks, we attended both NHRA US Nationals in Indianapolis, IN, and LS Fest in Bowling Green, KY.
NHRA US Nationals Had to Be One of the Biggest Ever!

Just wow. We couldn't believe how many people came out for this event, both the fans and the racers. It was exciting to see how many ProCharged vehicles there were –
5 Pro Mod cars
4 Top Sportsman cars
18 of the 32 Top Dragster cars
1 Comp Eliminator car
The passion pumping from a crowd that size, combined with the massive horsepower from the race cars made this an exciting event. We couldn't be more proud of all the ProCharged racers. They had huge wins at this event –
Winners:
Rusty Baxter – Top Dragster
Runners up:
Dane Ward – Top Dragster
Kris Thorne – Pro Mod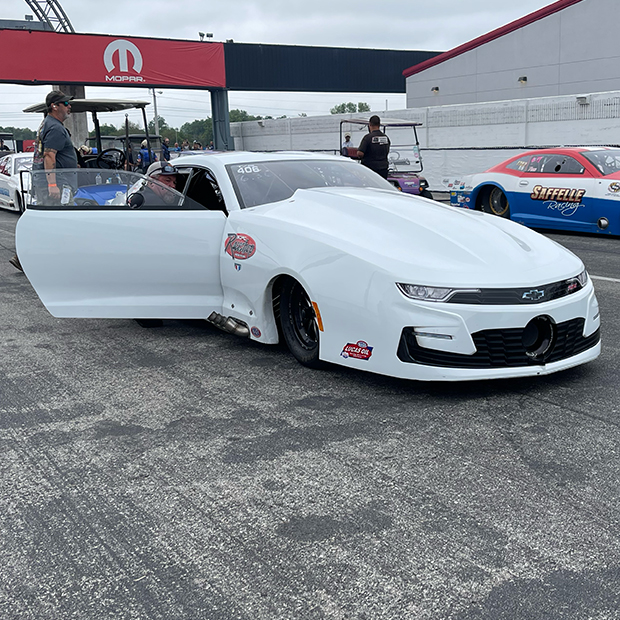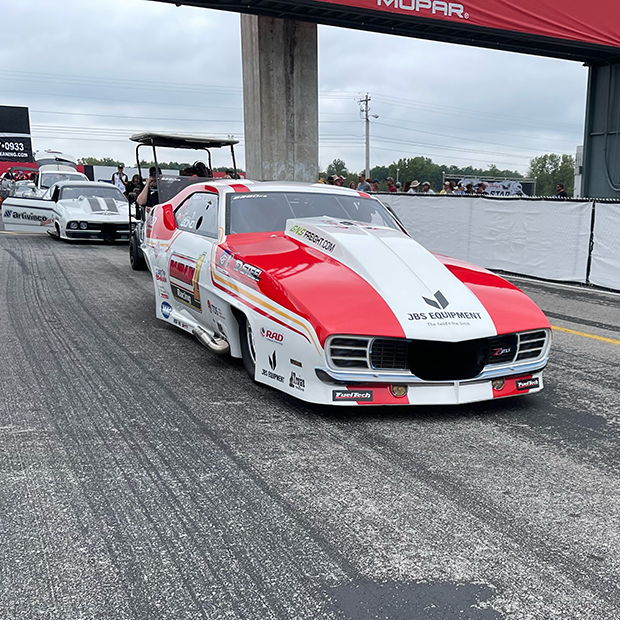 LS Fest East and Demolition Matt's Impala Burnout
Besides the gorgeous green, rolling hills, Bowling Green delivered a huge amount of fun. From autocross to drag racing, LS Fest East was a constant buzz of activity. With multiple events happening every hour, a single person couldn't see it all. Loads of people stopped by the booth to say hi, which we loved! The crowds, the racers, the enthusiasm and creativity with LS engines – it was an amazing event to attend.
By far, the most fun event had to be the burnout competition. For hours, the crowd cheered for tire shredding action, the pinnacle of which was "Demolition Matt's" gold Impala. It performed the same rotating maneuvers to produce excessive amounts of smoke, but with the added bonus of a hydraulic, rhythmic dance. It really was next-level. And we couldn't be more proud, as this is the same vehicle we ProCharged on an episode of OffTheRanch last month.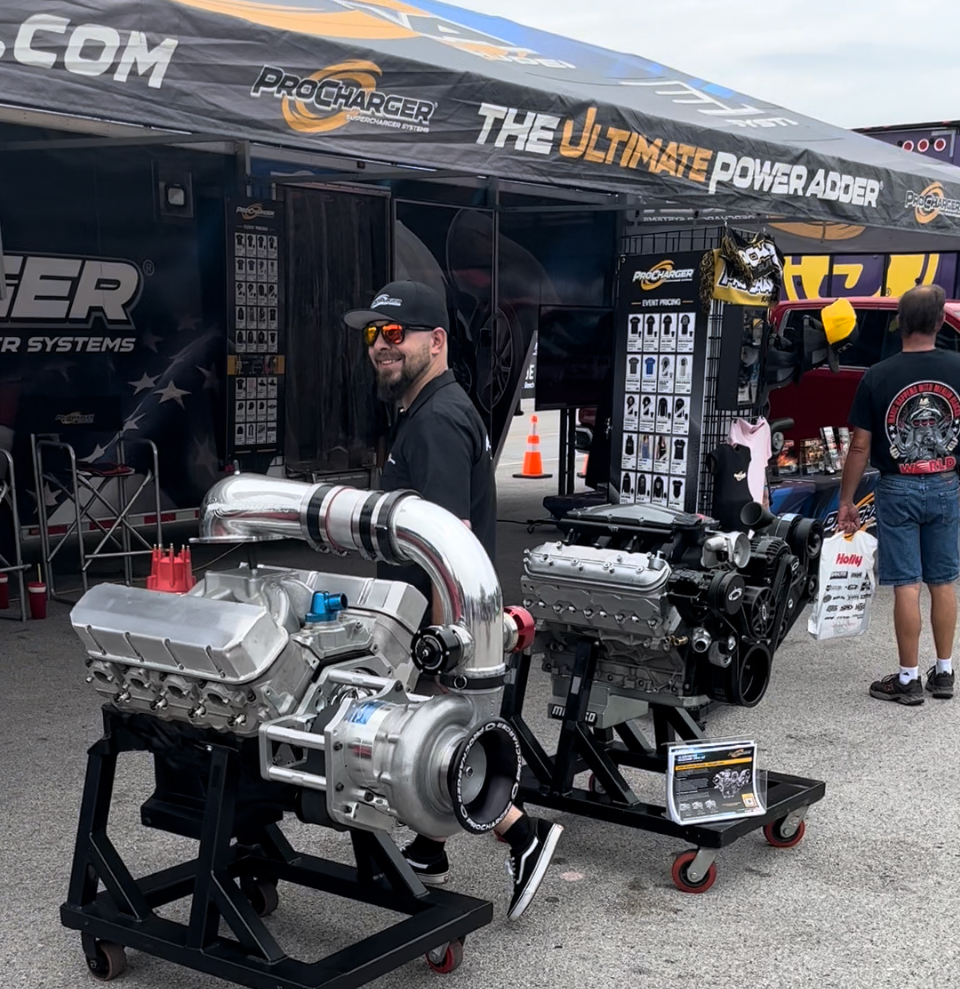 Race Season 2022 Update
While the events we attend are fun to share, the more exciting news is how our racers are performing. We have three (3) champions so far this year – Brian Carpenter in GTSA Outlaw 660 with his ProCharger F3R-136, Tommy Johanns in PSCA Outlaw 10.5 with his F4X-140, and Jake Mason in Titans of 10.5 with his F3R-13. We're counting at least 150 National and Divisional event winners and 79 runners up. Since our last racing update in May, here are some of the event winners:
NPK
Manny Buginga
NPK Future Outlaws – Maple Grove 5/15/22
NPK Future Outlaws – New England Dragway 5/21/22
NPK Futures – National Trails 6/4/22
NPK Outlaw Big Tire – Bowling Green 6/11/22
Ryan Martin
NPK Invitational – New England Dragway 5/21/22
NPK Invitational – National Trails 6/4/22
NPK Great 8 – Bowling Green 6/10/22
NPK Invitational – Bowling Green 6/11/22
NPK Invitational – Houston 6/25/22
NPK Great 8 – Tulsa 8/13/22
NPK Great 8 – Houston 6/24/22
NPK Great 8 – Firebird 8/26/22
NPK Invitational – Firebird 8/27/22
NPK Great 8 – Norwalk 9/24/22
Steven Brindle
NPK 20k Shootout – Bowling Green 6/10/22
NPK Futures – Bowling Green 6/11/22
NPK Futures – Bandimere 9/17/22
Dave Comstock
NPK Great 8 – Maple Grove 5/20/22
NPK Great 8 – New England Dragway 5/21/22
Mark Dykeman
NPK Small Tire – New England Dragway 5/20/22
Russell Stone
NPK Small Tire – National Trails 6/3/22 (split)
Greg Chandler
NPK Futures – Brainerd 6/18/22
Marty Robertson
NPK Futures – Houston 6/25/22
Brent Self
NPK Small Tire Shootout – Tulsa 8/13/22
NPK Small Tire – Tulsa 8/14/22
Kevin Rivenbark
NPK Futures – Firebird 8/27/22
Kayla Morton
NPK Invitational – Tucson 9/10/22
Kyle Canion
NPK Futures – Tucson 9/10/22
Mike Chandler
NPK Outlaw Big Tire – Norwalk 9/24/22
Nate Sayler
NPK Futures – Norwalk 9/24/22
NHRA
Jacky Bennett
NHRA Divisional Top Sportsman – Rockingham 5/22/22
Blake Peavler
NHRA Divisional Top Dragster – Indy 5/22/22
NHRA Divisional Top Dragster – Norwalk 6/5/22
Rusty Baxter
NHRA Divisional Top Dragster – Texas Motorplex 5/22/22
NHRA National Top Dragster – Indy 9/5/22
Johnny Camp
NHRA Divisional Pro Mod Rumble Wars X8 – Norwalk 6/5/22
Dane Ward
NHRA Divisional Top Dragster – Tulsa 6/12/22
Tom Bayer
NHRA National Top Dragster – Sonoma 7/24/22
NHRA National Top Dragster – Seattle 7/31/22
Kris Thorne
NHRA Pro Mod – Norwalk 6/26/22
NHRA D Wagon Shootout – Brainerd 8/21/23
Justin Bond
NHRA Pro Mod – Topeka 8/14/22
Al Peavler
NHRA Divisional Top Dragster – Bowling Green 8/28/22
NMRA
Samantha Moore
NMRA Limited Street – St Louis 5/16/22
NMRA Limited Street – Norwalk 6/12/22
PDRA
Johnny Camp
PDRA Pro Boost – Norwalk 5/28/22
Larry Roberts
PDRA Elite Top Dragster – Norwalk 5/28/22
Steve Furr
PDRA Elite Top Dragster – MIR 6/25/22
PDRA ProStars Elite Top Dragster – VMP 7/30/22
Randy Weatherford
PDRA ProStars Pro Boost – VMP 7/30/22
Tim Essick
PDRA Pro Street – Maple Grove 8/13/22
Dan Whetstine
PDRA Super Street – Maple Grove 8/13/22
Phil Mollichella
PDRA Elite Top Dragster – Maple Grove 8/13/22
Michael White
PDRA Elite Top Dragster – VMP 7/17/22
Radial Outlaws
Daniel Pharris
Radial Outlaws RvW – Steele 9/17/22
Rob Goss
Radial Outlaws X275 – Steele 9/17/22
Brian Keep
Radial Outlaws Ultra Street Second Chance – Steele 9/17/22
Marcus Birt
Radial Outlaws Pro 275 – Steele 9/17/22
MWDRS
Al Peavler
MWDRS Top Dragster – St Louis 6/18/22
Dustin Nesloney
MWDRS Pro Mod Slammers – St Louis 6/19/22
Roderjan Bustao
MWDRS Pro Mod Slammers – US 131 Dragway 9/10/22
Other Series
Dan Whetstine
Warriors Outlaw– MIR 5/14/22
Jason Riley
OSCA Real Street – Crossville
Adam Plunkett
Mean Street Mania Small Tire – Twin Cities Raceway 5/21/22
Kenny Hubbard
Space City Showdown 3.0 X275 – Houston 5/20/22
Isaias Rojas
PMS Pro Mod – Salinas Speedway 5/29/22
Eric Pappageorge
Battle on the Mountain True Street – Crossville Dragway 5/28/22
Tommy Johanns
PSCA Outlaw 10.5 – Bandimere 5/28/22
Jeff Mills
Dragway 42 Outlaw Limited Street – 5/28/22
Tommy Johanns
PSCA Outlaw 10.5 – Bandimere 6/12/22
Adam Plunkett
Limpys Big Tire – 6/10/22
Brent Self
Limpys Small Tire – 6/10/22
Battle of the Ozarks Cash Days Small Tire – Ozarks Raceway 7/15/22
MDR Small Tire – Bonne Terre 7/23/22
Small tire – Atmore dragstrip 08/06/22
Big tire – Atmore dragstrip 08/06/22
Bud Buck
Tri State Shootout Street Car – Cecil County 6/11/22
Nick Kessler
Krazy Kelly's No Prep Big Tire – Medford Dragstrip 6/10/22
Brad Scherr
Prize Fight Limited 235 – Ohio Valley 6/18/22
John Warren
Prize Fight Shifty Shady Shootout – Ohio Valley 6/18/22
Doug Yates
Brainerd Raceway 4.40 Outlaws – 6/18/22
Dean Bettenson
WCPR Pro Mod – Mission Raceway Park 04/02/22
Brian Carpenter
Cash at the Creek Small Tire – Grove Creek Raceway 7/16/22
Cash at the Creek Small Tire – Grove Creek Raceway 8/13//22
GTSA Outlaw 660 – Brainerd International 9/2/22
Bile Cole
Warriors Outlaw – MIR 7/16/22
Russell Stone
Rumble in the Jungle Anything on 28's – Texas Motorplex 7/23/22
Johnny Camp
Rumble Wars Extreme 8 Pro Mod – Norwalk 08/06/22
Heavyweight 8 Pro Mod – Dragway 42 9/10/22
Tommy Johanns
PSCA Outlaw 10.5 – Bandimere 8/14/22
Rodney Weisser
Cash at the Creek Big Tire – Grove Creek Raceway 8/13/22
SRD Shootout Big Tire – Top End Raceway 8/27/22
Outlaw Big Tire – Thunder Valley Dragway 9/24/22
Jim Tietge
Back of the Track Big Tire – Columbus 8/13/22
Paul Sheffield
PSCA XDR – Bandimere 8/14/22
Kevin McCurdy
NE Pro Mods Pro Mod – MIR 8/21/23
Art Raz
West Coast Grudge Outlaw 10.5 – Woodburn 8/27/22
West Coast Grudge Outlaw 10.5 – Woodburn 9/17/22
Kelly Jones
Kings of the Asphalt Big Tire – Salem Raceway 8/27/22
Ben Knight
XDA Top Sportsman – VMP 8/28/22
Raymond Matos
Rotors vs Pistons Pistons – Salinas Speedway 8/27/22
Timo Poulos
Legacy No Prep Real Street – Grand Bend Motorplex 9/3/22
Ontario Street Outlaws True Street – Toronto Motorsports Park 9/24/22
Justin Palmer
NE N/T Small Tire N/T – New England Dragway 9/10/22
Tim Essick
Shakedown Pro Street – VMP 9/17/22
Brad Schehr
Shakedown Limited 235 – VMP 9/17/22
Tony V
MKE Real Street Takeover Small Tire – Great Lakes Dragway 9/17/22
Finley Gambrel
Temple Harley Drags Outlaw Bagger – Little River Raceway 9/24/22
Brendan Mock
Nostalgia Drags Small Tire – Mid America Dragway 9/24/22
Dale Lester
Flashlight Drag Party Big Tire – Penwell Knights Raceway 6/24/22
Jake Mason
Titans of 10.5 #6 – Mo-Kan Dragway 9/24/22