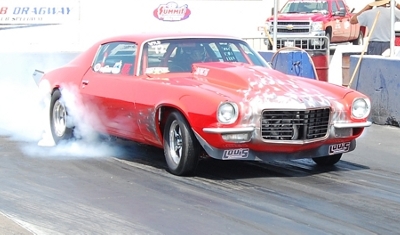 PROCHARGER CHAMPION: AL JIMENEZ
ProCharger racer Al Jimenez has successfully locked up the Pacific Street Car Association (PSCA) Wild Street 2008 Championship! Traveling to races all over the west coast, Jimenez ran consistently in the 7's all season to secure the championship. The PSCA Wild Street championship wasn't the only accomplishment of this race team for 2008, Jimenez also set the record for the fastest car on a 275/60 radial tire with a 7.59 quarter mile E.T.
Based in Pacoima, CA, Jimenez drives a 1972 Camaro with a 540 cid BBC on gas making more than 1,600 horsepower. This monster is fed by the proven self-contained F-2R ProCharger supercharger.
ProCharger would like to congratulate driver Al Jimenez, crew chief Eddie Rios and the rest of the crew on their 2008 PSCA Wild Street Championship. We look forward to seeing Jimenez back in the PSCA winner's circle in 2009.