PROCHARGER C7 SYSTEMS, TRACK PROVEN PERFORMANCE.
What makes ProCharger the ultimate leader in supercharging this new LT-1 C7 platform?
It starts with rock solid engineering of the best supercharger system possible, then backing it up with real world testing and evaluation. What this creates is the best product possible, and opens up options for our customers to get the system that fits their driving habits perfectly. After all the C7 isn't a "one size fits all" kind of car, neither should the supercharger system.
(570rwhp P-1SC-1 System, with polished head unit, black brackets, and race inlet options)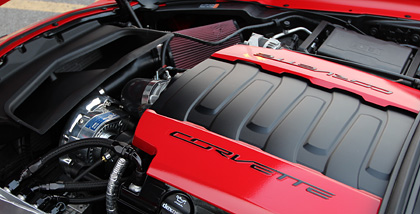 ProCharger knew that new Stingray owners would be supercharging their C7 Corvettes for uses ranging from drag racing, to road racing, and your everyday spirited driving across the country (and world). So we spent countless hours in the lab, and on the track to perfect this supercharger system for all types of driving. This blog is going to cover a little bit of everything from R&D track testing, to kit options, and some of the small little items that make this system an industry leader.
In a little bit we will have a more in-depth road corse blog post, however here are some teaser photos from the last trip out to Heartland Park, in Topeka KS. We spent lots of time developing our horizontal intercooler option, to optimize it for road racing applications. Not only was lots of data collected on this trip, this was a longevity test of the "tune" that comes with our full system. Not one single change was made to the ECU's tune during this entire day of road course testing, proving confidence in the tune supplied to our customers.
(Entering the front straight)
(135mph exit of front straight)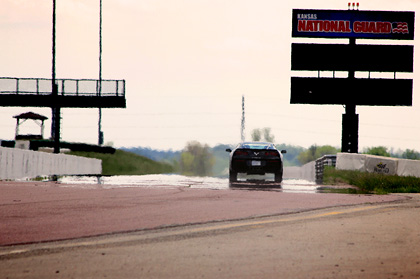 What does it take to get the ultimate amount of data collection on a track day? Here are some photos of the ProCharger C7 Stingray loaded down with enough data collection equipment to make the guys from Myth Busters jealous. It might not be pretty, but collecting raw data usually never is. The ProCharger engineering staff, collected pressure and temperature readings from all over the engine, supercharger system, as well as the car in general throughout the entire day of track testing. Every imaginable parameter from the ECU/TCU were also logged, all while running lap logging, to ensure consistent lap times from our driver.
(No room for riding shotgun today)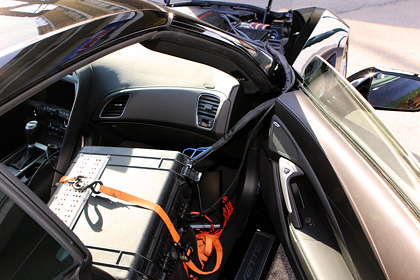 (It took 3 lap tops on board to capture all data each run)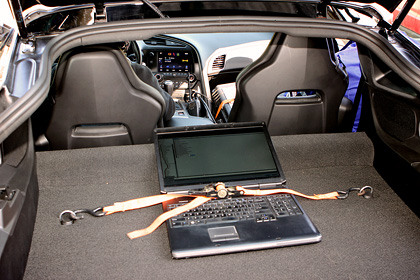 For data collection consistency, ProCharger thankfully can rely on the expert driving of AMA and ASRA licensed road race expert Walt Sipp, to drive this Corvette C7 Stingray right at the edge, consistently lap after lap. When Walt isn't perfecting his driving/riding abilities on the road course, he also works on the ProCharger sales staff team, ready to answer any questions you may have.
(Walt Prepping his Cockpit)
And for those that "live your life 1/4 mile at a time" (sorry we had to say it), we have been track testing the Corvette C7 down the 1/4 mile with the vertical intercooler option as well. With another track rental session coming up here soon, we won't go into much details just yet, but can say that the system performs well beyond expectations. Thanks to the extremely efficient P-1SC-1 head unit, and the largest intercooler of any C7 supercharger system, drag racers will be enjoying this system for years to come, even at HUGE power levels.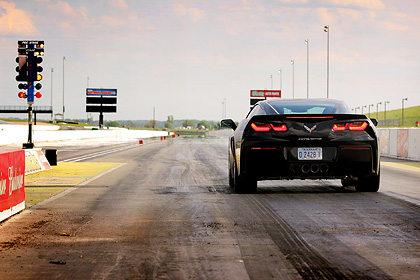 Lets switch gears for a moment, and talk about some of the other factors that make the ProCharger system the leader in C7 forced induction. Just like ordering a C7 from the GM dealership, you can create a car that not only visually fits your needs, but also the performance level as well. ProCharger took this same approach with the C7 supercharger system, offering (3) different head unit finishes, (3) different bracket finishes, (2) Inlet options, (2) Intercooler options, and (16) head units, available to create the Corvette C7 system perfect for your application.
(Photo of a wild F-1X set up on M2K Motorsports C7)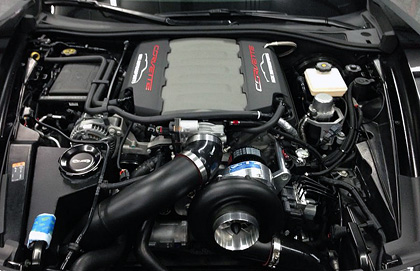 This car recently went 145mph in the 1/4, limited by the clutch and traction. We are looking forward to hearing even more numbers out of this car as it gets more track time under its belt.
(Click the photo to see the video of this sleeper in action)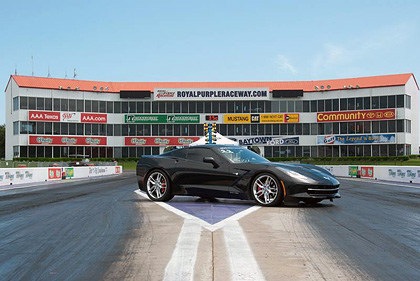 With ProCharger leading the way in C7 forced induction testing, track performance, and available options, you have to be thinking what else could possible set this kit apart from the rest? How about 100% reversibility, and 0% change to any OEM parts, and the easiest installation of any Corvette supercharger system.
That is correct, this ProCharger C7 supercharger system is 100% reversible for those of you that want to keep your supercharger system when you trade the car in for a new model year. Not to mention no OEM part of your C7 will be modified in any way during system instal, that means no cutting, no moving ABS lines, no trimming, etc. ProCharger supplies you with (2) OEM parts that we have pre-modified here at the factory, and include them in your kit, this way you can keep your OEM parts 100% original, as they should be. This concept of going the extra mile by supplying OEM parts, is something you will find unique to the ProCharger system.
Here are the two OEM items that ProCharger supplies pre-modified for you in the system. This not only speeds up your installation, but also ensures that your OEM parts stay 100% stock, for full reversal if the system was every to come off.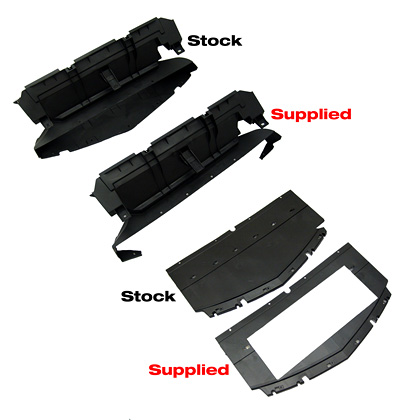 For those that opt for the OEM inlet, ProCharger has built an amazing CNC billet adaptor, that mates with your factory Air Box without modifying your air box in any way.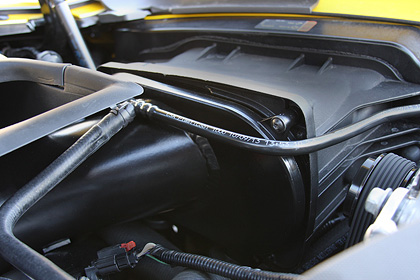 All systems are now shipping with one piece silicon hoses, so installation of intercooler tubing is a breeze. Not to mention the look is clean and simple, which is sure to grab attention when people see whats under the hood.
If you have a Corvette C7 Stingray, and are looking for the Ultimate supercharger system, for power levels from 650-1200+ HP look no further, cause ProCharger has a system for you! For more details on the Corvette C7 System, please click HERE or contact us at 913-338-2886. If you have a ProCharged C7 you want to share with the world, please check out our FACEBOOK page, or tag us at #procharger