PROCHARGER BLOWS THE DOORS OFF SEMA 2018!
A NEW DISPLAY, NEW AWARD-WINNING PRODUCTS…
AND A SHOW PACKED FULL OF PROCHARGED MACHINES!
If the 3,500hp Chevy shoebox in our booth didn't get your attention, maybe the 12-foot impeller hanging from the ceiling did. Either way, we couldn't have been more proud of all the amazing ProCharger supercharger hardware all over this year's show. This blog is going to try and sum up all the supercharged action we stuffed into the Vegas convention center for 2018!
---
WE BROUGHT 5,500+ HP AND A 12-FOOT IMPELLER TO THE BOOTH!
Yes, that is correct we brought over five THOUSAND real deal horsepower to the booth and we hope you got a chance to enjoy all the latest products, supercharged celebrities, and ProCharged hardware we had on display. Some of the highlights of the booth were…
1955 Chevy owned by Jerry Jahnsen, packing 3,500+ horsepower!
This amazing car not only grabbed the attention of the attendees but also Mothers car care products. Mothers awarded this ProCharged monster with an award in "Excellence in Automotive Design." That award is an honor as well as a pat on the back of the builders Sarmento Race Cars, that took only 8 months to build this beautiful machine.
Look for this ProLine powered machine on the "No-Prep" racing scene in 2019, as its crank driven ProCharger F-3X-143 supercharger provides the boost to run at the front of the pack. For more details on this racing supercharger please click HERE.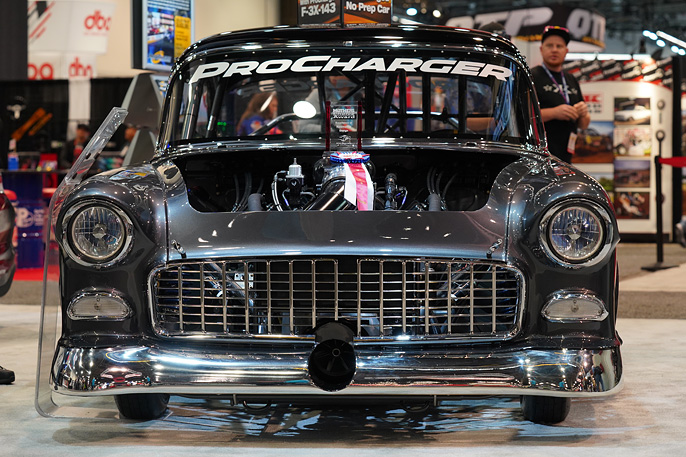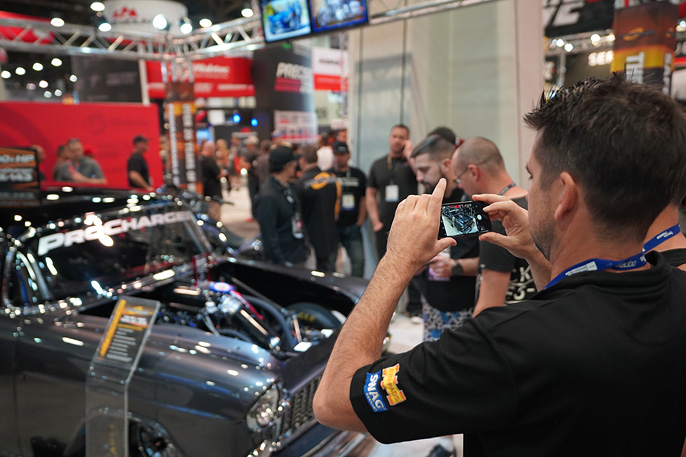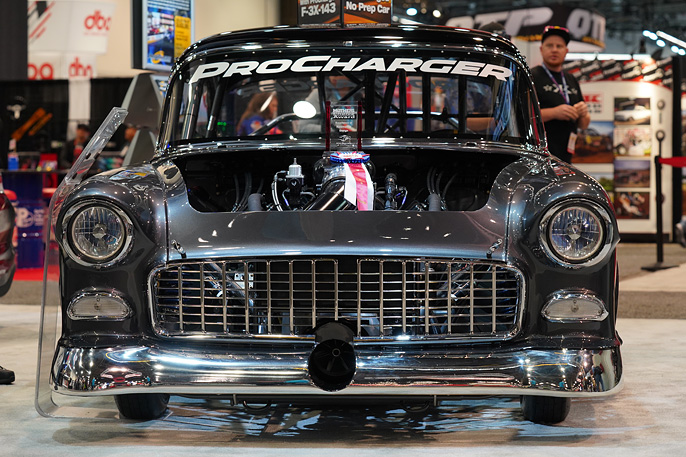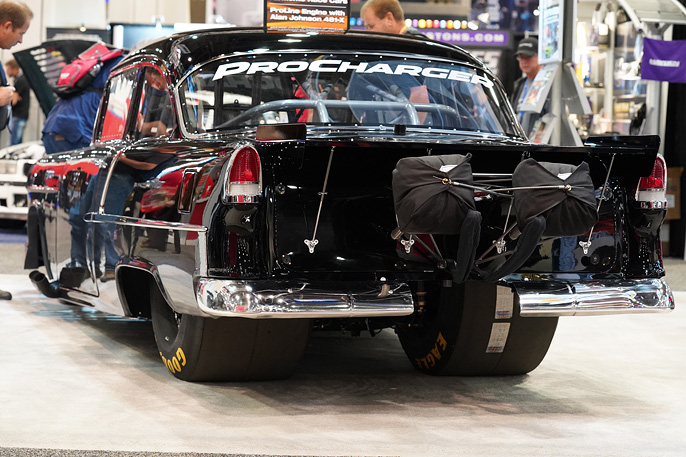 The 750+ HP DRAGG Mustang was also a show stopper.
Not only does this car make an extra 300 HP from our pump gas bolt-on supercharger system, but it was installed in 6 hours by high school students! We love hearing about how the DRAGG program has helped these students apply their technical skills and build amazing cars like this Mustang in our booth. The students loved installing the P-1X ProCharger Stage 2 system and grins formed ear to ear with the huge power gains! If you are looking for that same performance from your 2018 Mustang, please click HERE.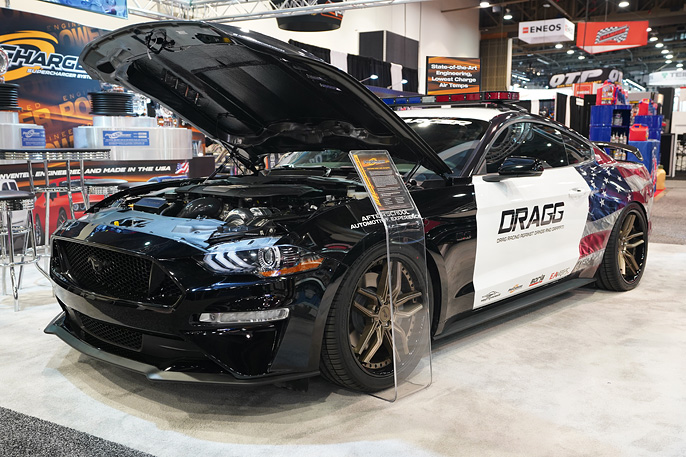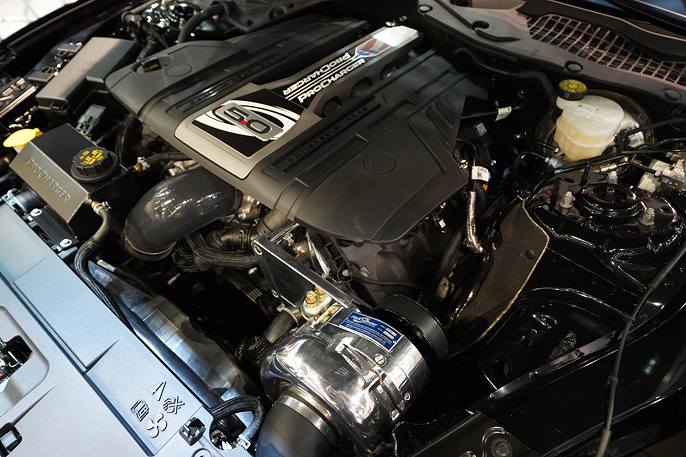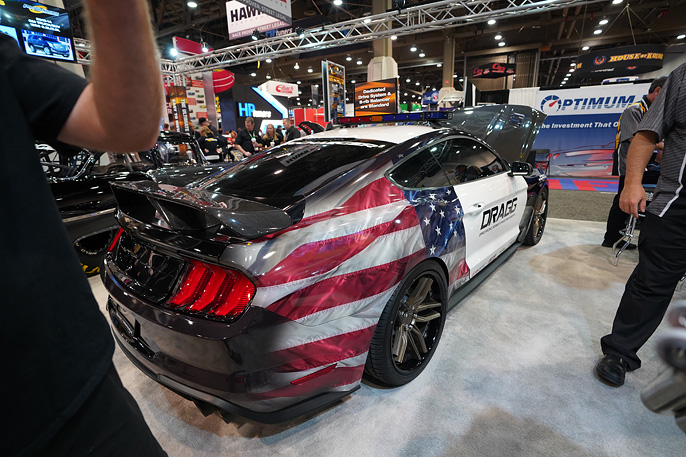 Scoggin Dickey served up 1,200 LT-4 horsepower!
No fake engine here, this is the real deal HP machine right here. We reached out to our friends at the SDPC Race Shop, for one of their tricked out LT-4 engine packages. This 1,200hp hot rod featured our new 10 rib Corvette bracket system, F-1X head unit, and CNC billet bellmouth. All week we daydreamed about what the perfect hot rod this engine could get dropped into. What do you all think? Race car, or weekend toy? For more information on our record-setting Corvette systems for the LT-1 and LT-4 please click HERE.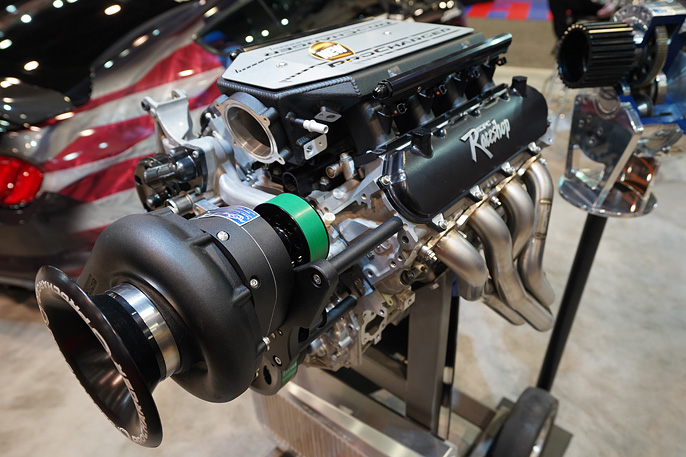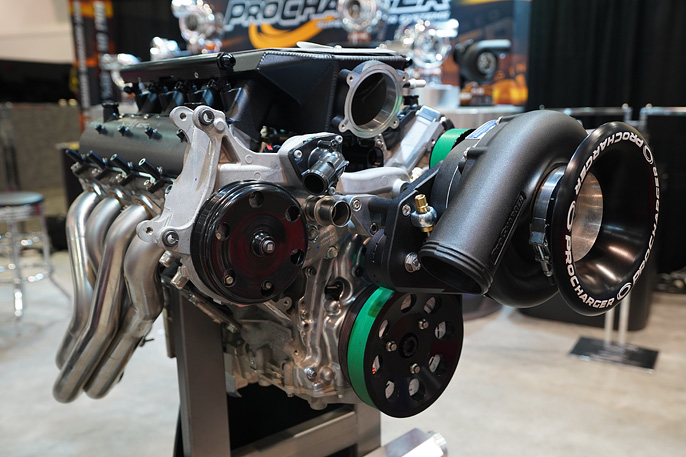 Camtech bagger rocks 250+ HP and a paint job to fall in love with!
Yes, you are reading that correctly…250+ HP is being squeezed out of that 127″ CamTech engine between the frame rails! However most people might take notice to that massive front wheel first, or the paint job that took over 1,500 man hours to finish. There's so much airbrush work on this bike, it took at least 1 hour to really take it all in. Our favorite detail is th
at Eagle on the ProCharger B-1 supercharger! If you are looking to add some serious bolt-on HP to your Harley, click HERE for more information.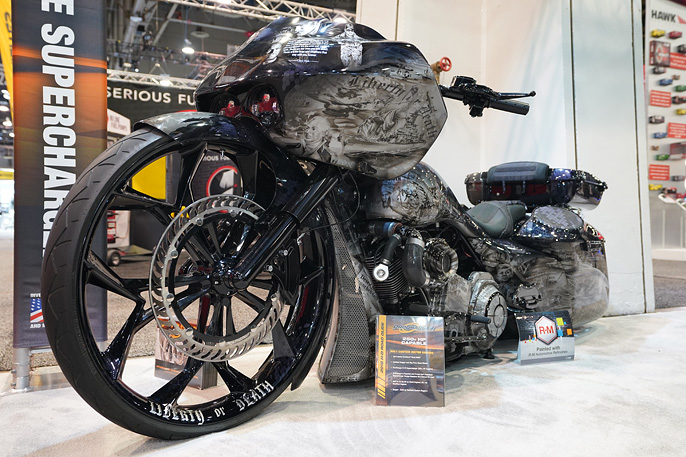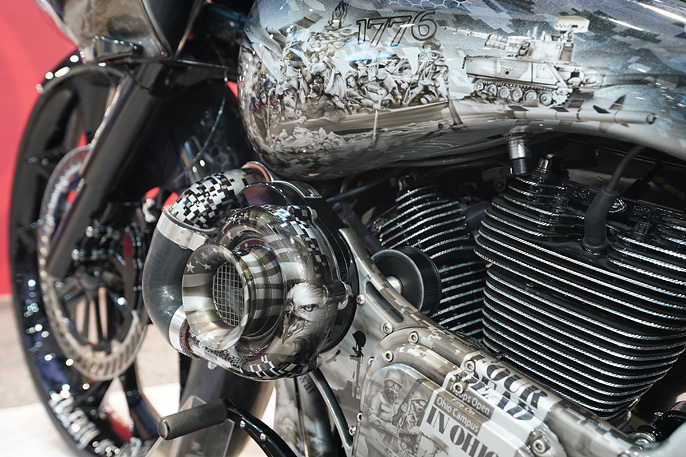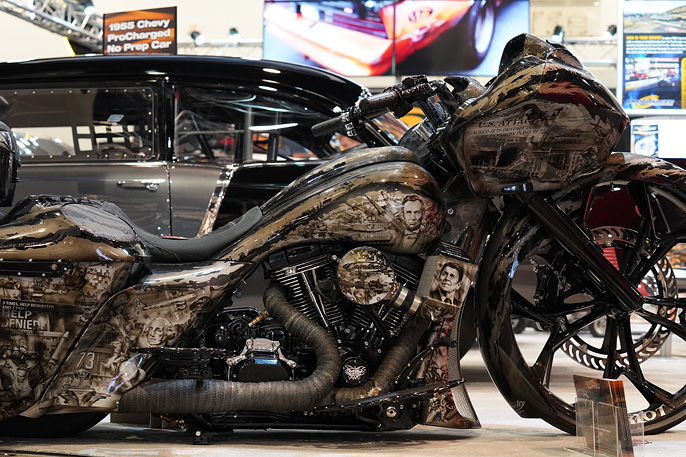 The worlds biggest ProCharger, to show off all the amazing head units!
Some of the biggest stars in the industry stopped by the booth to check out our amazing new displays. Yes, those are the some of the biggest supercharger transmissions we have ever built! Those huge superchargers are holding just a small fraction of our broad line up. From ProMod to Side by Sides, with over 30 different models we have your needs covered.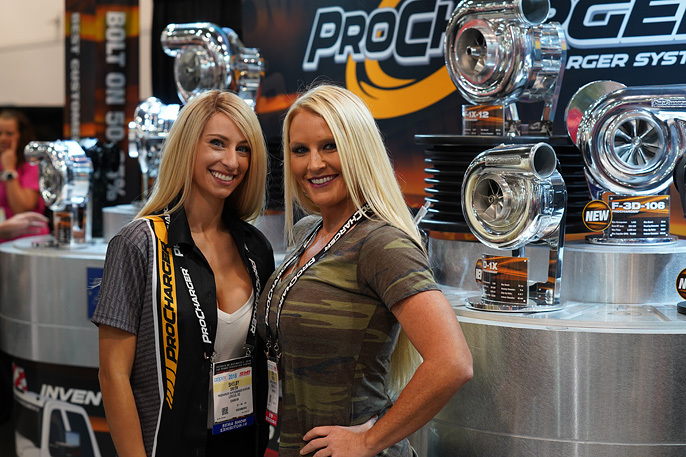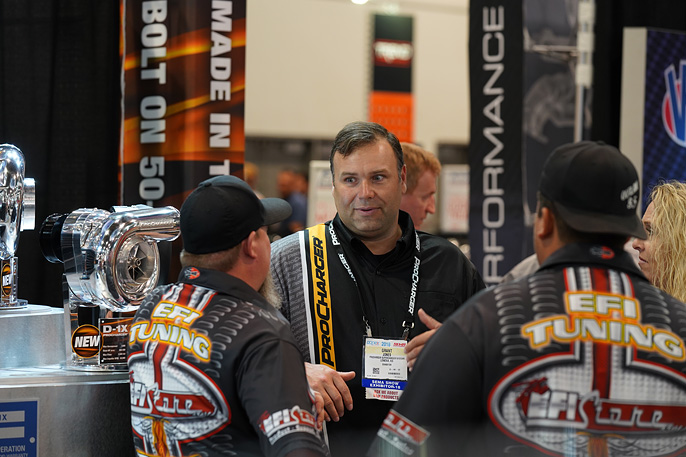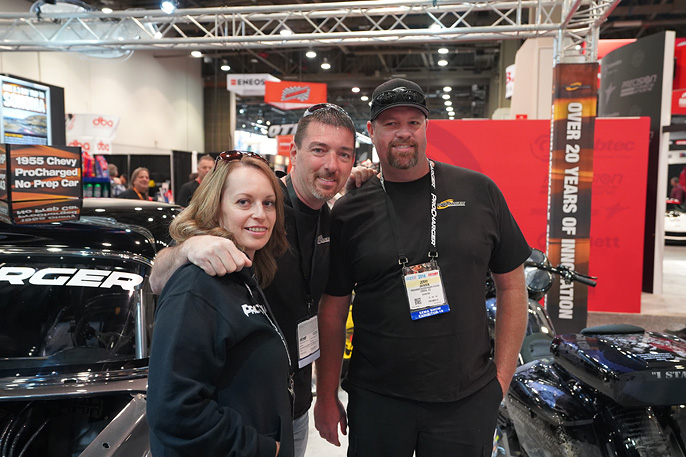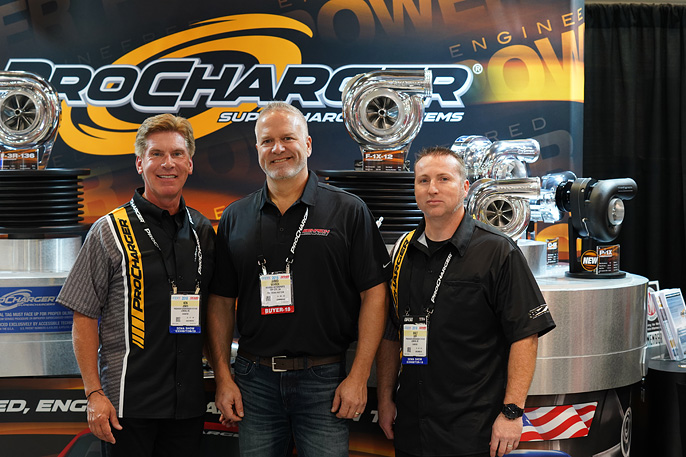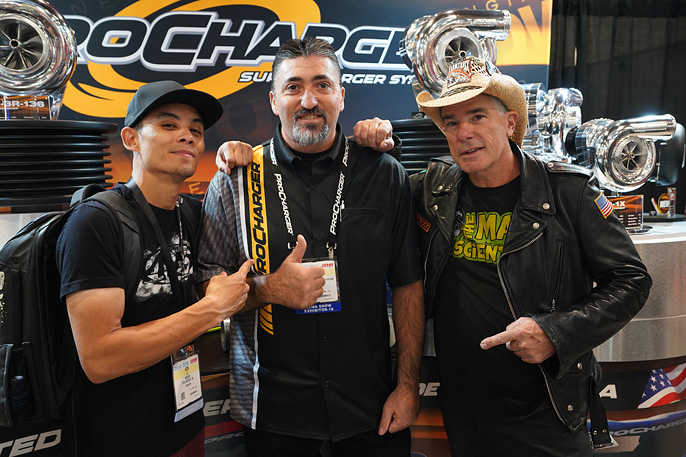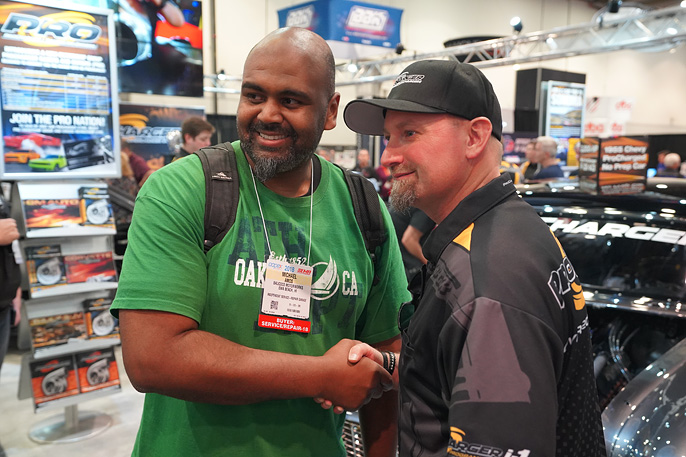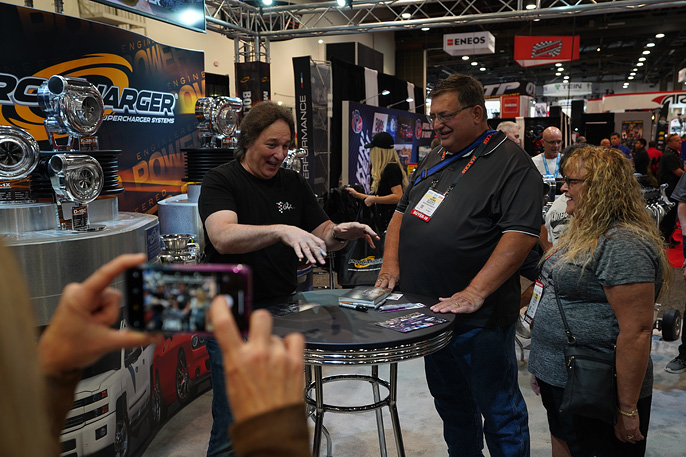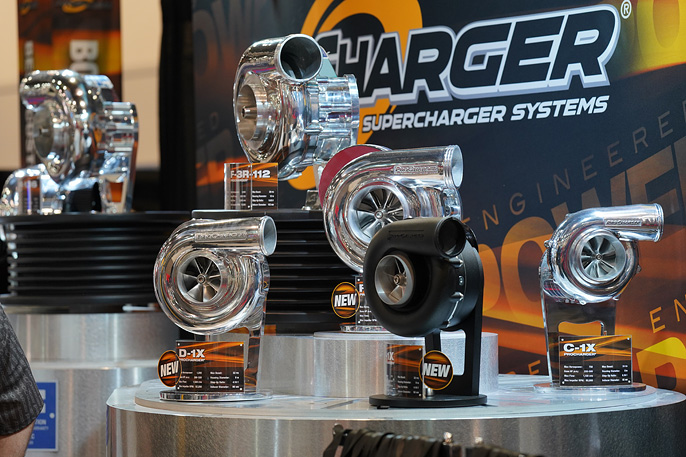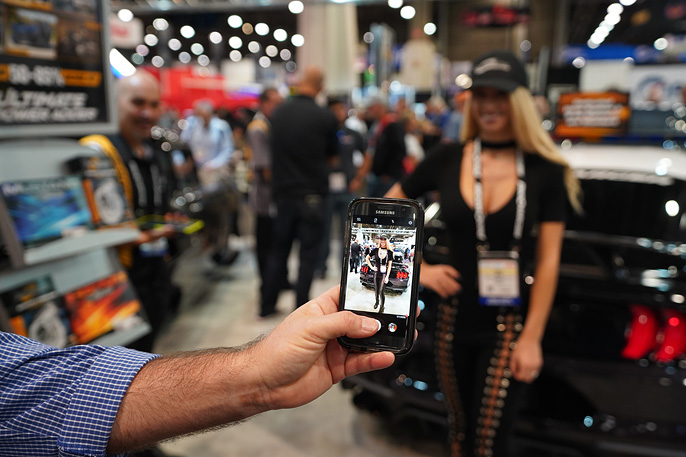 For those that enjoy the visuals from a video, please enjoy this clip from Power Automedia for coverage of our booth!
---
INSIDE AND OUT, PROCHARGER SUPERCHARGERS EVERYWHERE!
With so many different ProCharger cars/trucks/bikes on the grounds, there was something to fit everyone's style. From home-built hot rods to resto-mods to Mustangs in the Ford booth, we will show off some of the rides we came across while walking the show.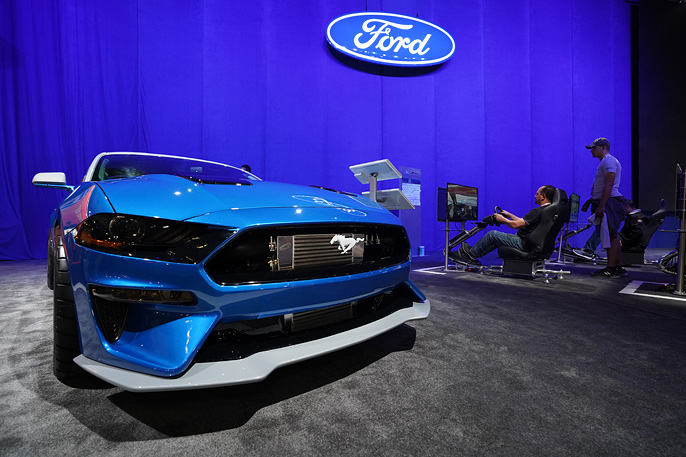 Hundreds of cars and trucks that blew our minds, many of which we would love to see ProCharged! For a gallery filled with loads and loads of the most amazing vehicles on planet earth. Please click the image below to go directly to our massive SEMA 2018 gallery on facebook.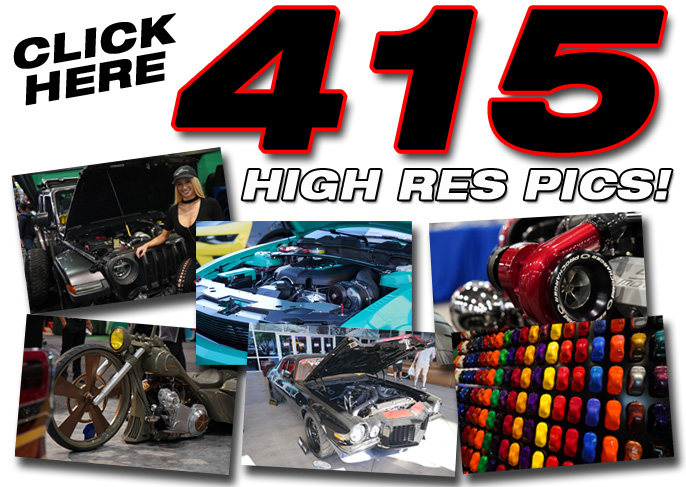 ---
ALL NEW AWARD-WINNING PRODUCTS FOR ALL TO ENJOY
This year we were honored to receive the SEMA award for the best new racing product for our new CrankDrive system! For more information on this direct drive system perfect for ultra high HP applications and heads-up racing, please email our racing team by clicking HERE.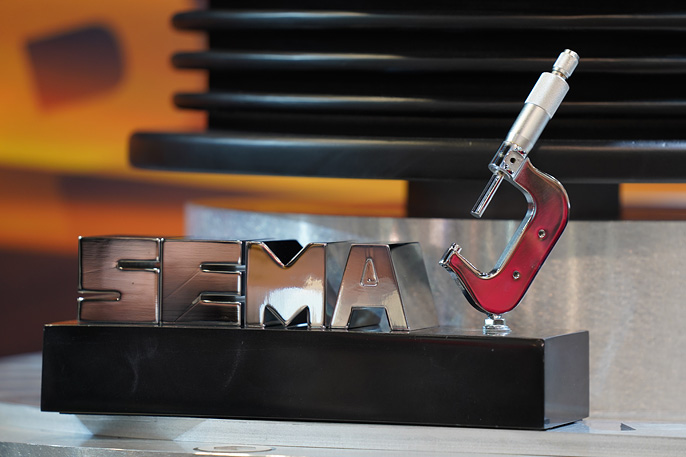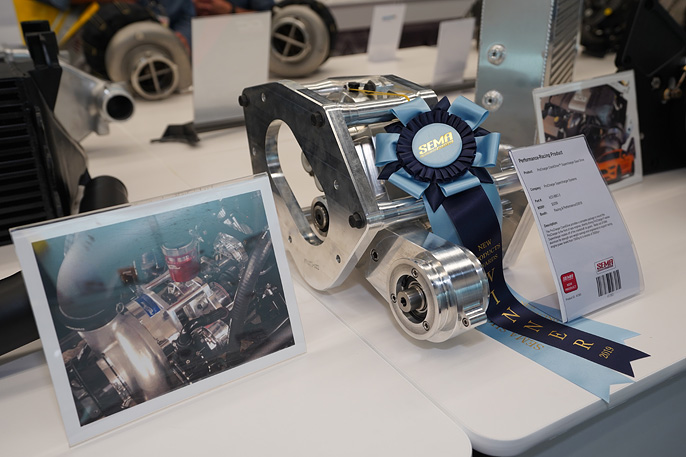 For the racing market we also debuted the new F-3X-146 and F-3D-106 supercharger head units. Both of these big power producers are aimed for classes like ProMod and X275. For more information on getting the best supercharger for your heads-up racing program, email our racing team by clicking HERE.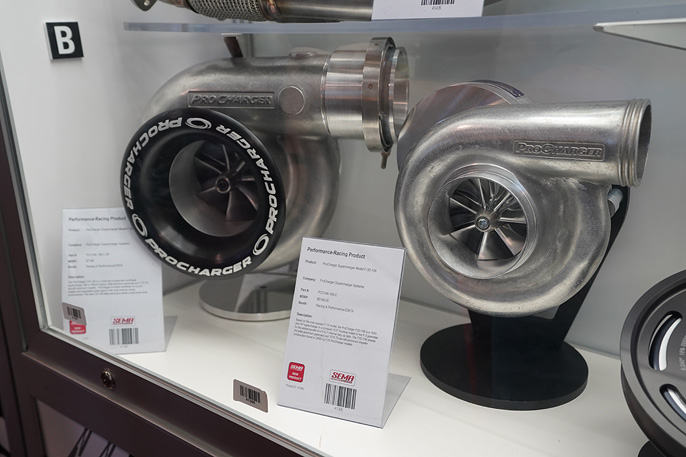 ProCharger also filled the new products are full of new street-related supercharger systems and kits. To keep this blog short we won't show you all of these amazing new products. However here is a short list of some of the highlighted items.
– Ford Raptor EcoBoost Intercooler Upgrade
– 2019-2016 Camaro SS and ZL1 ProCharger 10 rib belt drive system
– 2019-2014 Corvette Z06 ProRace Intercooler Kit
– 2018 Ford F-150 5.0L Supercharger system
– 2019-2016 Camaro SS HO System with Factory Airbox
– 2018 Dodge Charger SRT 6.4L Stage II Supercharger System
– 2018 Dodge Challenger SRT 6.4L HO Supercharger System
– 2019-2018 Mustsang GT Stage II ProCharger Supercharger System
– 2018 Dodge Durango SRT 6.4L Supercharger System
– LT-1 and LT-4 Intake Manifold with Port Injection
– 2018 Jeep Wrangler 3.6L JL Supercharger System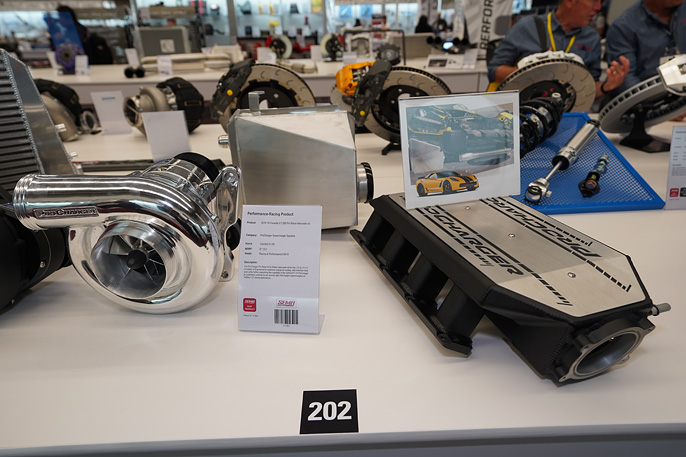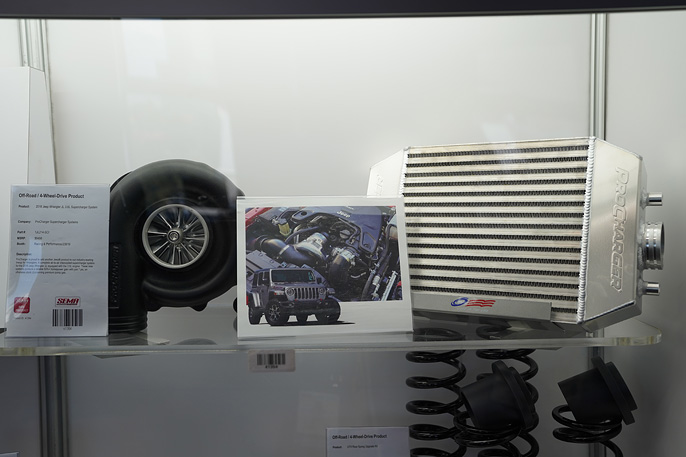 ---
FROM NEXT YEARS SEMA SHOW STOPPER, OR YOUR DAILY DRIVER…
…we have the perfect supercharger system for you! If you have any questions or comments please do NOT hesitate to call our sales and tech staff. Phones are open M-F 8:30-5:30 CST at 913-338-2886 or email us at [email protected] for more information.
Thanks for reading, we hope to see you all next year!