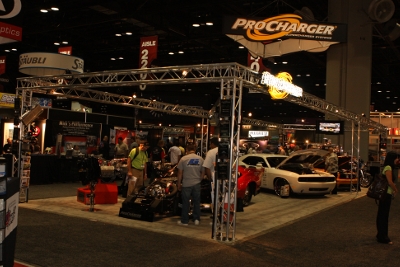 PROCHARGER ATTENDS RACE & PERFORMANCE EXPO NEAR CHICAGO
The ProCharger events crew travels all over the country every year to get the opportunity to speak face-to-face with current and future customers. 2008 was a great year and we spoke with many of you in front of the ProCharger big-rig at events like PRI, World Street Challenge, Super Chevy Shows, Sturgis, Car Craft and even the Corvette Fun Fest plus many more. 2009 is no different and we are starting the year off with a visit to St. Charles, IL for the 2nd annual Race & Performance Expo held at the Pheasant Run Resort February 14th & 15th.
On display will be some of ProCharger's hottest centrifugal supercharger systems showcasing all of our supercharger models on both street and all-out race engines. Ford, Chevy, and Chrysler/Dodge ProCharger supercharger systems and kits will all be represented in the ProCharger booth located at booth numbers 400/402/301/303. Be sure to stop by.