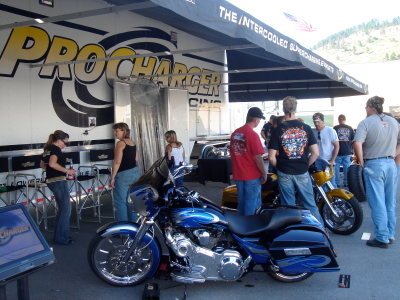 PROCHARGER AT STURGIS MOTORCYCLE RALLY
The ProCharger V-Twin crew brought the 53′ Semi to Sturigs, SD for the 2008 Sturgis Motorcycle Rally. The ProCharger rig was located in Champions park along with some of the biggest names in the V-Twin industry including, S&S Engines, Big Dog Motorcycles, Orange County Choppers, Wildwood Brakes, The Chopper Challenger and even Hot Bike Magazine. In addition to the five bikes at the ProCharger display, there were more than 10 ProCharged bikes on display by Procharger dealers, and countless ProCharger customers at the event, including an entry into the International Biker Build-Off Championship event. The newly designed Harley Procharger catalogs and all of the new V-Twin products that came out this year generated a lot of excitement not only at our display but throughout the entire show.
Fat Baggers Inc. was also in attendance and installing Procharger Intercooled Supercharger Systems for customers who attended the event, demonstrating the ease of installation and outstanding power gains that are available with a single day's work, 40-80 additional horsepower to be exact. Many customers rode to the show with a stock bike and rode home with a new ProCharger supercharger installed and 65% more horsepower.
This event marked the sixth event the ProCharger V-Twin crew attended in 2008, but we're not done yet. Myrtle Beach Bike Week, Biketoberfest, and the Lone Star Bike Rally are all still on the calendar for ProCharger to attend. We hope to see you there!