PROCHARGER 2011 REBATE PROGRAM
Looking for more power? Looking to save some cash, too? Do we have a deal for you!
2011 ProCharger Cash Back Retail Rebate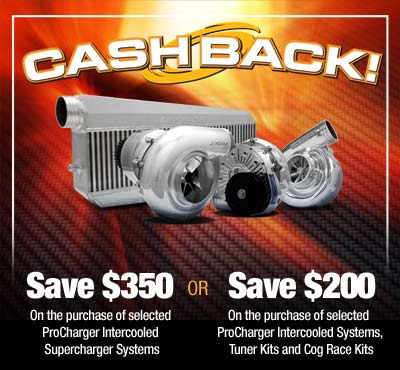 Purchase a selected auto or truck/SUV ProCharger Supercharger System, Tuner Kit or Cog Race Kit between Oct. 5, 2011 and December 31, 2011 and you could get a rebate of $350 dollars for selected systems kits and $200 for selected tuner kits. This program isn't limited to just a few systems and kits, oh no: we're talking about a huge selction of systems, tuner and cog race kits, more than 200 total!
Here's how the ProCharger Cash Back Retail Rebate program works
Step 1: Purchase a qualifying ProCharger Intercooled Supercharger System, Tuner Kit or Cog Race Kit from a ProCharger dealer between October 5, 2011 and December 31, 2011. If you don't know the name of your nearest ProCharger dealer, Check our website dealer locator or give our Sales Team a call at (913) 338-2886, Mon-Fri, 8:30 AM to 5:30 PM.
Step 2: Retail Customers must then fill out the ProCharger Retail Rebate Form (available here) and mail it to ProCharger along with a copy of their purchase receipt and their completed supercharger warranty registration form (included with your supercharger system). Rebate forms must be postmarked by January 20, 2012 to qualify for your rebate.
Step 3: Enjoy your industry-leading ProCharger power, and your rebate will arrive in 6-8 weeks.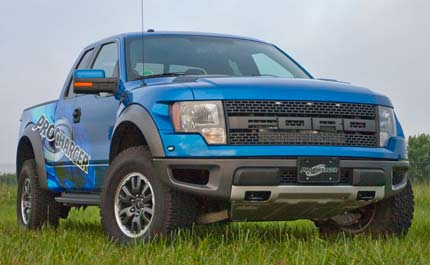 That's all there is to it. If you can handle the extra power of a ProCharger supercharger and want to pocket some extra cash, there's never been a better time to make the move to The ULTIMATE Power Adder®, ProCharger.