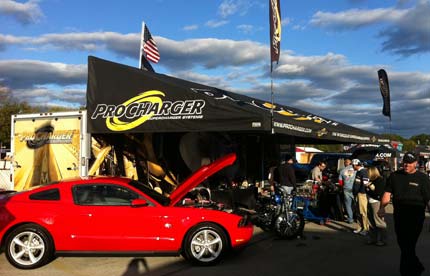 PROCHARGED RACERS GETTING IT DONE IN BOWLING GREEN, KY
The weather was gorgeous, the air was perfect for big power, and there were Mustangs as far as the eye could see at this year's 13th Annual NMRA World Finals in Bowling Green, Kentucky. At the heart of the manufacturers midway the ProCharger display caused traffic to stop to sneak a peek at all the latest ProCharged goodies. The hot new ProCharged Polaris RZR XP 900 was a crowd favorite, with its incredible acceleration (3.5 second improvement in 20-70 mph time) and clean installation. In addition, the display featured the ProCharged Ford F-150 Raptor 6.2L and a 2011 Mustang GT 5.0 complete with High Output Intercooled ProCharger Systems, both producing well over 600 horsepower. The ProCharged Harley Davidson Rocker could be heard throughout the midway as people gathered to see and hear that distinctive ProCharger whine.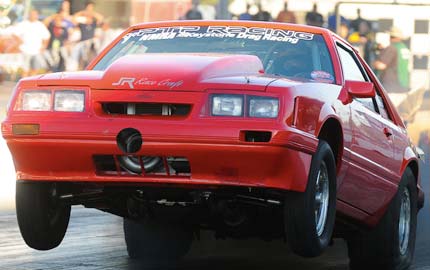 The fans were also treated to some of the quickest and fastest side by side Mustang drag racing in the country. Fans watched a 2011 5.0L Mustang with a ProCharger supplying 14psi of intercooled boost to a stock engine, with the only mods being a Boss intake manifold and full exhaust, run an ET of 10.29 @ 134 mph. Fans also witnessed John Urist wrap up his seventh NMRA Super Street Outlaw championship while setting an all-time low ET record of 7.02! Also wrapping up his third consecutive NMRA championship was Jason Lee in the highly competitive X275 drag radial class.