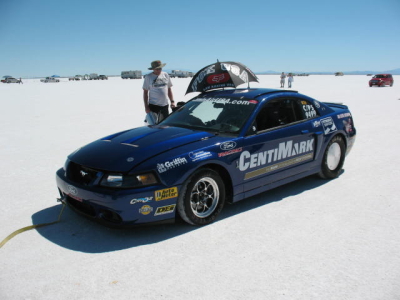 PROCHARGED MUSTANG SETS LAND SPEED RECORD AT 232 MPH
During the August 18th-24th Speed Week at the Bonneville Salt Flats, the ProCharger supercharged Team Saline Centimark Mustang set a new land speed record at 232.388 MPH. The F-1R-equipped Mustang, driven by Steve Benyo, smashed the previous record by almost 20 MPH and established itself as the fastest production Mustang over a 5-mile stretch. But this wasn't a fluke, Benyo proved the consistent and reliable power of a ProCharger by making two record breaking runs; setting the new record on Wednesday with 232.274 MPH and then breaking his own record on Saturday with 232.388 MPH. This monster makes over 1,000 rear-wheel horsepower on 20 PSI of ProCharged boost.
The Team Saline Centimark Mustang now holds the following records:
World's Fastest Late Model Production V8
World's Fastest Gasoline Powered Mustang
World's Fastest Production Mustang
Congratulations to everyone at Team Saline!
Click here to be directed to the SCTA website where you can find full results for the event along with photos.