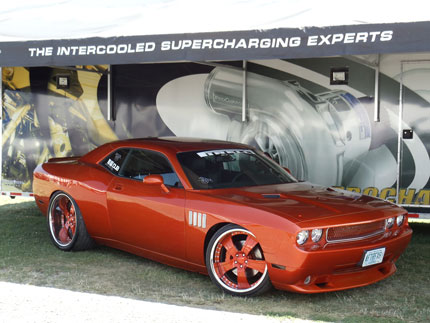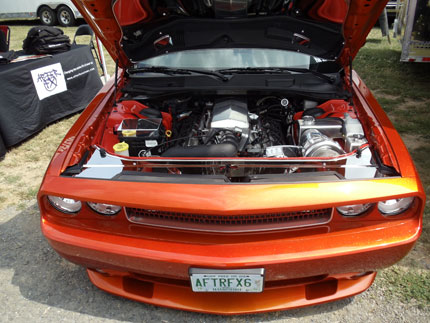 PROCHARGED HEMI'S
AfterFX Customs in Plainfield, New Hampshire knows a thing or two about being extreme. So when they decided to build a HEMI challenger with an attitude, ProCharger was the clear power adder of choice. They started with a 2008 SRT8 Challenger dubbed "Wide and Wild" which was featured recently in Auto Enthusiast Weekly. Matt Jackson of AfterFX began with a 440 cubic inch stroker motor to replace the stock 6.1L HEMI, he then enlisted BES Racing and High Horse Performance to build the engine and help him reach his 1,000 HP goals.
A laundry list of high-end parts were used including a K-1 440 crankshaft, K-1 rods with custom BES designed Ross pistons, ported and polished heads, and a custom sheet metal intake manifold. Topping off the power department is the ProCharger Stage II Intercooled Tuner Kit with an F-1A self-contained supercharger running 17 PSI of boost. AfterFX reported an impressive 1250 bhp for this custom built wide body.
To view the complete Auto Enthusiast Weekly article and detailed build specs please visit: http://editions.amospublishing.com/AEW/default.aspx?d=20120525&pagenum=1default.aspx?d="20120525&pagenum=1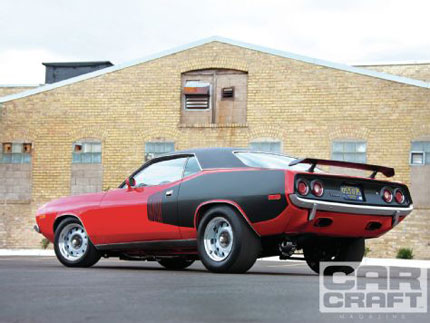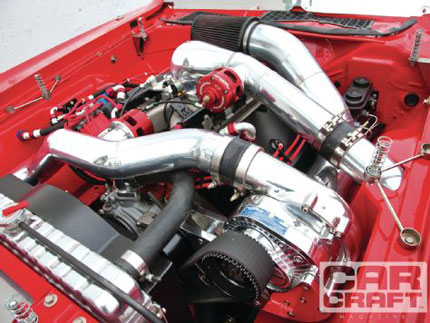 For your classic Mopar enthusiast, this 1972 ProCharged Plymouth 'Cuda owned by Scott Kruger of Prior Lake, MN is featured in Car Craft Magazine October 2012 issue.
The Steve Morris machined, forged and stroked 426 short block displaces 528 CID and is force fed by the legendary F-2 ProCharger making a conservative 14 PSI which nearly doubles its effective displacement. This Hemi engine is an Indy Cylinder Heads Street Legend featuring a World Products iron Hemi block with a massive 4.5-inch bore and a 4.15-inch stroke Eagle crank, 8.5:1 compression blower friendly Diamond pistons, Indy cylinder heads with 2.25/1.94-inch valves, solid roller cam and complete Indy valvetrain. The F-2 ProCharger is rated to support up 1600 HP and flows up to 2700 cfm making it a perfect match for well-built race or street applications.
To view the complete Car Craft article and additional vehicle specifications please visit:
http://www.carcraft.com/featuredvehicles/ccrp_1210_1972_plymouth_barracuda_e_ticket_ride/#ixzz26rIrpnUd
"It's finally fast enough to be scary!" – Scott Kruger on his ProCharged blown Hemi 'Cuda