PROCHARGED C7 VETTES, MAKING WAVES IN PRINT, WEB AND TV!
When these systems were designed, we knew they were going to instantly become the "Must Have" bolt-on for this C7 platform. The outstanding power numbers, flawless driveablity, and easy installation, make it the PERFECT power adder for this Corvette platform. Well with those great benefits in mind the masses have started to take notice, and now no matter if you are searching the web, or flipping through pages/channels, you are bound to run across something being said about the ProCharger Supercharger system for 2014 Stingray Corvettes. And what exactly are they saying about these systems? Lets take a closer look and find out!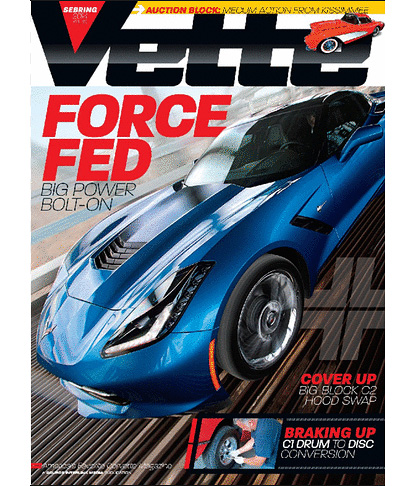 Nothing brings more pride then a COVER SHOT! This article in VETTE magazine gave details about the install performed on one of the rare (1 of 500) Premiere Edition C7's. This stunning Laguna blue car belts out the HP to the number of 587rwhp on a stock car, running 7psi, pump gas, and the supplied ProCharger tune. Bolting on over 200HP in a weekend, is a sure fire way to put a smile on any Corvette owners face. If you don't have the magazine at home, no problem! Just click the image of the cover above, and go strait to the online version of the write up.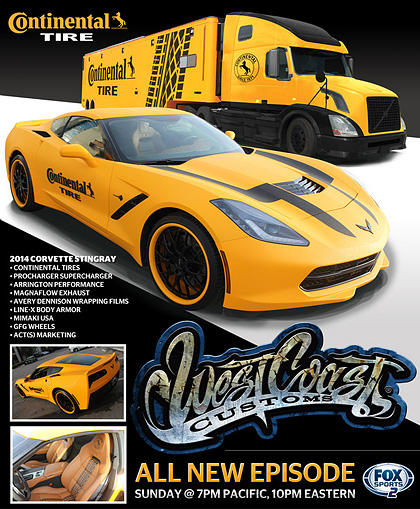 When Continental Tires wanted a custom C7 Corvette built, they went to the best, West Coast Customs. And when West Coast Customs needed to boost the performance of that car, they too wanted the best, and that's a ProCharger system. Combine the good looks of this Corvette, and power numbers to back it up, this C7 is sure to turn heads (and tires) for many years to come. Thankfully being owned by a tire manufacture, it takes some of the guilt out of doing smile enduing, tire smoking burnouts. Click the image above to check out the video link, in case you missed the show!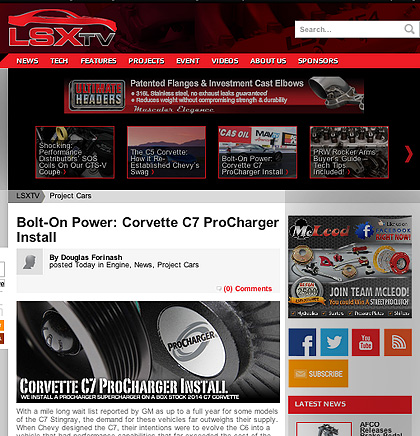 To start off the internet side of things, here is a link to a great install done by LSXTV.com and Cunningham Motorsportsout in California. This write-up does a great job of showing the easy install, and details like the differences in the two air inlet options. After the install they took it to the track and had HUGE gains in performance, in both ET and MPH. Even on the OEM stock tires, a hot day, and lack luster california grade 91 fuel, this Corvette still knocked down [email protected]! A set of sticky drag radial tires, and its no doubt a bolt on 10 second ride, from just a supercharger install!
And you can't talk about the internet, without mentioning YouTube. And you can't be a gear head and not know about 1320video.com's youtube channel. Well one of the videos making its way around the net (over half a million views so far) is that of a gal by the name of Erin, driving a ProCharged C7 to take down a Viper to settle a bet. The car she is behind the wheel of is a stock C7, running a ProCharger P-1SC-1 system. Power numbers on this car at the time of the video were in the mid 570rwhp range, on pump gas and 7psi of boost. The end of the video is pretty fun, as the owner of the Viper pays up on the bet. This C7 is currently undergoing a major transformation, adding a cam, E85, and switching to a F-1A ProCharger to become a power monster. So keep an eye on our blogs, and facebook for details on that.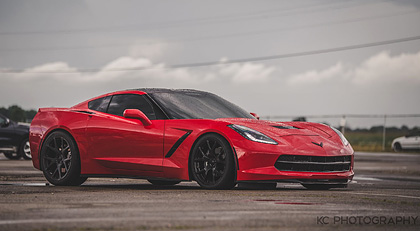 Well there you have it, from print to web and all things digital, ProCharger superchargers and Corvette C7's are proven power combinations. If you have questions or need to locate a dealer near you, please check out our website at www.procharger.com or drop us a line at 913-338-2886.