PROCHARGED 2010 CAMARO SS IS A BIG HIT AT ADRL DISPLAY
Making its public debut, a ProCharger-equipped 2010 Camaro SS was definitely a big hit with the Fourth of July weekend crowd attending the ADRL event at Heartland Park Raceway in Topeka, Kansas. For many in attendance, this was their first chance to see one of the all-new Chevrolet Camaros up-close and personal. And walking up to the opened hood, many of the comments sounded like this: "Wow, this is the first Camaro I've seen and it's already ProCharged!" or "Is that a factory option?" and of course, "Sweet! How much power does it have now?"
The answers to the commonly heard questions are: No, it's not a factory option – it just looks that way, and 500 RWHP! That's a 45% improvement over the stock L99 V-8 in the automatic-equipped Silver Ice Metallic Camaro SS on display.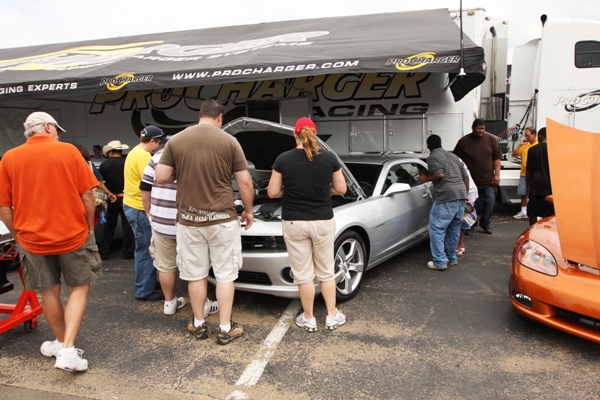 If the debut of the ProCharged 2010 Camaro wasn't enough for ADRL fans, the ProCharger display was a veritable showcase of real-world horsepower. Over the course of the two-day event, the display also included: R&A Motorsports' Dominator GT 2010 Mustang 3v; a 650+ RWHP 1968 Chevelle; a 122 RWHP ProCharged 2008 Harley-Davidson Softail Rocker C; and an incredible 1962 Chevrolet BelAir that produces more than 2,500 hp, thanks to it's gear-driven F-3R-139 ProCharger supercharger. The big Chevy has run a best time of 7.52 @ 192 MPH at mile-high Bandimere Speedway outside of Denver, Colorado.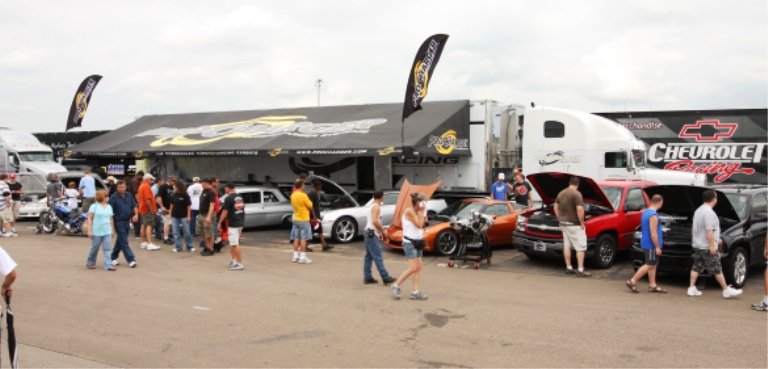 Additional ProCharged vehicles on display included an LS3 Corvette, 1989 and 2006 Mustangs, Cadillac Escalade EXT, Chevrolet Trailblazer SS and Silverado 1500. At one time, the ProCharger supercharged and intercooled parade of power surpassed the length of the tractor and trailer! On Saturday, the display was at full pony car strength with the addition of a ProCharged 2009 HEMI R/T Challenger to compliment the 2010 Mustang GT and Camaro SS. And yes, only ProCharger has air-to-air intercooled supercharger solutions available for all three of these pony cars right now!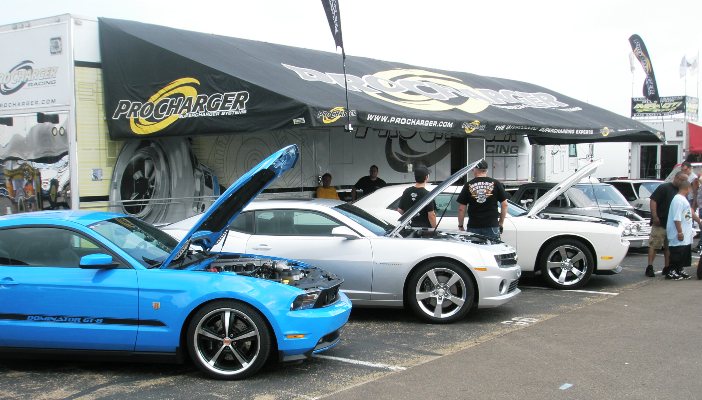 Check out this future ProCharged Harley rider and be sure to pick up a copy of the August 2009 issue of Hot Bikemagazine for the tech article detailing the installation of the ProCharger intercooled supercharger system onto this blue hot rod Harley.