PRI WRAP UP: PRODUCTS, CHAMPS, PHOTOS, AND MORE!
They say that things get better with age. It seems the saying holds true for the PRI Trade Show in Indianapolis, because each year the show gets better and pushes the bar even higher. This year's show was no different, with an incredible amount of traffic at both the event and in the ProCharger booth, and a whole host of amazing racers and champions (past and present) stopping by to share their stories. An insane amount of new products were released to push all forms of motorsports to the next level. As far as we're concerned, this year's show was the best one yet! (Think we will say that again next year? We sure hope so.)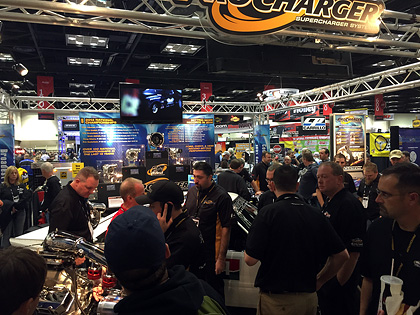 In this blog we will cover some of the highlights in case you couldn't join us at the show. If you came to the show to see new products, ProCharger had you covered. If you wanted to chat with racers and champs, ProCharger had you covered there as well. If you came just to see a booth packed full of supercharged mechanical art and technology, ProCharger DELIVERED.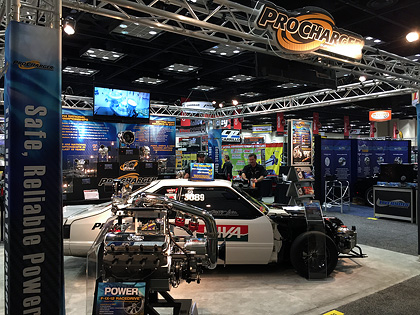 First off, why not start off with a great piece of digital footage. This video helps illustrate the years of pride and accomplishments ProCharger racers achieved over the past 15 years. Without all of you racers, this wouldn't be possible, so here is a quick "Thank You" and we hope you enjoy this video.
This year, ProCharger superchargers wanted to give our 2014 season Champions something to take home again. A little token of our appreciation for their hard work and dedication to their sport. Some of the Champions had the chance to stop by the PRI booth, and we got to snag our photos with these guys. (In no particular order)
Bart Tobener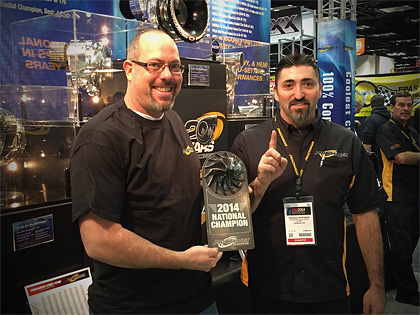 Nina Gusler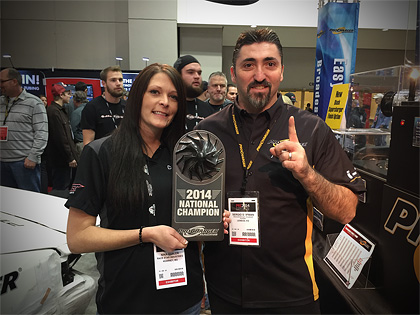 Eric Gustafson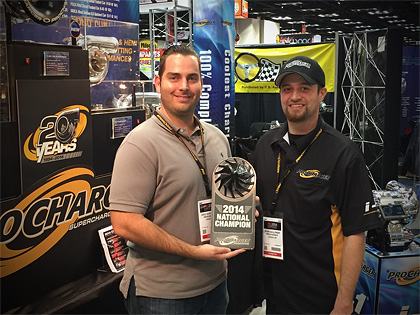 Also stopping by the booth were previous Champions such as
Jimmy Larocca
Donny Walsh
Jarod Wenrick
And many more!
The NMRA Championship awards ceremony is always a good time. For 15 years, ProCharger has helped racers get to this stage!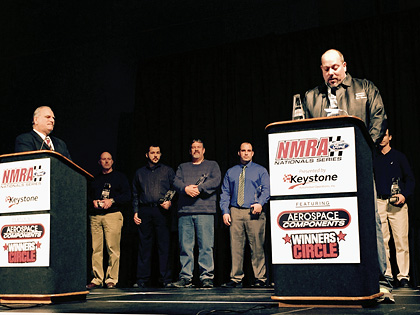 One of the most talked about engines on display was that of APD built 548″ blow through carb Chevy, featuring the F-1X-12RD RaceDrive™ unit and brand new Racing Bell Mouth. This 2000 HP engine not only looks the part, but backs it up with stunning performance on the NHRA circuit where it sits between the frame rails of Greg Curtis's Top Dragster.
We hope to see a lot of dragsters making the switch from nitrous oxide to ProCharger boost, thanks to simple, reliable and consistent, big power combos such as this. For more info on the RaceDrive, check out our earlier blog here.
545 Cube BBC packing 1,930HP at 8,100rpm! from APD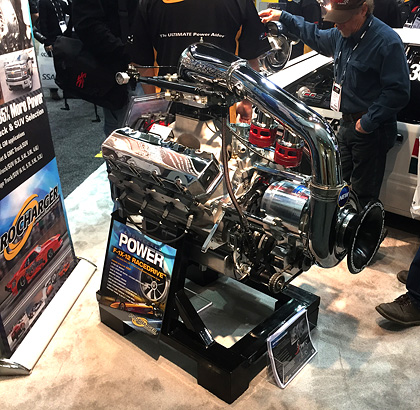 At some shows the motors on display are just that, displays. However this motor has already been as fast as 3.99 in the 1/8th and 6.20's in the 1/4 in testing. Check out this video of it pulling the wheels on this dragster!
Another huge talking point (Literally) was the new Racing Bellmouth for our 2015 racing supercharger line up. These bells have been designed with countless hours of airflow testing, each with specific dimensions engineered and mathematically optimized for its respective compressor. This attention to detail helps to create the highest-flowing inlet possible, and gives our "Heads-up" racers the extra "edge" on the competition for the next race season. These bellmouths are made from billet CNC aluminum and are anodized and laser etched for a rugged, durable finish.
Photo from SVT Performance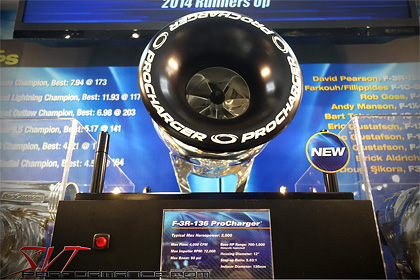 Another show stopper in the crowd was the 825+ rwhp Corvette C7 in the EFILive / Vengeance Racing Booth. This car features a ProCharger F-1A, Cam, and lots of other goodies. Check out more details on this car by clicking HERE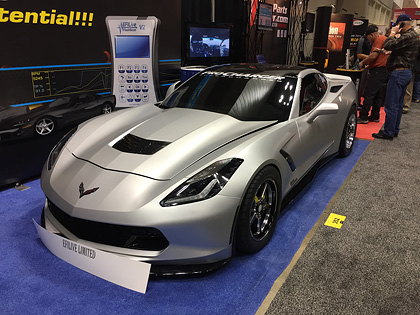 The guys over at Haltech had one of the coolest engines on display to show off their new ECU line up. And YES, this ProCharger powered Coyote engine is 100% functional down to the gas pedal mounted to the front of it! Talk about an attention grabber, to bad the staff at the PRI show won't allow it to be fired up inside the building.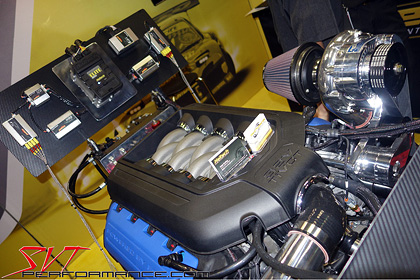 We can't say enough about what a great year its been. The products introduced last year have continued to perform beyond expectations this year, ProCharger racers have continued setting records and winning championships, and the ProCharger-Owner community keeps expanding, all helping to build an all-around stunning year in 2014.
And even though PRI just ended, we already can't wait until next year!