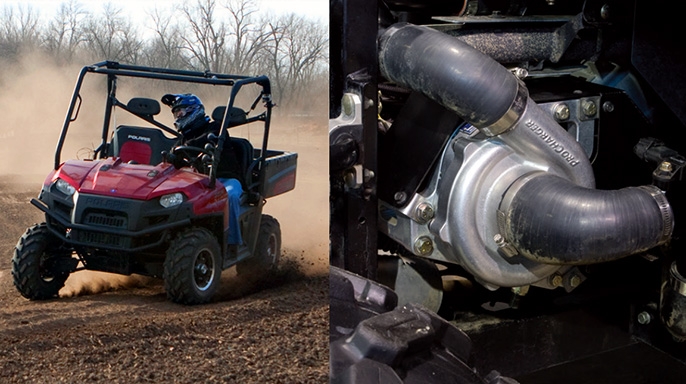 2012-10 POLARIS RANGER CREW 800
| DESCRIPTION | BOOST | HP GAIN | INTERCOOLER |
| --- | --- | --- | --- |
| High Output Intercooled System with A-1P | 7-9 psi | 40-50% | Ranger |
| High Output Intercooled Tuner Kit with A-1P | specify | specify | Ranger |
SIDE-BY-SIDE UTVS
Realizing the all-around versatility and performance potential of an entirely new generation of side-by-side Utility Terrain Vehicle (UTV), ProCharger is proud to introduce intercooled supercharger systems for these work hard, play hard vehicles.
ProCharger Supercharger System and Tuner Kit for Polaris Ranger XP 800 and Ranger Crew 800
ProCharger's award-winning intercooled supercharger systems and tuner kits are now available for stock and modified 2010-2011 Ranger XP and Ranger Crew models equipped with the 800 EFI engine. With 6 to 8 psi of intercooled boost, owners can expect to see horsepower gains of 40 to 50 percent on high quality pump gas, without sacrificing everyday functionality or weekend fun. ProCharger's Intercooled Supercharger Systems come complete with the self-contained supercharger, intercooler, fuel system components, all necessary tubing and by-pass valve.
Utilizing the world's smallest self-contained, gear-driven supercharger, the ProCharger A-1 supercharger, ProCharger's Ranger supercharger systems also utilize a highly-effective, air-to-air intercooler to further lower charge air temperatures before it enters the engine. Combined with the highly efficient design of the supercharger, ProCharger supercharger systems and tuner kits deliver the industry's coolest charge air temperatures which in turn supports the largest, most reliable power gains in the industry.
REAL WORLD PERFORMANCE IMPROVEMENT
An intercooled ProCharger Supercharger System can dramatically improve a Ranger's acceleration performance. In before and after testing on the same UTV, a ProCharged Polaris Ranger 800 Crew recorded a 0 to 35 mph time of 9.2 seconds, versus 17.0 seconds on it's naturally-aspirated pass. That's a real-world improvement of 7.8 seconds on a 0 to 35 mph run.
ALTITUDE COMPENSATION
An intercooled supercharger system provides outstanding "altitude compensation" for vehicles operated in a wide range of elevations and environmental conditions. Because a supercharger creates positive intake pressure, the affects of high-altitude operations will be greatly minimized.
LOW HEAT SIGNATURE
When compared with an exhaust-mounted turbocharger, the engine-driven ProCharger supercharger produces a significantly lower heat signature, which is beneficial in both recreational and military applications.
FIND A DEALER NEAR YOU
Looking to make a purchase or a shop to install? We have a large group of dealers ready to serve you with your ProCharger needs. Click below to find a dealer near you!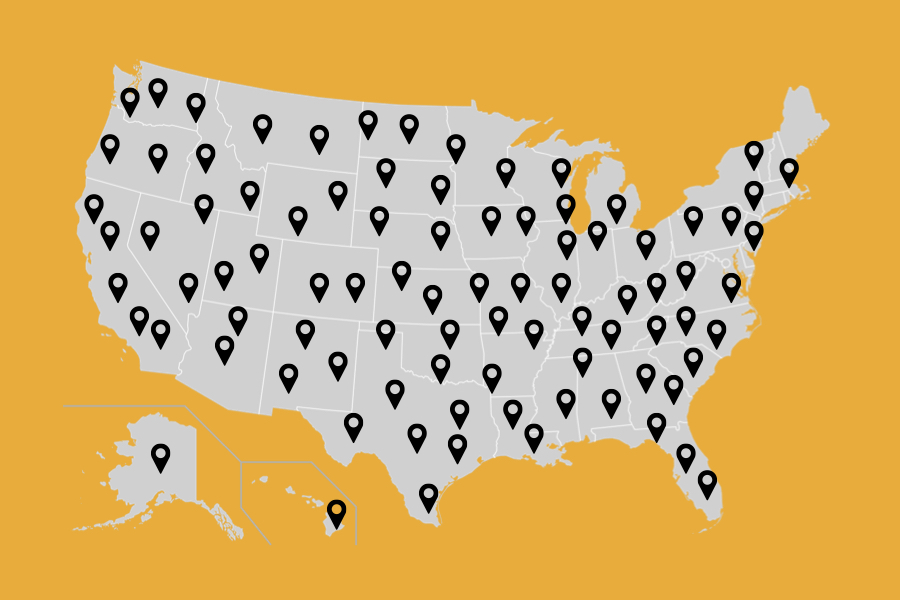 PRICING
Contact ProCharger for current pricing.
Get a Catalog
Our catalogs feature much of this detail. You can either download a copy or have one mailed to you free of charge.
SPEAK TO AN EXPERT
Click to contact our sales staff or email us if you need any help. We will be happy to assist you with any questions you may have.
Mon – Fri 8am – 5:30pm CST
Phone – (913) 338-2886
Sales Email – [email protected]
EMISSIONS COMPLIANCE
ProCharger offers Executive Orders for Emissions Compliance (EO) from California Air Resources Board (CARB) for many of our most popular car, truck and SUV applications. If you live in California, we can only sell you products with EO certification. Check out our full list of EO offerings.