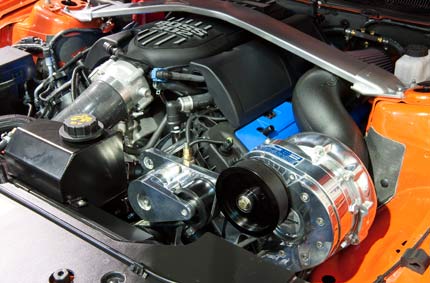 ONE BAD BOSS
ProCharger is pleased to announce the availability of Stage II Intercooled Systems, Tuner Kits, and Cog Race Kits for the 2012 BOSS 302. Procharger complete systems feature the industry standard P-1SC-1 supercharger with option to upgrade to the D-1SC or F series superchargers capable of supporting 1000+ HP on modified engines. From stock to fully built, we have your HP Solution.
There is no denying that the new 5.0L Mustang platform provides an excellent foundation for high horsepower fun. Combine this with The Ultimate Power Adder and you will need to have the smile surgically removed from you face. Evolution Performance in Aston, PA knows all about this as they recently completed an editorial project with 5.0 Mustang Magazine featuring one of the first ProCharged 2012 BOSS Mustangs.
The 2012 Boss boasts a respectable 444 HP / 380 lb. ft. of torque in its stock form. In the interest of pushing the envelope and testing the capabilities of Ford's roadrunner power plant, Evolution selected the tried and true ProCharger F-1C to get this pony up and running. The F-1C, rated at 1,225 max HP, was more than enough blower to easily put this 5.0L to the test. What happened next, well let's just say it is not easily described without the use of multiple adjectives.
In the initial configuration, this ProCharged 2012 BOSS laid down 731 RWHP / 577 lb. ft. of torque at 13.8 PSI of intercooled boost! Changing the pulley size translated into a phenomenal 834 HP / 674 lb. ft. to the ground on 16.5lbs of boost! The only modifications were exhaust and a custom tune. Up against the limitations of the stock fuel system, Evolution decided to call it good. Since the 5.0 Mustang article, Evolution upgraded the stock engine components and put down a ground pounding 1029 RWHP on 23 lbs. of boost!
And for all the extreme Ford truck owners out there, 2012 Ford Raptor High Output Intercooled ProCharger Systems and Tuner Kits are now available.