NOW SHIPPING 2014-11 RAM HEMI 5.7L TRUCK SYSTEMS!
Bolt on 130+ Horsepower to these HEMI RAM trucks with a ProCharger Air-to-Air intercooled supercharger system, with just 7psi of boost. Yes, that is correct 130 or MORE horsepower that you can bolt on in your garage, with common hand tools. Think about that for a moment, adding 45% more power is as if you took your HEMI V-8 and turned it into a V-12! Just imagine what another 4 cylinder worth of stump ripping, trailer hauling, tire smoking supercharged HEMI power would feel like between those frame rails.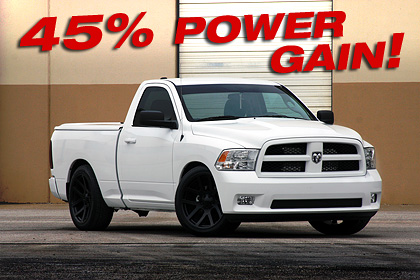 This ProCharger supercharger system comes with EVERYTHING you need to do the install from start to finish from the P-1SC-1 headunit, to the air-to-air intercooler, tubing and hardware. All wrapping up with the hand held programer so you can flash your trucks ECU for all the added power. Lets take a closer look at some of these parts that make this supercharger system the clear leader in forced induction for your HEMI powered Ram.
The P-1SC-1 head unit that is included with the system has rooted itself firmly as the industry leader in durability and efficient power production. With RAM's putting down power numbers nearing 500HP at the crank, it is good to know that the P-1SC-1 is rated to 825HP worth of airflow. Which is more then enough breathing room for those wanting to modify their trucks further down the road with cams, heads, or built motors.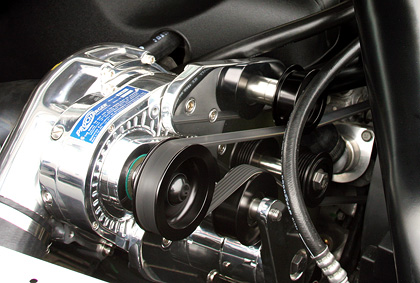 Trucks get used every day for things like long distance hauling, towing our toys to the lake, and many other reasons why reliability is key. Rest assured that the 2014-2011 RAM truck system is built on the same robust CNC billet bracket design that has been PROVEN for 12+ years on RAM trucks, with countless numbers of customers, and mind blowing miles being put on these head units. While on the topic of reliability, check out this customer with 230K miles on his ProCharger!! (CLICK HERE), results like these speak volumes about durability.
With todays high compression motors having the largest and most effective intercooler is another key to huge power production and motor safety on pump gas.
The ProCharger air-to-air intercooler is designed to have the lowest pressure drop/highest flow, along with the highest level of air charge cooling possible. What does this mean for you? The coldest air charge going into your motor, and the largest power gains possible on pump gas! Not to mention when people see that intercooler hiding behind that RAM grill, they will know its no ordinary HEMI.
RAM owners love customizing their trucks, by ordering them with all sorts of different option packages from the factory. ProCharger supercharger systems also love that idea that each customer can order their kit just how they want it. The P-1SC-1 ProCharger supercharger can be purchased in either polished or satin finish, as well as standard gear set or "Noise Reduction" optional helical construction. And as always, for the truly power hungry users out there, the tuner kit can also be purchased with the D-1SC upgrade for even more power. Please CLICK HERE for more details about the RAM offering.
So enough dreaming about that extra power, drop us a line at 913-338-2886 or email to [email protected] so we can get your HEMI Ram pumped up with a ProCharger today!