NEW PROCHARGER OWNERSHIP GROUP (PRO)
We are excited to launch a new ownership group, ProCharger Racers and Owners (PRO), designed to connect you the owner with us ProCharger! We have lots of cool stuff planned including cool merchandise and events in 2019 so, checkout the membership details below. And we think our new PRO logo looks pretty cool too!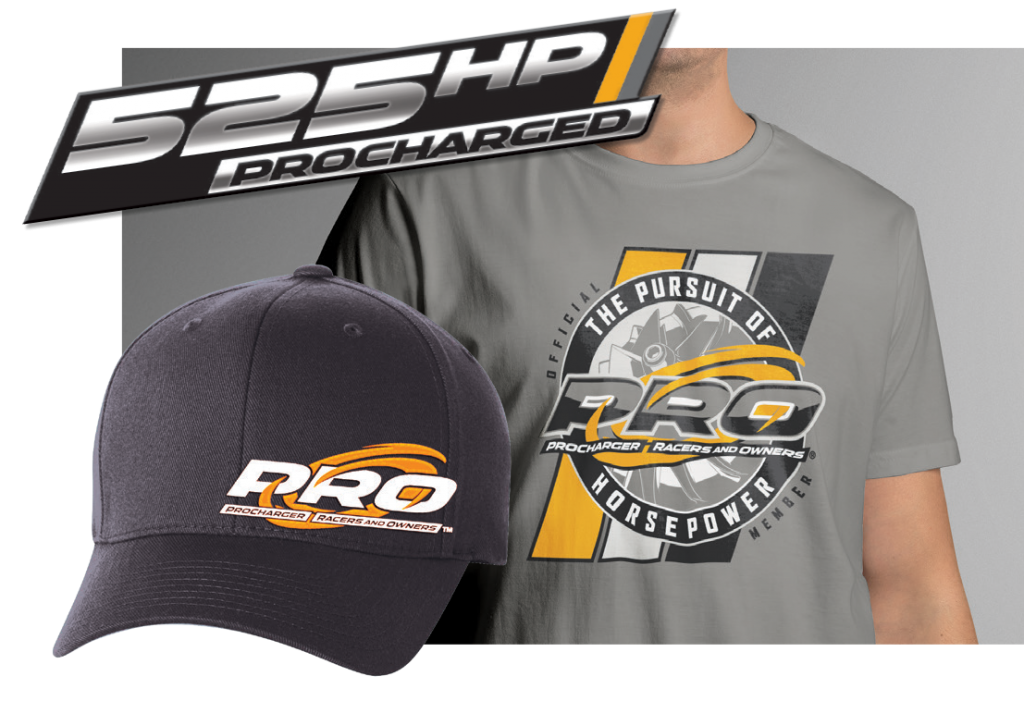 Cool Merchandise and Apparel Credit more than the cost of membership – By becoming a full member at $39 or an associate member at $19, you are basically getting a membership for FREE with $40 apparel credit for a full member and a $25 apparel credit for an associate member. An apparel credit that is more than the cost of a membership? Joining PRO should be a no brainer!
HP Badging for your car – We know you love to show off your car, and what better way than to have some cool HP badging on the side of your ride.
Special ID Membership card – Check out our new members card, a metal card with your info laser engraved on it. Flash your cool member card and be the envy of your friends!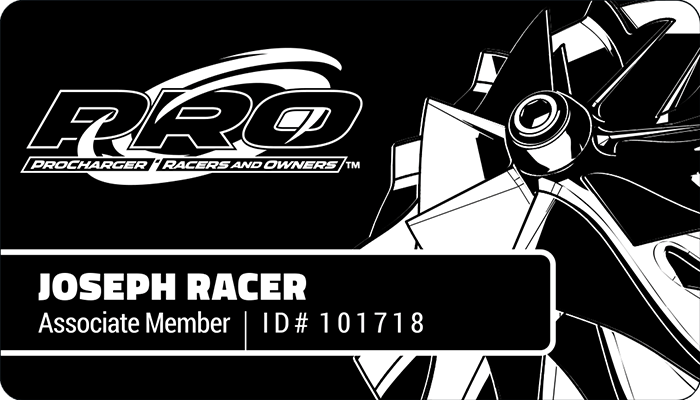 VIP Events for PRO Members – In 2019, we are going to offer some pretty cool events where you the PRO member are exclusively invited to attend. We look forward to engaging with you more and offering you a chance to meet the ProCharger team. More details to follow later.
Vehicle gallery featuring your car on our website, procharger.com – We love talking about our customer cars and what better way than to showcase your cars on our website. We will also include some digital badging you can add to your vehicle photos to give them a special kick!
Newsletter with relevant topics – We also will be launching an awesome newsletter based on product info, tech tips, and overall knowledge about ProCharger products and supercharging.
JOIN THE PRO NATION!: TO BECOME A PRO MEMBER, CLICK HERE TO VISIT OUR PROCHARGER STORE, SELECT PRO OWNERSHIP GROUP, AND CHOOSE MEMBERSHIP LEVEL
---
| | | |
| --- | --- | --- |
| PRO Ownership Group Membership Benefits | Full Membership | Associate Membership |
| Membership Fees | $39 | $19 |
| Membership ID Card | ✓ | ✓ |
| Credit for PRO Membership apparel | $40 Credit | $25 Credit |
| HP Certificate | ✓ | ✓ |
| Car HP Badging (Digital and Physical) | Physical and Digital | Digital |
| Online | | |
| Group Newsletter | ✓ | ✓ |
| Forum to discuss relevant topics | ✓ | ✓ |
| Vehicle Gallery on Website Showcasing PRO Member Vehicles | ✓ | ✓ |
| Customer Vehicle featured on website and/or social media | ✓ | |
| VIP Event Participation | ✓ | ✓ |
More details will be provided in upcoming email and mail notifications. We appreciate your help in making the new ProCharger PRO ownership group a success!
---
QUESTIONS ABOUT THE PRO OWNERSHIP GROUP?
Give our sales staff a call or an email at the following contact methods below. We will be happy to assist you with any questions about the new PRO Ownership Group.
Phone – (913) 338-2886 M-F 8:30am – 5:30pm CST
Sales Email – [email protected]