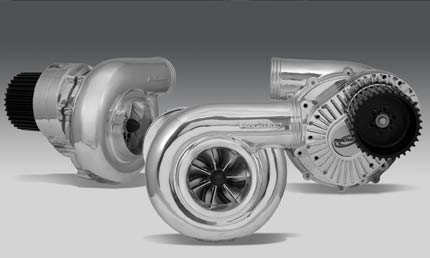 NEW PROCHARGER F-3 SERIES BLOWERS
ProCharger is proud to announce the release of its new line of highly efficient and durable F-3 superchargers. Our engineering staff, the largest in the aftermarket forced induction industry, has been hard at work in ProCharger's aerodynamics test lab, developing three specific different designs: F-3A-121, F-3R-130, F-3R-136.

These new ultra-efficient compressor and impeller designs will not only provide you and our racers with more boost, they will also take less drive power to turn them. In addition to these new features, they still include all the advantages our racers have become accustomed to. With its unmatched self-contained oiling system, to its patented compound bearing assembly, the F-3 is the most durable centrifugal supercharger ever to exceed the 225 mph barrier.
Whether you're racing a high-winding small block or choose to run over 600 cubes, ProCharger has an F-3-series supercharger to fit your needs. From 1800 horsepower all the way up to well over 3000 horsepower, it's no wonder why ProCharger superchargers are the racers' choice for performance and reliability.
ProCharger F-3A-121
Base HP Range of NA Engine: 500 – 850 HP
Maximum Supercharged HP Rating: 2,100 HP
Maximum Airflow: 3,100 cfm
Maximum Boost: 40 psi
Inlet Diameter: 5.5 inches
Outlet Diameter: 4 inches
Maximum Impeller RPM: 72,000
Internal Step-up Ratio: 6.24:1
Self-Contained Oiling: Yes
Reverse Rotation Available: Yes
ProCharger F-3R-130
Base HP Range of NA Engine: 600 – 900 HP
Maximum Supercharged HP Rating: 2,600 HP
Maximum Airflow: 3,600 cfm
Maximum Boost: 45 psi
Inlet Diameter: 6 inches
Outlet Diameter: 4 inches
Maximum Impeller RPM: 72,000
Internal Step-up Ratio: 5.63:1
Self-Contained Oiling: Yes
Reverse Rotation Available: Yes
ProCharger F-3R-136
Base HP Range of NA Engine: 700 – 1,000 HP
Maximum Supercharged HP Rating: 3,000+ HP
Maximum Airflow: 4,000 cfm
Maximum Boost: 50 psi
Inlet Diameter: 6 inches
Outlet Diameter: 4 inches
Maximum Impeller RPM: 72,000
Internal Step-up Ratio: 5.63:1
Self-Contained Oiling: Yes
Reverse Rotation Available: Yes