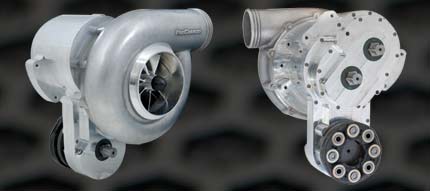 NEW F-3 RACEDRIVE
Never at rest, ProCharger has been burning the "midnight oil" and is excited to announce the release of its new ProCharger RaceDriveTM design. It is an integrated gear drive that is combined with our recently redesigned line up of F3 superchargers. Currently it will be offered in three different configurations: the F3A-121RD, F3R-130RD and the F3R-136RD. The ProCharger RaceDrive is a compact drive unit that centrally mounts the ProCharger closer to the engine and higher up for easier installation.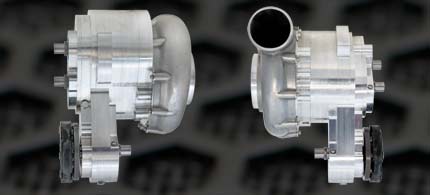 Main features:
• From the face of the engine damper to air inlet of the supercharger is a little over 14"
• From crankshaft centerline to supercharger inlet shaft centerline is 7.5"
• Over all height from crankshaft centerline to the top of the gear case is 13.5"
• ProCharger uses a rugged coupler design made of rubber that mates the RaceDrive to the engine.
• The Race Drive has the ability to drive multiple accessories such as: fuel pump, vacuum pump, oil pump, etc. from three separate drive shafts.
• One of the key features of the ProCharger RaceDrive is the ability to change the gear sets or blower speeds by simply removing the front cover, and replacing the 10 spline quick change gear sets with well over 40 different ratios to choose from. The gear case is isolated from the supercharger transmission and holds 4oz of ProCharger oil.
If you are planning to attend this year's Performance Racing Industry show in Orlando, FL. Come see us at booth #3506 for more information on the RaceDrive and many other new and exciting products being released by ProCharger.