NEED AN INTERCOOLER, FOR YOUR BIG POWER C6 CORVETTE?
ProCharger is happy to announce the release of its Race air-to-air intercooler for use on high horsepower supercharged C6 Corvettes. If your making 700, 800, or even 1000+ HP, this intercooler has you covered (and then some). Track-tested on the drag strip and the road course, this massive intercooler is ready to perform. So if your intercooler is getting choked up from more CFM flowing through it than it was built to handle, creating a bottleneck that limits your boost, this is your solution.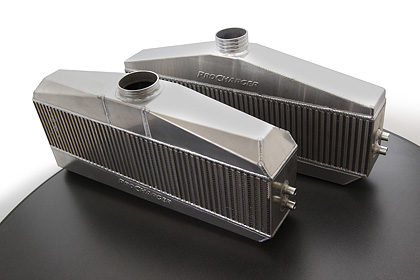 The core of this monster intercooler features a massive 4.5″ thick core section for maximum cooling area and low restriction. To make this possible, a custom bar and plate core is manufactured right here in the USA, designed to not only have great cooling abilities, but also the lowest pressure drop possible. Further flow enhancements include tapered, lightweight sheet-metal end tanks, and 3.5″ inlet and outlet connections.
(Race vs. HO Intercooler Inlets)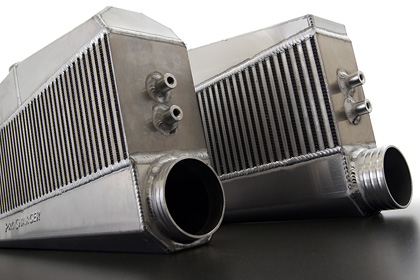 This C6 Corvette Air-to-Air Race intercooler was designed to be a "drop-in" replacement for those already supercharged using the HO ProCharger intercooler. All existing brackets, tubing, inlet, hardware transfer over to the new Race intercooler for easy installation. Absolutely NO modifications to the Corvettes body or frame are needed this this installation, making it 100% reversible.
(Intercooler installed, with cover removed)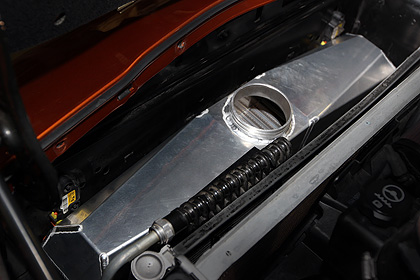 So if your supercharged Corvette is pushing high HP levels, and/or being used in situations where long duration WOT pulls are common (1/2 mile or 1 mile races) this is your intercooling solution. Track testing on long duration WOT pulls have seen inlet temps as low as 30 deg. over ambient! Please contact us at 913-338-2886 or at [email protected] for more details, or to get in touch with a local dealer.
PART NUMBER: AIGO3A-003
RETAIL PRICE: $1,395
RETAIL UPGRADE AT TIME OF PURCHASE: $345
*Custom oil cooler mounting needed for cars equipped with an oil cooler