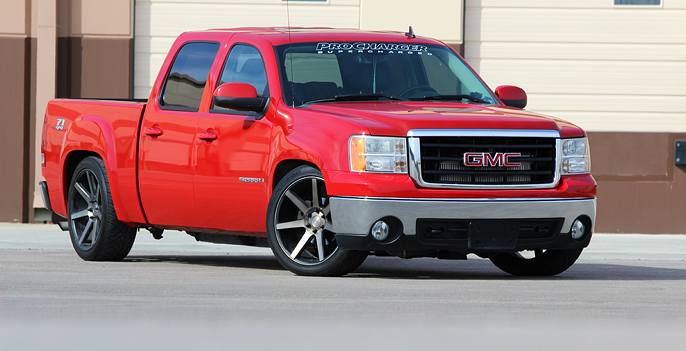 MORE STAGE 2 KITS NOW SHIPPING!
GM TRUCK/SUV AND JEEP SRT ADDED TO STAGE 2 LIST!
ProCharger has always brought out the best centrifugal systems for trucks with reliable big power numbers on pump gas!
These systems have delivered huge power gains, while still being able to be installed in the garage with common hand tools in an afternoon. So if you're looking for BIG power systems, without the hassle of fabwork, or running to the parts store mid-install, look no further. (Down to ECU programing for stock trucks)**
But this blog isn't just about stock truck's, this blog is about our guys looking to do cam swaps/built motors making HUGE power! It could also be for the guy that just wants a dedicated belt driving his supercharger. So with that being said, let's talk some recently released "Stage 2" systems for all of the following brands.
STAGE 2 SYSTEM'S NOW SHIPPING FOR:
– GM Truck and SUV (2013-1999*) 5.3L / 6.0L / 6.2L (1500 Chassis)
– Jeep SRT (2010-2006) 6.1L
– Ford F-150 (2015-2011) 5.0L (See Previous Blog HERE)
– Ford F-150 Raptor (2014-2011) 6.2L (See Previous Blog HERE)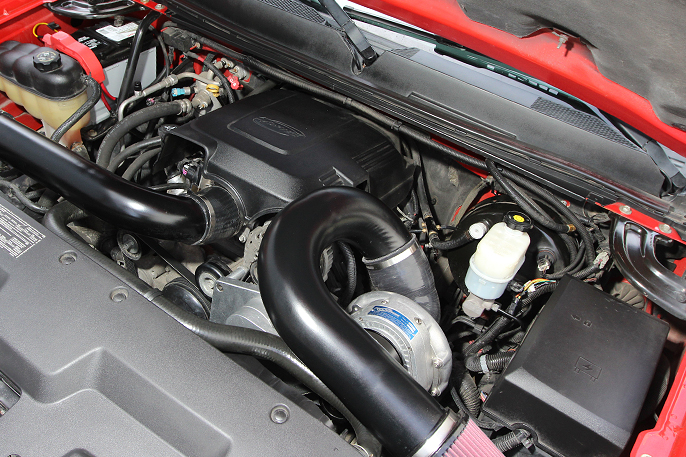 DEDICATED DRIVES + BIG INTERCOOLERS = BIG POWER!
These new Stage 2 systems, start out with a dedicated 8 rib drive system to give ultimate belt traction on the supercharger. Having this short belt with wide traction surface reduces the chance for belt deflection when used in racing applications. However the other benefit for the dedicated drive system outside of racing is very fast pulley/boost level changes. Plus the supercharger can be disabled with a simple removal of the belt, in case someone is borrowing the truck.
On the GM and Ford applications we have two avaliable options for crank shaft pulley adaption. One of which uses the patented "Cam-Lock" crank pulley design as show in the image below. The other option is for an aftermarket SFI balancer option for big HP and race motor applications. Due to the HEMI crank pulley design, currently we only offer the SFI balancer system.
Both of these systems allow a customer to use our standard P-1SC-1 headunit all the way up to the massive F-series headunits for big power applications. To find out which unit best matches the power goals of your combination, please call our sales line at 913-338-2886 to discuss your build details.
---
GM DEDICATED DRIVE BRACKET (UP TO F-1X HEADUNIT)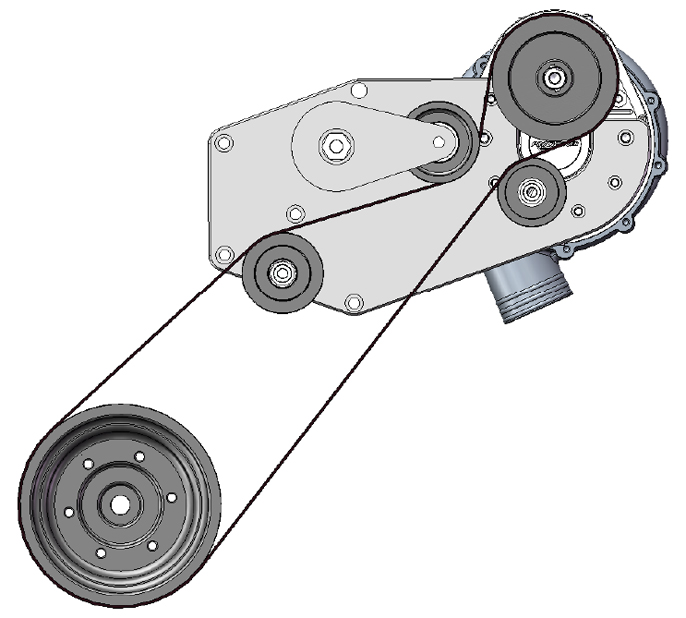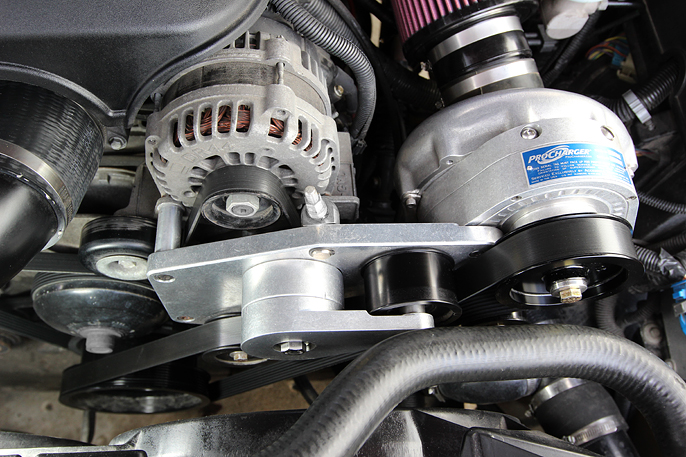 JEEP SRT 6.1L DRIVE SYSTEM (UP TO F-1X HEADUNIT)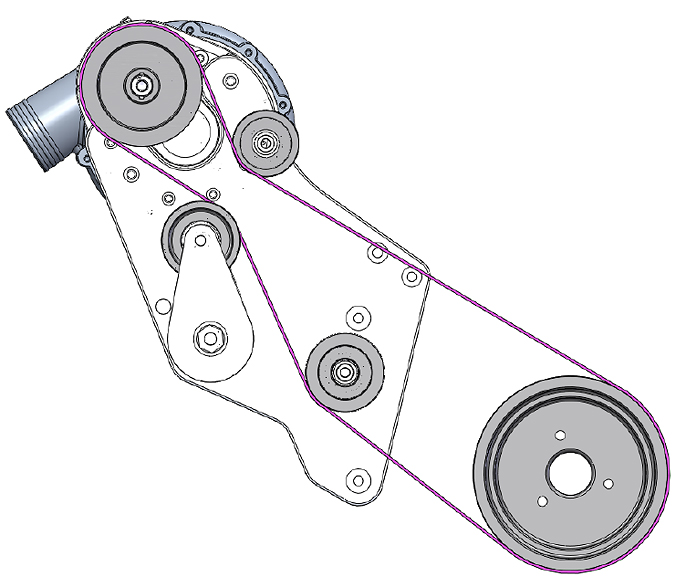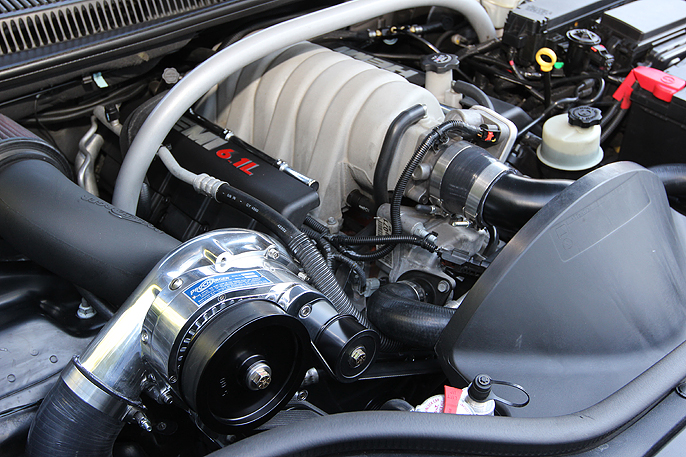 GM TRUCK/SUV FRONT MOUNT INTERCOOLER
ProCharger took advantage of the massive grill opening in these truck/suv's and mounted our HUGE 3 core unit front and center. This intercooler has supported over 1,000rwhp in many different applications for over 15 years. We are beyond excited to see how many more truck/suv's we can add to that 4 digit power list.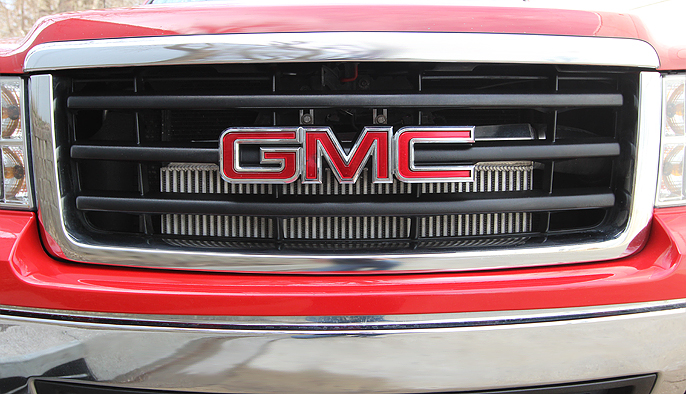 JEEP SRT 6.1L RACE INTERCOOLER
We opted for a little "see through" shot of this monster of an intercooler. This is really to only show off the 1,296 total cubic inches of cooling surface of this 4.5″ thick unit. So for Jeep owners looking for the perfect intercooler for 800,900, or ever 1,000 rwhp, this is the intercooler for you!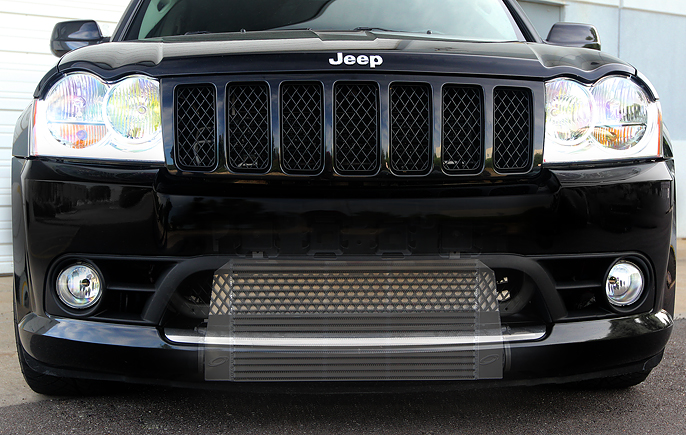 WANT MORE DETAILS?
If you're interested in more details on either the GM Truck/SUV Stage 2 system, or the Jeep SRT 6.1L Stage 2 System.
Please reach out to our sales line at 913-338-2886 or drop us an email to [email protected]
Since we started this blog with a GM Truck, we figured it was only fitting to end it with a heavy hitting Jeep.
Enjoy this factory looking, big boost packing, Jeep Cherokee.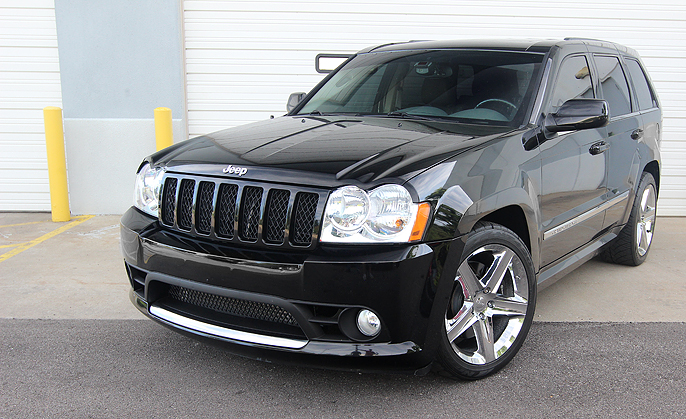 * = Early trucks with mechanical fan, will require E-fan conversion (not included)
** = Stock Trucks running stock boost levels, with cat back exhaust systems only. (or stock exhaust)