MORE PROCHARGER ON TV!
Word is out that ProCharger can add 200 RWHP to a stock 5.0 Mustang GT with only 7.5 psi, and the team at "Two Guys Garage" invited ProCharger and LaMotta Performance to their studio to show how it's done. In addition to Kevin Byrd and Willie B from "Two Guys Garage," shown below are Jake LaMotta (second from left) of LaMotta Performance, and Sergio Shifman (second from right) of ProCharger. Behind them is the ProCharged 2011 5.0 Mustang owned by A.J. Tompkins of LaMotta's. Look for this episode to air in the very near future on "Two Guys Garage"!
The ProCharger team also recently visited the super nice and new facilities of "GearZ TV" in a ProCharged 2010 Camaro SS. This otherwise stock LS3 Camaro runs 11.50's at 122 mph, and picked up 195 RWHP thanks to a highly efficient ProCharger system running 7.5 psi of boost. Shown below are Stacey David and the team from GearZ after Stacey had just taken this Camaro out for a thrashing – and exited the car grinning from ear to ear. Keep an eye on "GearZ TV" as it moves to the MAVTV network.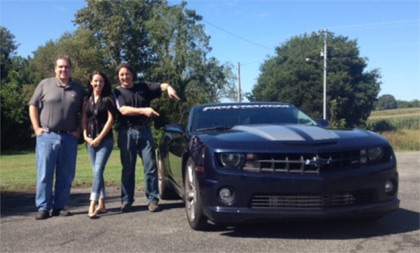 ProCharger will also be appearing in an upcoming episode of "Let it Ride;" Zach Ness' television show on National Geographic Channel. That episode will feature a ProCharged Victory making some serious power. Additionally, ProCharger will once again be hooking up with Chris Duke of "Motorz TV" to showcase some exciting new products, in an episode to air in November.