LARGEST POWER GAINS
FUNDAMENTAL ADVANTAGE
ProCharger has several advantages which help support cutting edge innovation, precise engineering, quality manufacturing and unsurpassed performance. First, ProCharger designs and manufactures both its own superchargers and complete supercharger systems, unlike some competitors who buy superchargers and components elsewhere and are really only assembling kits. This helps ensure that ProCharger delivers a high quality, high performance product designed specifically for your needs.
Secondly, ProCharger resources lead the industry, including best in class aerodynamic design capabilities, and an unmatched commitment to testing (test lab, chassis and engine dynos, industry's largest test fleet). No other aftermarket company is even close to ProCharger's ability to rapidly design, prototype and test new compressor models. Lastly, from the engineering group to the production team, from the sales and service staff to the shipping department, ProCharger is comprised of enthusiasts who share your passion for high performance.
UNMATCHED SUPERCHARGER TECHNOLOGY
Thanks to relentless innovation, ProCharger technology is generations ahead of the competition. Our exclusive, patented, self-contained, gear-driven centrifugal superchargers eliminate tapping into your oil pan, run cooler and produce more power than any of our competitor's products. Our impellers are created with aircraft grade 7075 T-6 aluminum alloy for tremendous strength and performance.
The top tier material used in the construction of every ProCharger billet impeller and compressor housing allows us to use higher step up ratios than the competition. This in turn allows increased boost levels and superior overall performance than other offerings on the market.
AIR-TO-AIR INTERCOOLING VS AIR-TO-WATER
ProCharger pioneered intercooled supercharging years before others and still offers the most effective, reliable and highest flowing intercoolers. These deliver the lowest charge air temperature available for maximum engine longevity and efficiency, with zero maintenance. We also offer the broadest range of intercoolers of any supercharger manufacturer. This ensures the right product for your power level and type of use.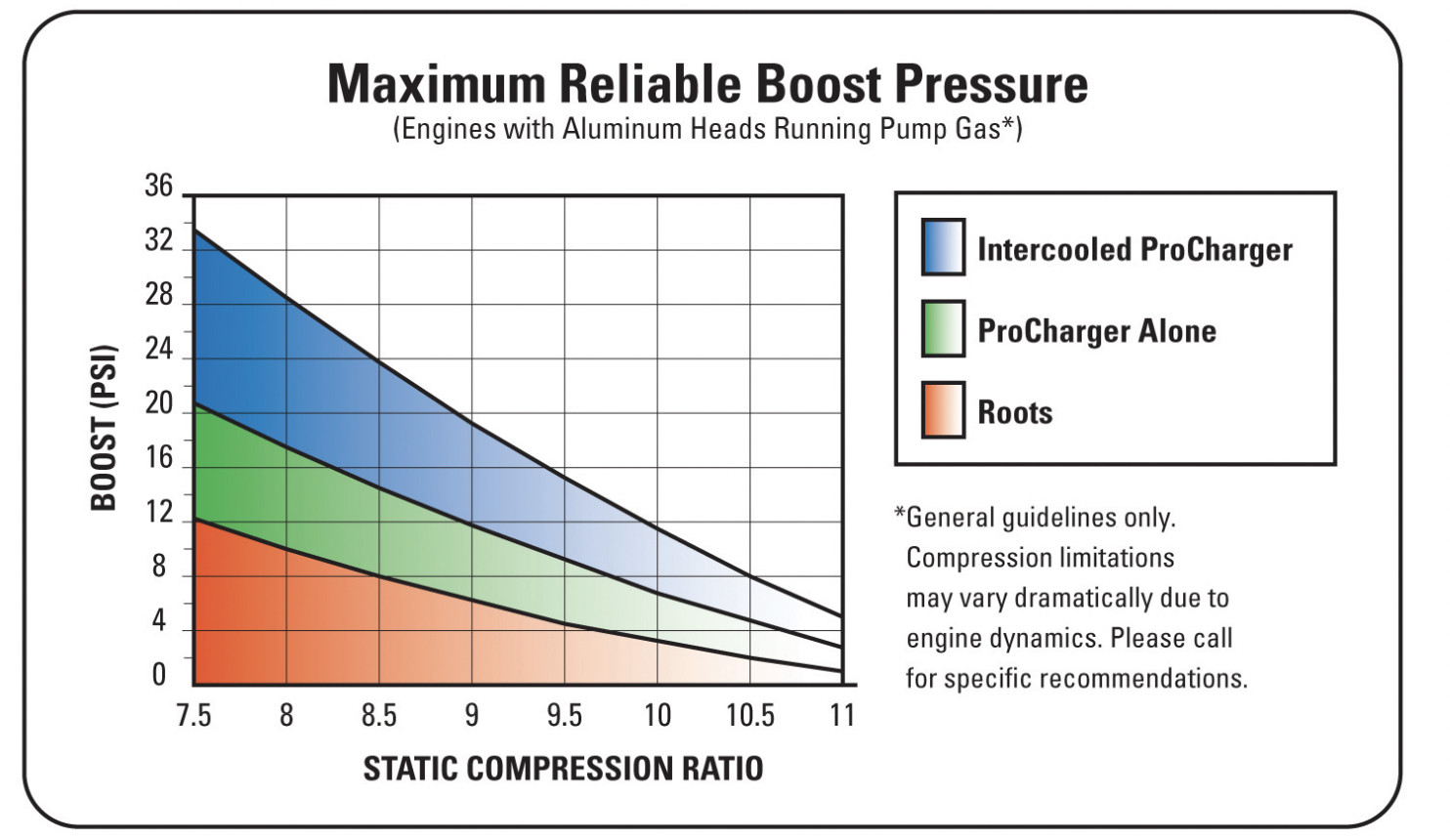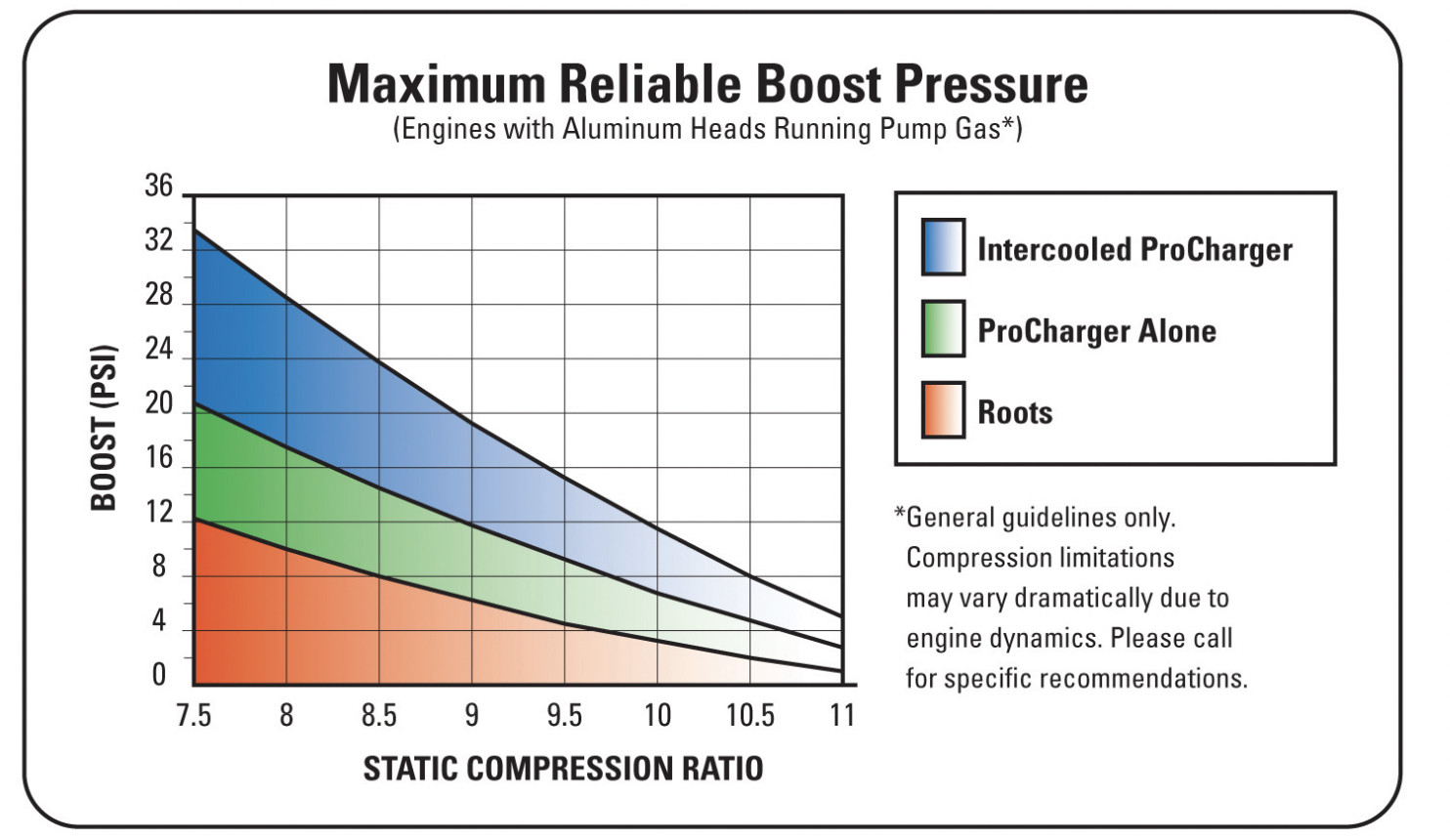 INTEGRATED SYSTEM DESIGN
Our industry leading team of design engineers utilizes the most advanced technology to ensure maximum performance from our complete supercharger kits. Each of these systems has been individually crafted to match your vehicle exactly. We ensure every facet of the installation provides the parts you need to ensure a trouble free experience.
All ProCharger kits feature matched superchargers and intercoolers to provide the coolest charge air temperatures available. Please note that unlike other companies, ProCharger system design locates both the supercharger and intercooler away from the motor, avoiding the detonation causing and power robbing heat associated with engine top mounting or an exhaust interface.
We also provide all tubing, brackets, hoses and hardware. Where needed, fuel pumps and reprogramming for your cars systems are provided to ensure maximum results and reliability. Before any ProCharger system is made available, it must pass a rigorous series of performance testing hurdles. All of our applications are proven on the dyno, in the lab, at the track, and on the street, before we will bring it to market.
EMISSIONS COMPLIANCE
ProCharger offers Executive Orders for Emissions Compliance (EO) from California Air Resources Board (CARB) for many of our most popular car, truck and SUV applications. If you live in California, we can only sell you products with EO certification. Check out our full list of EO offerings.