Kyle Fickler Joins ProCharger Staff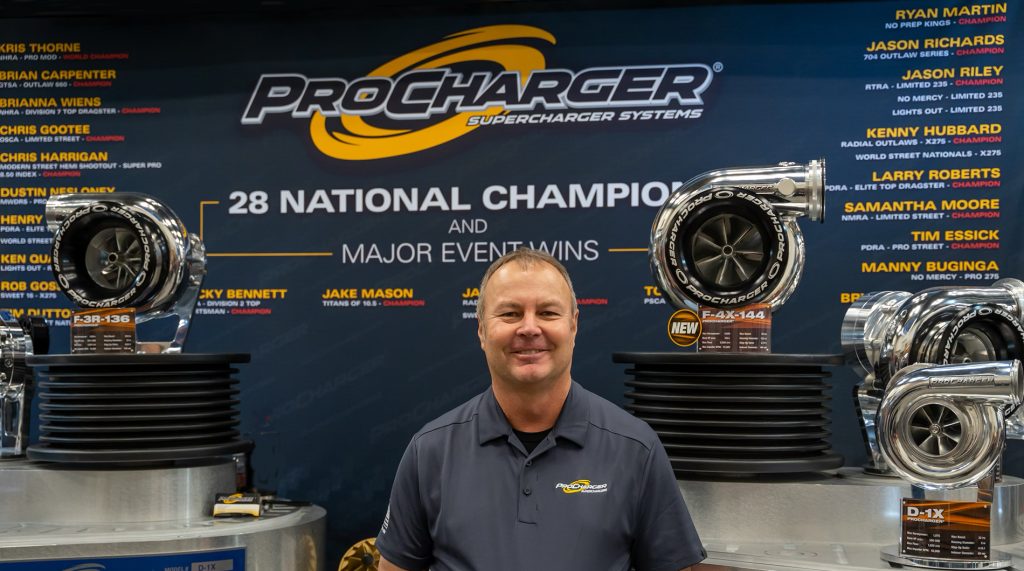 FOR IMMEDIATE RELEASE
Lenexa, KS – Accessible Technologies, Inc., parent company of ProCharger and Inovair, is excited to welcome Kyle Fickler to the ProCharger team. Previously the Director of Sales and Business Development at Driven Racing Oil, and with a long tenure in leadership roles at Aeromotive and Weld Racing, Kyle brings a wealth of experience and industry knowledge to his new role at ProCharger. Kyle is also member of the SEMA Board of Directors, and will become Chairman of the SEMA Board this summer. Adding a person of Kyle's caliber to the already strong ProCharger Motorsports and Sales staff is exciting to the entire ProCharger team.
Kyle received his BS in Finance, BA in Philosophy, and JD in Law from the University of Montana. While always leveraging his formal education, Kyle focused his pursuits toward his true passion – cars and racing. Kyle is an active car owner and racer, and also enjoys racing with his family. Prior to his recent role at Driven Racing Oil, Kyle was Director of Business Development at Aeromotive and involved in its formation and growth, and helped grow Weld Racing substantially as VP of Marketing and Sales. As Director of Business Development for ProCharger, Kyle will be heavily involved in Motorsports, Sales and other activities.
"This is a natural next step for me, and I am very excited to have this opportunity with the industry leader in both hard core motorsports and 50-state legal supercharger systems. We are going to have fun," Fickler said.
Please join us in welcoming Kyle to the ProCharger family.
About ProCharger Supercharger System – ProCharger is a division of Accessible Technologies, Inc., and the world's leading aftermarket supercharger company. Founded in 1994, ProCharger manufactures aftermarket supercharger systems for street and racing applications. As the preferred supercharger supplier for several well-known and celebrity racers, the ProCharger brand is known for providing industry-leading performance and reliability.
Contact: ProCharger Supercharger Systems
Date: 12/10/22
Phone: 913-338-2886
Email: [email protected]