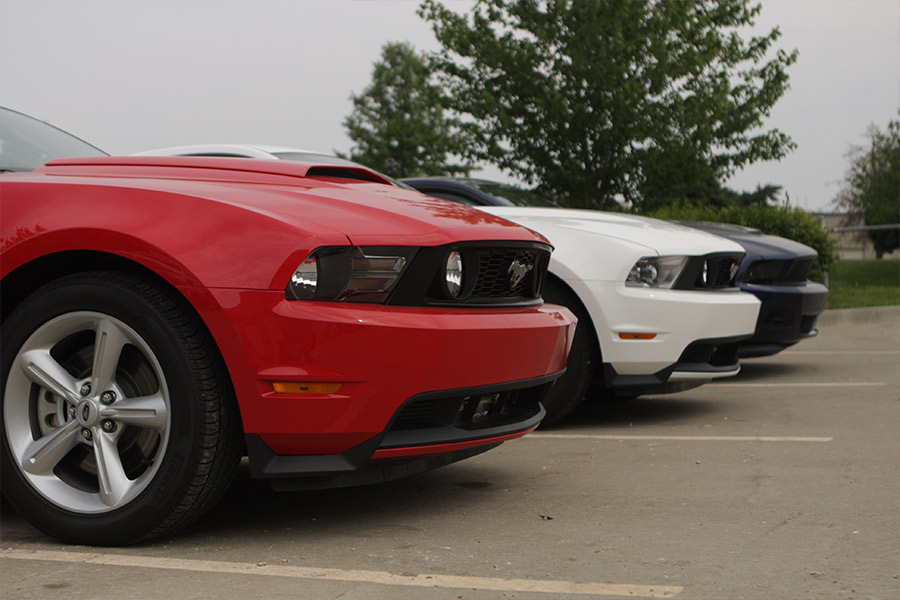 MUSTANGS JUST GOT A WHOLE LOT FASTER!
INTERCOOLED STAGE II PROCHARGER SYSTEMS & TUNER KITS NOW AVAILABLE FOR 2011 5.0 MUSTANGS
ProCharger announces availability of Intercooled Stage II Supercharger Systems and Tuner Kits for the wildly popular 2011 5.- Mustangs. The Stage II offering will be making it's industry debut at the 2010 SEMA Show in Las Vegas, however, both systems and tuner kits are available for order immediately.

The complete Stage II offering will be showcased on a customized black/Grabber Blue 2011 5.0 Mustang that will be featured in ProCharger's 2010 SEMA Show Display, booth #21011. The new Stage II offering joins the High Output (HO) Systems and Tuner Kits that have been available since mid-August 2010. The HO offering requires absolutely no cutting whatsoever of factory components to install, including the front bumper cover or signature 5.0 engine cover.
Leading the Way: Intercooled Stage II System and Tuner Kit for Maximum Power Gains.
Realizing the performance potential of the 2011 Mustang's new 5.0 engine, ProCharger is the first supercharger manufacturer to develop a clear forced- induction upgrade path for owners looking to take their new Mustangs to even higher power levels.

When compared to the HO System components, the new Stage II Supercharger System and Tuner Kit utilize a larger, front mounted intercooler, fabricated coolant tank, specially designed radiator fan shroud assembly and a larger air filter. Installation of the Stage II components requires minor trimming to the inside of the lower front bumper cover (factory engine cover does not require modification or trimming). A 12-rib supercharger drive is also available.
Thanks to the dedicated supercharger drive system, highly efficient supercharger compressor design and effective, air-to-air intercooler system, ProCharger superchargers produce the largest power gains in the industry.

Utilizing the patented and proven, self-contained ProCharger P-1SC-1 supercharger making 7+ psi of boost, a highly effective air-to-air intercooler and dedicated 8-rib drive, a Stage II system or tuner kit can add 180 or more HP to an otherwise stock 2011 5.0 Mustang running high quality pump gas. Given Ford's conservative 412 hp rating for their new 5.0 4V engine, ProCharger Stage II-equipped 5.0 Mustangs easily make 615+ flywheel horsepower.
When you're ready to take your new 5.0 Mustang to the next level with The ULTIMATE Power Adder, contact your local ProCharger dealer or give our Sales Team a call at (913) 338-2886, M-F, 8:00 AM to 5:30 PM central time.