INOVAIR: PROCHARGER'S INDUSTRIAL PRODUCTS DIVISION
For more than 18 years, ProCharger has been designing, testing and manufacturing industry-leading centrifugal superchargers. As far back as 1999, the ProCharger engineering team started modifying the basic design for various light-industrial applications, including manufacturing and aircraft deicing. Today, ProCharger's parent company, Accessible Technologies, Inc. (ATI) is the leading supplier of centrifugal blowers to the aircraft deicing industry, and end users include the U.S. Air Force as well as major commercial passenger and freight airlines.

Inovair: Leader in Multiple Industrial Markets
With expanding industrial applications, ATI introduced a new industrial products division in 2010: Inovair. Also in 2010, Inovair introduced the first centrifugal compressor packages designed specifically for pneumatic conveying in plants such as flour milling, baking and plastics. Inovair is now the leading manufacturer of centrifugal compressors utilized in pneumatic conveying, while continuing to expand its leadership in aircraft deicing.
Industrial Design Differences
The primary benefits of Inovair centrifugal blowers and compressors is higher efficiency relative to positive displacement blowers, as well as reduced dBA levels and a more compact footprint. This higher efficiency results in substantial energy savings, as well as the creation of less heat during the compression process.
Compressor design is very similar to automotive applications, with the exception of diffuser guide vanes, which have been utilized in Inovair applications since late 2010, but are not present in ProCharger designs. These guide vanes are helpful for applications with fixed operating points (eg, 12 psi @ 1000 cfm), which is the case for many industrial applications. However, for automotive applications, where flow and pressure vary across the engine rpm range, diffuser guide vanes are typically not used because they limit the operating range of the compressor (vs a compressor with a vaneless diffuser). A major benefit of centrifugal compressors relative to PD blowers (beyond efficiency) is a much broader operating range, and vaneless diffusers typically deliver a better combination of efficiency and operating range for automotive applications.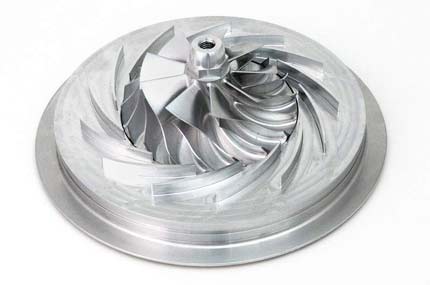 With respect to gearcase design, the primary difference between industrial and automotive applications is the duty cycle (with many industrial plants running 24×7), as well as the need for a higher step-up to be able to operate with electric motors turning at 1,800 or 3,600 rpm.
The heart of the Inovair product line is the Inovair 2200 aerodynamic blower. This integrally geared blower features a 16.25:1 step-up ratio and supports a broad range of pressure (4 – 22 psi) and airflow (400 – 2,200 CFM) requirements.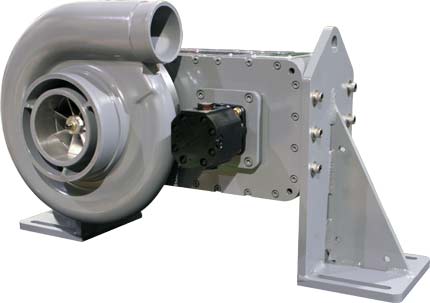 Inovair 2200 Blower unit
The latest Inovair products will be shown at two major trade shows this May, including the International Association of Operative Millers 116th Annual Conference and Expo, May 8-10 in Spokane, WA and the Powder and Bulk Solids industry show (PTX) in Chicago, IL, also May 8-10.
The ProCharger product line also benefits from the growth of the Inovair business. Organizational knowledge has been strengthened by the demands of products utilized in 24×7 operation, including the designs and quality assurance needed to ensure extreme durability in such factory environments. The latest Inovair and ProCharger compressor designs feature best in class efficiency, and both brands benefit from the combined scale of the two businesses. This scale allows shared state-of-the-art resources such as new machining and quality assurance equipment, as well as the industry leading test lab constructed in late 2010 in building 2 of the ProCharger/Inovair campus.