How Fast Is a ProCharged C8 Corvette?
132+ mph track passes, without drama, from two daily drivers!
With midwest weather starting to look like spring is almost here, it was time for a pair of daily-driven ProCharged C8's to take a road trip to the dragstrip! So we did just that…

Before we begin, please take note, this wasn't some big production, with wild trackside changes or testing being done. This was 100% daily driver activities here, using two 100% bone stock cars, with ProCharger supercharger systems exactly as they ship. (And when we mean stock, we mean down to the mufflers, stock)

That being said, knowing a 2.5-hour drive was ahead of us we hit the road…

We arrived,
We made some passes,
We took some photos,
We celebrated with some high-fives,
We then jumped in the cars, grabbed some lunch, and drove home (Bose stereo blasting of course)!
We expected the vehicles to be consistent, but we were delighted to see back to back to back 132+ mph passes from both cars! One might consider bracket racing these things!
The 2023 ProCharged C8 Base Model…
The recipe for this car's story is simple… take a 100% stock base model (non-Z51) and add a ProCharger Stage 2 intercooled system and 93 octane pump fuel from BP. Seriously, no other modifications are necessary. We ran the exact same parts and ECU calibration that we ship daily to all our Stage 2 system customers (or Stage 2 upgrades).
In other words, we test exactly what we ship, and we couldn't be more excited about the results of running 132+ mph. And with more trial-and-error on launches, we are confident we can get the E/T down even more.
TRACK CONDITIONS: Density Altitude 1,604 ft, with a 4-6 mph headwind.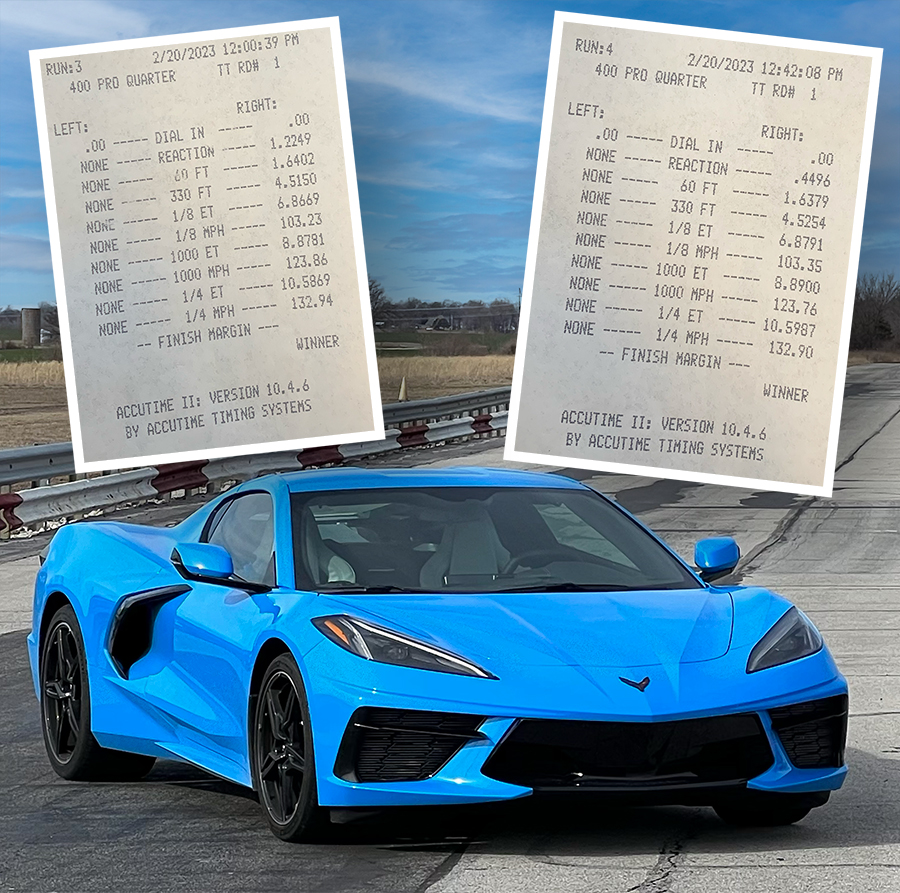 The 2021 ProCharged C8 Z51…
While the Z51 car does have different trans gearing / suspension / aerodynamics from the base model, it showed that, when running identical supercharger kits, identical 93 octane pump gas, and identical calibrations in the ECU, they end up being very similar on the track. As it also ran nearly identical mph to the base model car.
One thing to note for both this Z51 and the Base model mentioned above is…
The method we have found to work the best is to place the cars in sport or track mode (1,700 rpm launches) and let them shift automatically. These cars perform lighting-fast shifts all by themselves, thanks to the tuning tweaks we have added to the PCM, and have proven to outperform us trying to "grab the paddles" in manual mode.
Also worth mentioning, we have never had the 3,500 rpm launch ever outperform the lower 1,700 rpm launch mode. Thus, we advise sticking to the lower 1,700 rpm launch mode, keeping the 60 foots crisp, as well as being nice to the factory clutches.

NOTE: 132.04 with little higher Density Altitude 1,751 ft, with a similar 4-6 mph headwind.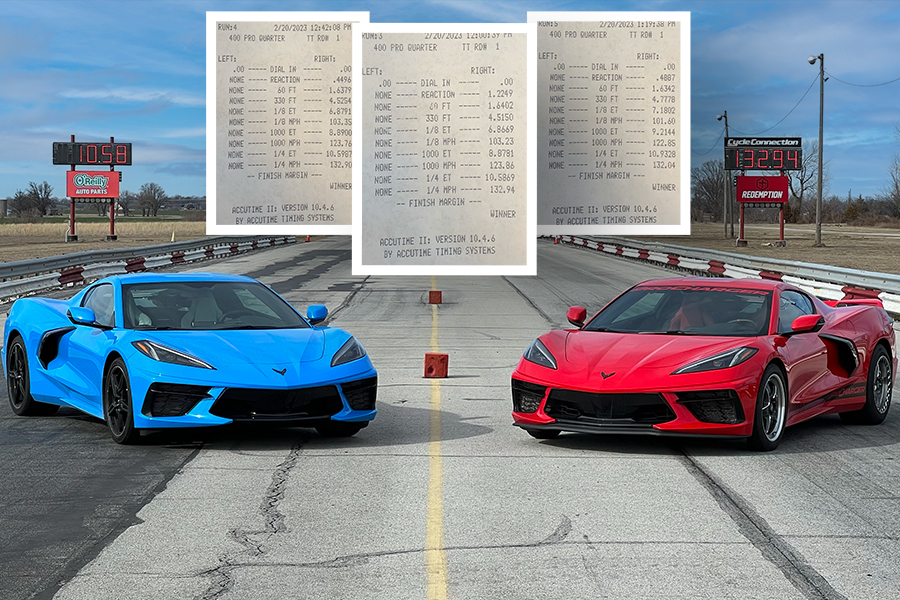 Who will have the first 1000+hp ProCharged C8?!?!?
Even though these Stage 2 systems make amazing power, have unmatched driveability, and are MORE than enough for most of our customers, we know darn well there are a few of you out there that will be taking these vehicles to the next level and we can't wait to see…

More boost,
Meth systems,
Aux Port Injectors,
Alternative fuels and more!

Really, the sky is the limit with the creativity of our customers, and that excites us here at ProCharger.
---
CONTACT US FOR QUESTIONS AND SUPPORT
Give our sales staff a call or email us at the following contact methods below. Or you can click HERE to find a dealer nearby to help out with your vehicle. We will be happy to assist you with any technical questions about supercharger systems and the results you can expect.
Phone – (913) 338-2886
Mon – Frid 8am – 5:30pm CST
Sales Email – [email protected]
Tech Email – [email protected]