HOT ROD SHOWS HOW TO ADD A PROCHARGER SUPERCHARGER TO A LATE MODEL HEMI!
WANNA ADD 200 MORE HORSEPOWER ONTO YOUR HEMI?
Sure you do…and we don't blame you one bit!
The guys over at Hot Rod and Mopar Muscle magazines also like bolting on an additional 200 HP, which leads us to this blog. Recently Mopar Muscle and the Hot Rod network featured an in-depth STEP-by-STEP installation on a 6.4L HEMI, to show just how easy it is to take these already impressive cars, add a little boost, and turn them into absolute MONSTERS. Here at ProCharger superchargers we have helped Dodge, Chrysler, Jeep and Ram customers bolt-on the biggest power gains possible for nearly 2 decades!
And we appreciate the recognition within the aftermarket performance industry:
"Why did we select ProCharger? ProCharger was the only choice when it came to a 100 percent complete, bolt-on supercharger installation. They have been the leading aftermarket supercharger manufacturer for 25 years, and their products are some of the best engineered, reliable, and powerful on the market. The ProCharger line is USA engineered and built to provide excellent power/pound of boost for a multitude of applications, including not only late-model V-8s, but trucks, SUVs, compacts, motorcycles, and various marine applications. The ProCharger supercharger comes with an air-to-air intercooler that helps keep the charge air temperatures at a minimum for maximum power. Lastly, there's a warranty with each supercharger system." – MOPAR MUSCLE
But enough about that, let's get to the INSTALL!
CLICK HERE, OR THE IMAGE BELOW FOR FULL INSTALL!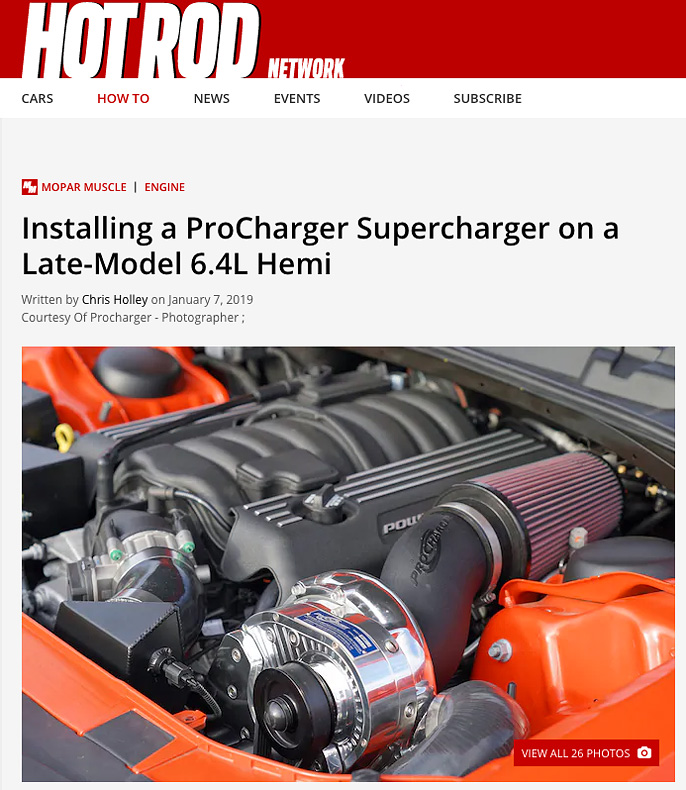 READY TO TURN YOUR HEMI INTO THE TALK OF THE NEIGHBORHOOD?
Give our sales staff a call or an email at the following contact methods below. We will be happy to assist you with any technical questions you may have about our systems, and the results you can expect. Thanks for reading!
Phone – (913) 338-2886 M-F 8:30am – 5:30pm CST
Sales Email – [email protected]
Tech Email – [email protected]