FORD MUSTANG SHELBY GT350 AND GT350R 5.2L SUPERCHARGER SYSTEMS
FORD MUSTANG SHELBY GT350 AND GT350R 5.2L SUPERCHARGER SYSTEMS. UP TO 1,100+ HP FROM A BOLT-ON!
The Mustang Shelby GT350's 5.2L DOHC engine has a flat-plane crankshaft that gives the car an engine scream that is the envy of sports cars world-wide, and its naturally aspirated 526hp from the factory combines that luscious sound with the bite to back up the bark. The ProCharger HO Intercooled Supercharger System, complete with a P-1SC-1 head unit making 6.5psi of boost, a 1,100hp capable air-to-air intercooler and a ready-to-go tune, adds 175+ HP to that, taking the supercharged GT350 to the 700HP level!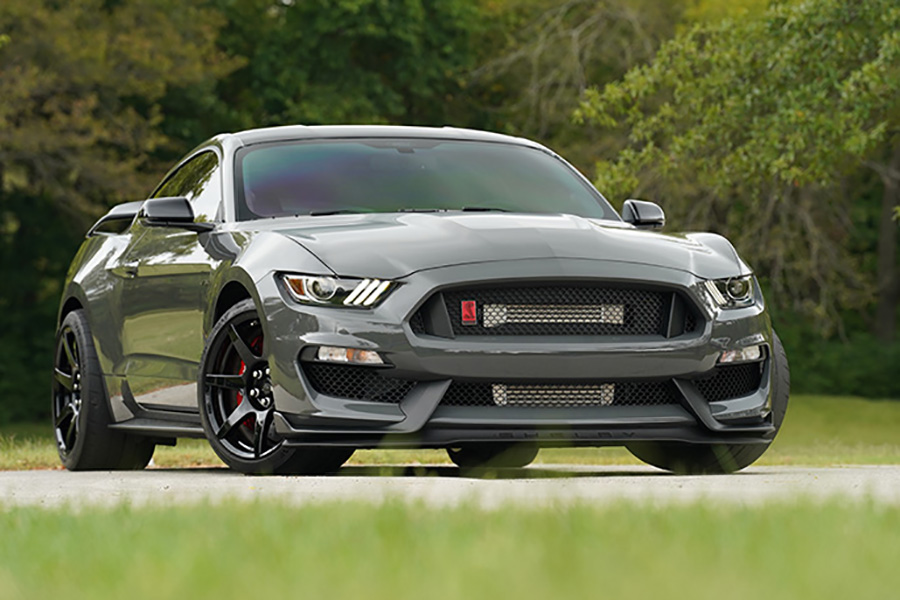 That's not enough for your power-greedy right foot? Then step to the new and improved Stage II Systems and Tuner Kits to crank out an impressive 877 HP (at the crankshaft!) thanks to more research and development by our Engineering team on the 5.2L Voodoo engine. A slight increase in boost of 9 psi and enhanced tuning give this Pony car the performance it deserves for a late model high performance car.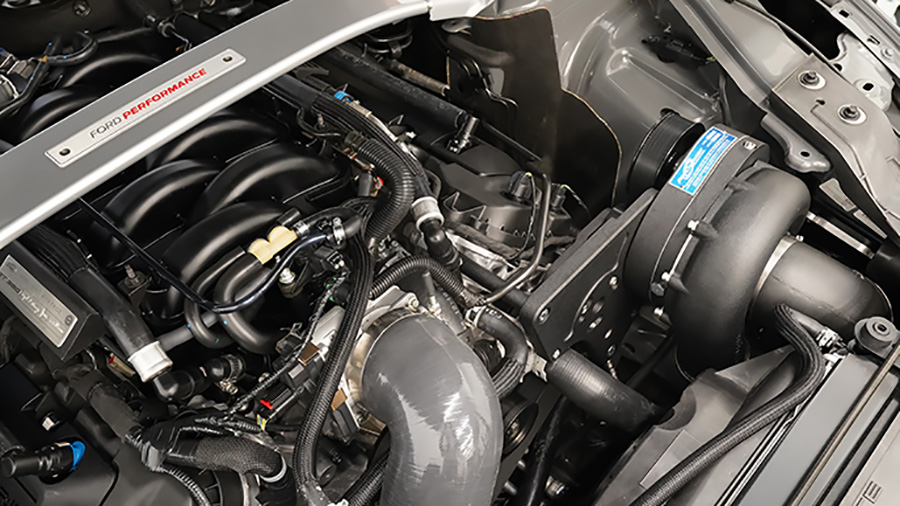 The ProCharger GT350 Mustang supercharger system comes 100% complete with a robust CNC billet bracket design, 8-rib dedicated drive, SFI-approved aftermarket balancer, handheld programmer, 95lb (1,000cc) injectors, and a highly effective air-to-air intercooler designed specifically for the GT350 capable of 1,100+ HP. The bolt-on installation is easy with standard hand tools and a floor jack, with no permanent modifications, no motor mount changes, no trimming/cutting, and no bending of any factory parts–not to mention OEM-style fit and finish.
DETAILS OF THE STAGE II INTERCOOLED SYSTEM
P-1SC-1 ProCharger self-contained supercharger
Large, front mounted air-to-air intercooler
8-rib dedicated supercharger drive system
SFI Balancer included with system
95lb Fuel Injectors included with system
nGauge tuning device included with system
OEM quality bolt-on design, Fits under stock hood
Belts can be changed without removing supercharger
Pulleys can be changed without removing supercharger
100% reversible, No cutting, or trimming
Self-contained oiling head unit, with CNC billet gear case and impeller
OPTIONAL UPGRADES
Polished, Black or Satin Supercharger finish
Polished, Black or Satin Bracket finish
Black intercooler finish
Helical Gear set for Noise Reduction (P & D serise only)
P-1X up to F-1A-94 head units available
Race Bypass Valve upgrade (for cars over 750HP, or those that want a loud bypass)
---
BEYOND THE TURNKEY SYSTEMS
This is Mitchell Pope's GT350 that made 1,450hp with a built engine, camshaft swap, and loads of airflow from an F-1A-94 ProCharger that added to the VooDoo's dyno crushing power numbers. Recently he did some more work to the car and strapped it back down the chassis dyno rollers, and the extra power made it spin the tires on the dyno, limiting it to 1,308 hp and 998 lb-ft of torque at 25 psi without a clean pull. Watch the video HERE.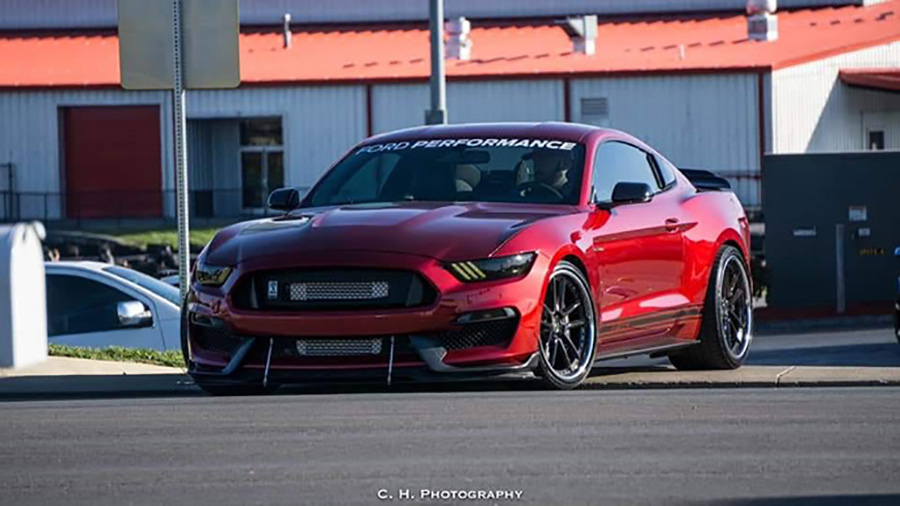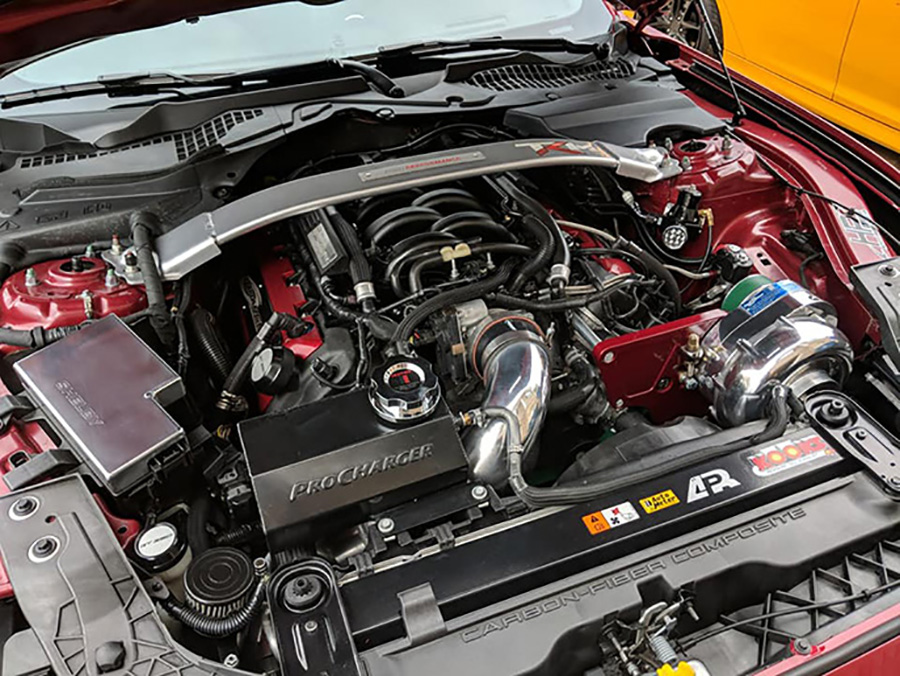 ---
ALEX LAUGHLIN'S PROCHARGER-EQUIPPED STREET GT350
While at work, Alex Laughlin is usually wheeling his NHRA Pro Stock or Pro Mod car, but on the way to and from the track he'll be found in his badass ProCharger-blown Mustang GT350. He was looking for the car for a few years when he found this low-mile Avalanche Grey example and bought it sight-unseen. Alex said, "When I drove it, I was really disappointed in the power. I mean, the car was super cool and handles great, but I thought it would run better than it did." His Pro Stock win at the 2019 U.S. Nationals in Indy came with a bigger check than other races, so he used it wisely. "The ProCharger kit was my gift to myself; I used the extra cash to buy the ProCharger system."
Alex is mechanically inclined but hates working on street cars ("I don't even own any metric tools"), so he had Travis Franklin at Gearheads Performance in Mansfield, Texas (https://gearheadsperformance.com/) install the superhcharger for him. He said, "It absolutely changed the life of the car entirely. What I really like is that it drives like a stock car up to around 4,000 rpm, like cruising around town, but when you get on it that thing starts to scream and it comes to life, it absolutely takes off." Alex's day job puts him on the track enough that he hasn't had a chance to take the GT350 for a quarter-mile pass, but once he gets a set of drag radials to hook all the power, he'll probably venture out for a few runs.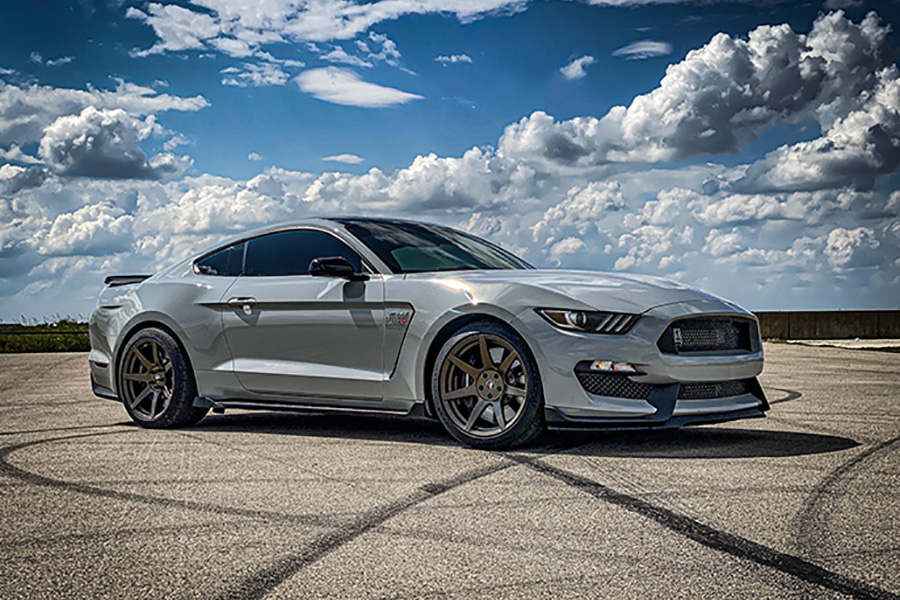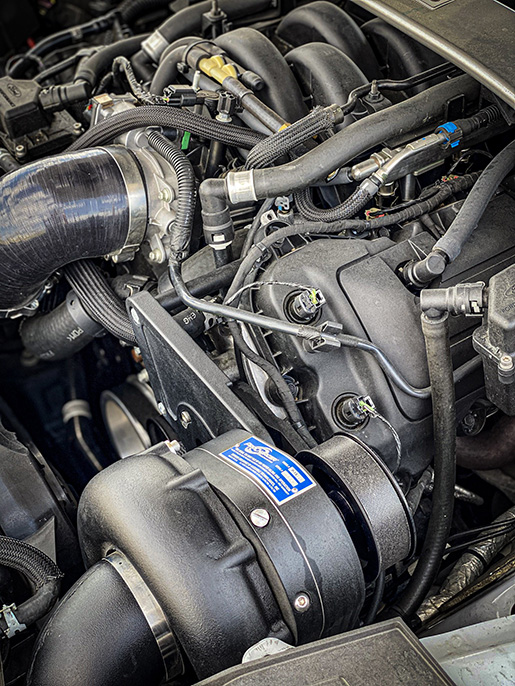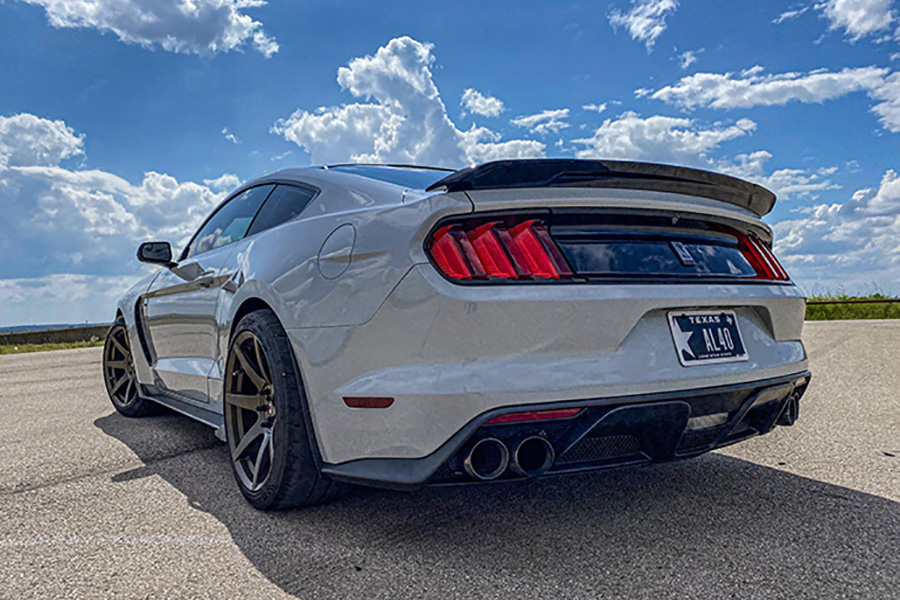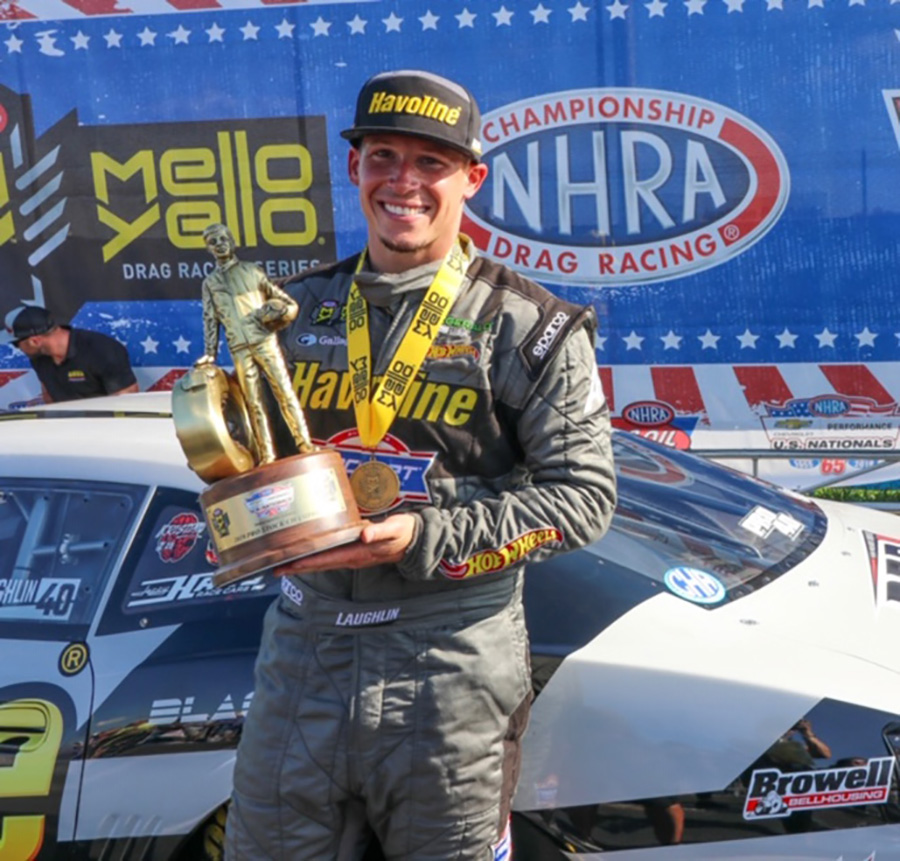 ---
CALL OR EMAIL US FOR ALL YOU NEED TO KNOW ABOUT SUPERCHARGING YOUR GT350
Give our sales staff a call or email us at the following contact methods below. Or you can click HERE to find a dealer nearby to help out with your vehicle. We will be happy to assist you with any technical questions about supercharger systems and the results you can expect.
Phone – (913) 338-2886
Mon – Frid 8am – 5:30pm CST
Sales Email – [email protected]
Tech Email – [email protected]