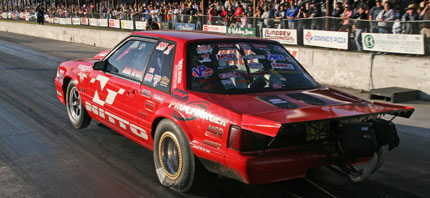 FINAL PUSH FOR 2012 CHAMPIONSHIPS
The month of October signifies different things to different people. Fall weather, football, MLB World Series, Halloween, the list goes on. For ProCharger, October is championship month. It's the time of year when records are set and championships are won.
Going into the month of October, 7 ProCharger-powered racers will be closing the chapter on yet another successful racing season with the strong possibility of winning a total of 8 championships.
1. Jason Lee: NMRA & NMCA X275 – ProCharger F-1X
2. Rich Bruder: Yellow Bullet Nationals X275 – ProCharger F-1X
3. Noel Borg: OSCA EZ Street – ProCharger F-2
4. Eric Gustafson: WCHRA Outlaw 8.5 – ProCharger F-1X
5. Al Jimenez: NMCA West Outlaw 10.5 – ProCharger F-3R-136
6. Kevin Young: NMCA West X275 X275 – ProCharger F-2
Last but not least, John Urist is writing the final chapter in the famed NMRA Super Street Outlaw class. John is on track to win his 7th consecutive and 8th overall Super Street Outlaw championship. This championship, although great, is also bitter sweet as it marks an end of an era. As the saying goes, "all good things must come to an end". The NMRA has made the tough decision to pull the plug on this historic class. From its inception, Super Street Outlaw demanded the most from the racers and the manufacturers that competed in it. The basis of the class was simple, make the most amount of horsepower per the rules, and apply that horsepower via a true 28" x 10.5" tire. The class forged its nickname "The 10.5 Tire Freak Show" from these two basic and difficult rules. ProCharger is proud to be associated with and also the last title sponsor of this great class. We are also very proud to be the power-adder of choice for the winningest driver in class history: John "The Fireball" Urist.