FASTER AND FASTER, PROCHARGER RACERS RAISE THE BAR HIGHER!
ProCharger racers are setting records everywhere they go, on all sorts of tracks, no matter how many wheels they have.
Let's take a closer look at what's been going on in the last couple of weeks.
In the Land of Two Wheels:
Now that the Sturgis Rally has wrapped up, all eyes in the world of two wheel performance are on the Salt Flats, for the Bonneville Motorcycle Speed Trials. Weather conditions leading up to (and during) the event, had everyone concerned that this might not be the year for records to be broken; however, the rain did clear just long enough to get passes in, and everyone was in a hurry to make them count. As the motorcycles all began making their way home from the event, two ProCharger supercharged machines came home with (3) new Records! Let's take a closer look at these destroyers of the salt, and what makes these machines fly.
The Hiro Koiso Racing team, has always been a strong contender when it comes to all out speed bikes. This year was no different as they brought home TWO, yes TWO different records at the speed trials. Their black 2006 FXD based Harley-Davidson laid down records of 211.080 mph and 211.0325 mph in each class specific configuration. (Hiro's one way top speed was 221+ MPH) This machine is powered by a 135″ JIMS Twin Cam engine, modified by T-Man Performance, and is motivated by a stock ProCharger B-1 System. (Custom intercooler is used, due to body work)
With the body cladding on: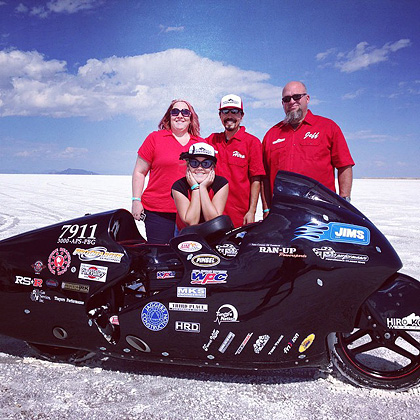 What 273rwhp looks like under the skin: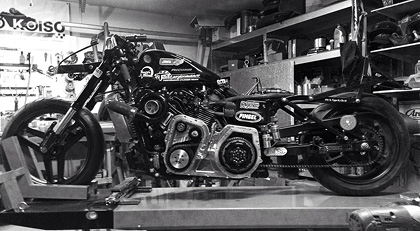 If you have some time on your hands check out the awesome photos on the Hiro page, by clicking HERE. And videos by clicking HERE
*****************************************
What happens when you team up Lloydz Motorworks,Brian Klock and Helping with Horsepower? Well with that winning combo, you end up with a record setting machine!
This talented team built a 2008 Victory Hammer, to bring down the record in the non-faired class; and bring down the record they did, with a two way run average of 173.223 mph! The 106″ motor sucks down pressurized salty air with the help of a ProCharger B-1 supercharger system from Llyodz Motorworks. For more details on the ProCharger Victory supercharger system, please check out the Llyodz website HERE
(Photo Credit: Victory Motorcycles)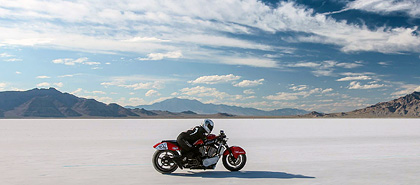 Check out the video with some great images of the event.
*****************************************
Now let's move to 4 wheel machines:
Veteran racer, Andy Manson recently made the switch to a ProCharger supercharger on his 1996 Mustang, and has REALLY made a statement. A statement to the tune of resetting the NMCA Street Outlaw record, in Norwalk OH. The blistering pass was set with his F-1X-12 ProCharger, at the pace of 6.943 @ 201.79 mph!!!!!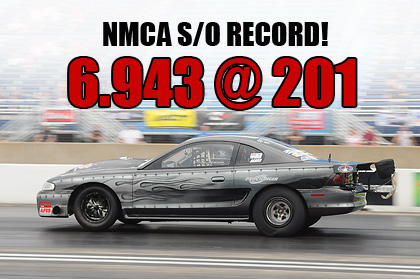 Also in Norwalk, the team of American Racing Headers, and Farks Supercars reset the 5th Gen Camaro Record (that they already held) with a pass of [email protected] mph! This car runs a ProCharger F-1C supercharger, and is getting quicker every week. In talking with the owner, we get the sneaking feeling that a 7 second pass is just around the corner for this car. Could it be this weekend???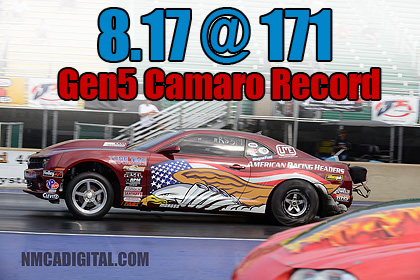 *****************************************

With the racing season coming to a close, all eyes are on who is going to be crowned a Champion for 2014. Last year, ProCharger supercharged racers brought home 6 different Championships, and this year it looks like we might be able to raise that number to 7!!! After it's all said and done, ProCharger and its staff would like to say congratulations to not only these record setting performances we have mentioned, but all racers that go out each weekend and raise the bar higher and higher. We know the dedication, and consistency it takes to make these things happen. Again a true THANK YOU!
And speaking of Champs, the 2011 Drag Week Champion team of Scott Smith & Jake Brantner are returning to Drag Week 2014. This team will be setting off again with their 1980 Malibu powered by a ProCharger F-3R-136. This Malibu won't be the only ProCharger powered machine ready to do battle on both the 1320 feet of drag strip, as well as the grueling drive that makes Drag Week such a unique event. We may just stop by the kick off of the event, and get some photos, so stay tuned for that!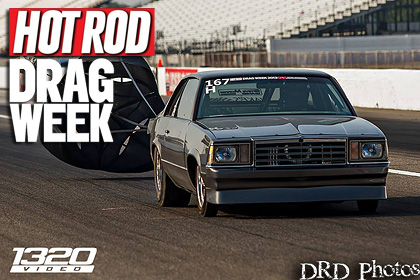 Thanks for reading, as always! If you have any comments or questions please reach us at [email protected] or 913-338-2886