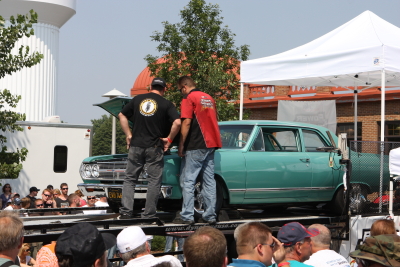 DYNOMAX POWER TO THE WHEELS
The DynoMax Power to the Wheels competition just finished its 12th stop and ProCharger powered cars have been laying down some outstanding numbers. After taking four of the top six spots in the 2007 competition, ProCharger supercharger owners are again setting big power numbers in 2008. Mark Gjavenis, a top 10 finisher in 2007, took 2nd place at the Car Craft Summer Nationals stop with 1,249 rwhp in his '65 Chevelle. And Jim Plimpton, 2008 Hot Rod Pump Gas Drags winner, took home 1st place honors on the Hot Rod Power Tour with 1,312 rwhp in his supercharged and intercooled '88 Thunderbird. But the power doesn't stop there with Mike Roy putting down 1,202 rwhp at the Hot Rod Super Nationals stop in his small block '71 Monte Carlo with an F-2 ProCharger, taking first place at that event. That's almost 4,000 ProCharged ponies that have hit the DynoMax dyno this year!
DynoMax still has three more stops to go on the tour and we are excited to see who is able to put the most power to the wheels!
Click here to find a ProCharger Intercooled Supercharger System for your vehicle.