RACEDRIVE
RACEDRIVE = INTEGRATED GEAR DRIVE AND SUPERCHARGER COMBO
For those racers seeking a compact supercharger/gear drive setup, ProCharger RaceDrive is the perfect combination! The RaceDrive is an integrated gear drive combined with our rugged F-Series superchargers (F-1X-12 or F-3R-121), and is currently being offered in two configurations: the F-1X-12RD and F-3R-121RD. The ProCharger RaceDrive is a compact drive unit that centrally mounts the ProCharger closer to the engine and higher up for easier installation.
A key feature of the ProCharger RaceDrive is the ability to change the gear sets or blower speeds by simply removing the front cover, and replacing the 10 spline quick change gear sets with well over 40 different ratios to choose from. The gear case is isolated from the supercharger transmission and holds 4oz of ProCharger oil
For supercharger specs on the F-1X-12 and F-3R-121 superchargers, click here.
KEY HIGHLIGHTS
The RaceDrive utilizes a rugged coupler design made of rubber that mates the RaceDrive to the front of the engine
With 3 separate accessory drive shafts, the RaceDrive has the ability to drive multiple accessories such as: fuel pump, vacuum pump, oil pump, etc.
(Dimensions – See below) From the face of the engine damper to the air inlet of the RaceDrive supercharge is a little over 14 inches
From the crankshaft centerline to the RaceDrive supercharger inlet shaft centerline is 7.50 inches
The overall height from the crankshaft center-line to the top of the supercharger gear case is 13.50 inches.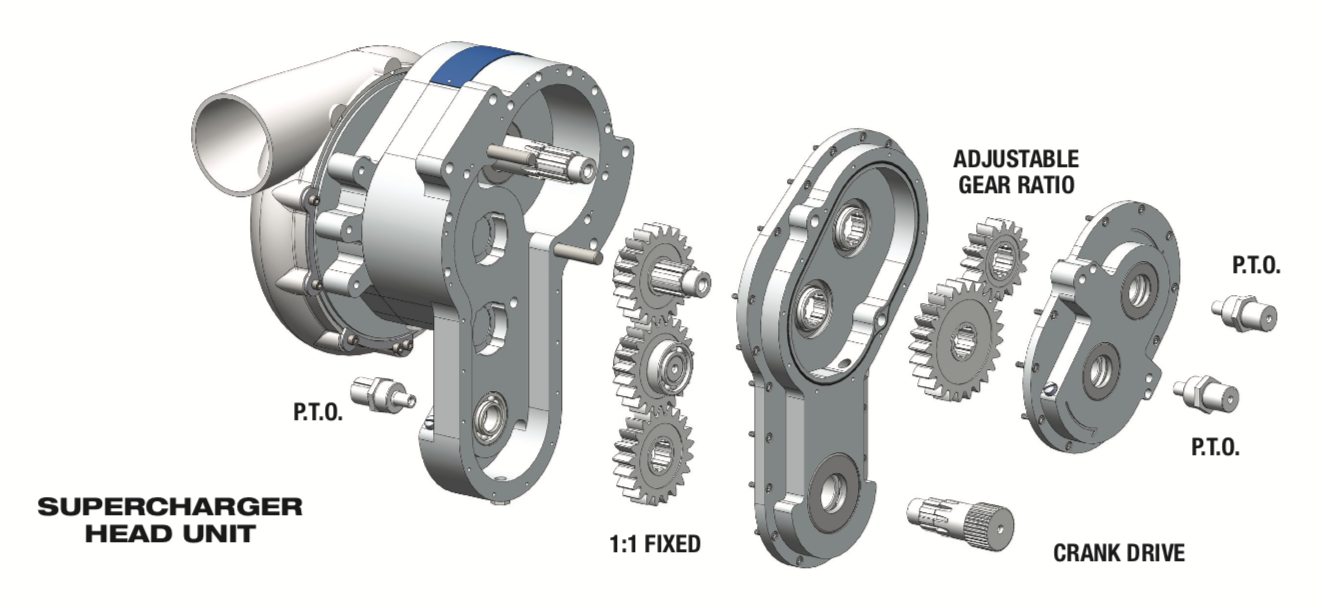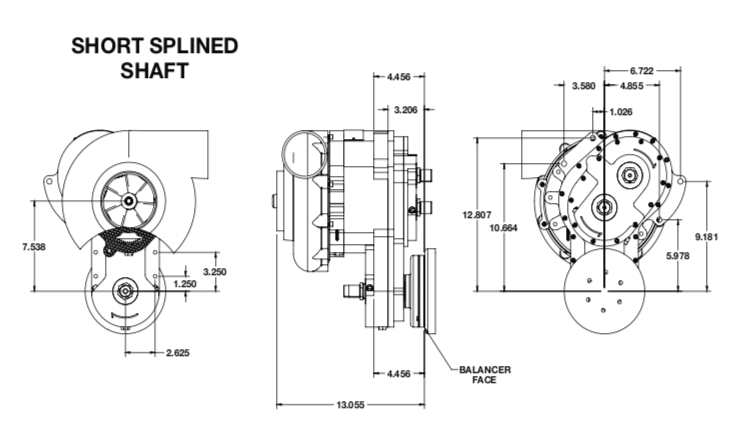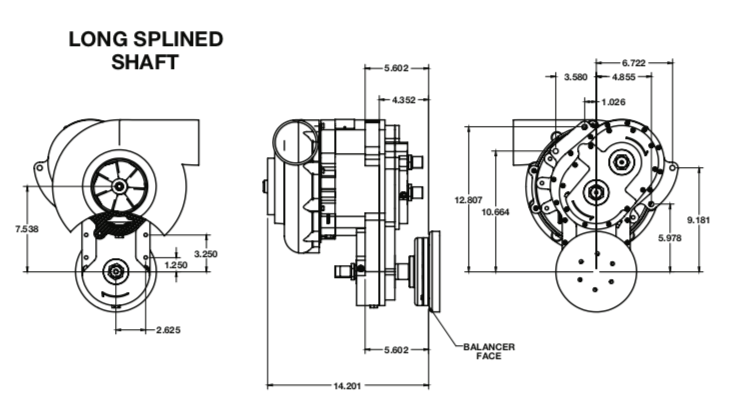 RACEDRIVE VS. CRANKDRIVE, WHICH ONE SHOULD I CHOOSE?
RaceDrive (Integrated gear drive and supercharger combo) is ideal for someone space constrained in front of the crankshaft and is running a bracket style class such as Top Dragster or Top Sportsman, where absolute power is not essential to winning.
CrankDrive (External gear drive) is ideal for most applications where space is less of a constraint.  The CrankDrive is completely separate from the ProCharger supercharger head unit, allowing any ProCharger F-series supercharger to be used interchangeably.  The CrankDrive will support any horsepower range and works with a wide variety of race engines.
Recommendation: First, start with the class you are competing (see chart below), pick your supercharger, and then choose gear drive or cog belt drive based on that supercharger type.  It's pretty simple or give us a call to help you figure it out.
RACE WINNING SUPERCHARGER RECOMMENDATIONS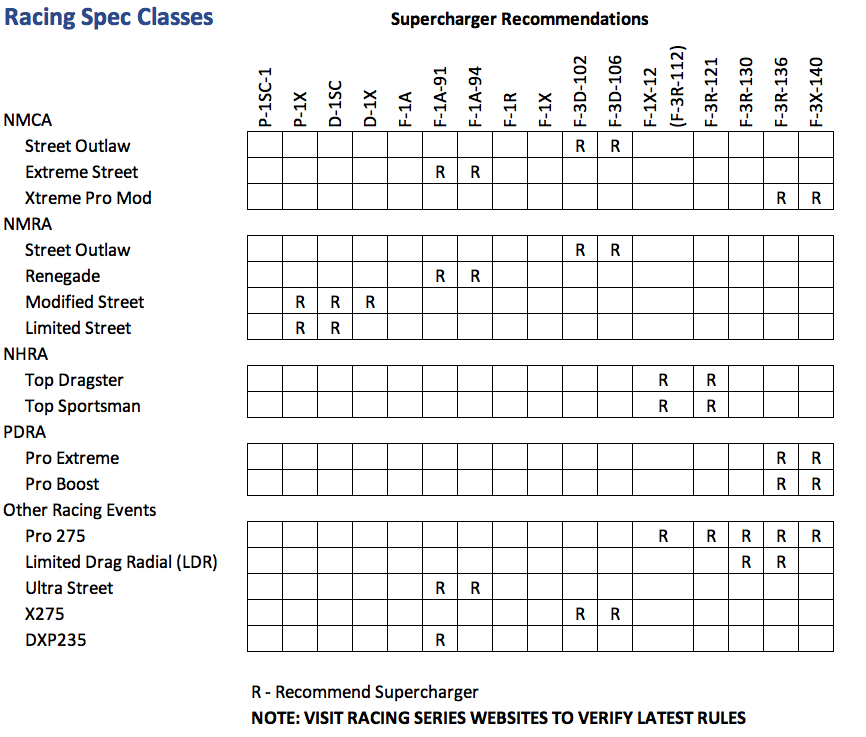 SPEAK TO AN EXPERT
Click to call our sales staff or email us if you need any help. We will be happy to assist you with any questions you may have.
Mon – Fri 8am – 5:30pm CST
Phone – (913) 338-2886
FIND A DEALER NEAR YOU
Looking to make a purchase or a shop to install? We have a large group of dealers ready to serve you with your ProCharger needs. Click below to find a dealer near you!
EMISSIONS COMPLIANCE
ProCharger offers Executive Orders for Emissions Compliance (EO) from California Air Resources Board (CARB) for many of our most popular car, truck and SUV applications. If you live in California, we can only sell you products with EO certification. Check out our full list of EO offerings.