DRAGSTERDRIVE SYSTEM
DRAGSTERDRIVE SYSTEM: (REVERSE MOUNT)
While this layout might look like the conventional cylinder head mount (which we will talk about later), the DragsterDrive offers some great features specifically designed for use with Dragsters. Here are some of the quick features that set this drive apart from anything else.
– Reverse Mounted Supercharger (inlet faces forward)
– Boxed Bracket design (no chance of flex under extreme loads)
– Integrated crank support bearing (reduced crank load)
– Integrated supercharger input support (reduced input shaft load)
– Crank Trigger / Timing pointer built-in
– V-band drive for oil / fuel pump
– Alternator drive optional
*- Currently only for BBC
The features above all add up to cleaner airflow to the supercharger, amazing bearing support, belt tracking, and overall the highest durability of any belt-driven supercharger system.  All while fitting into a dragster chassis that might not otherwise allow a CrankDrive or Reverse belt drive to be used.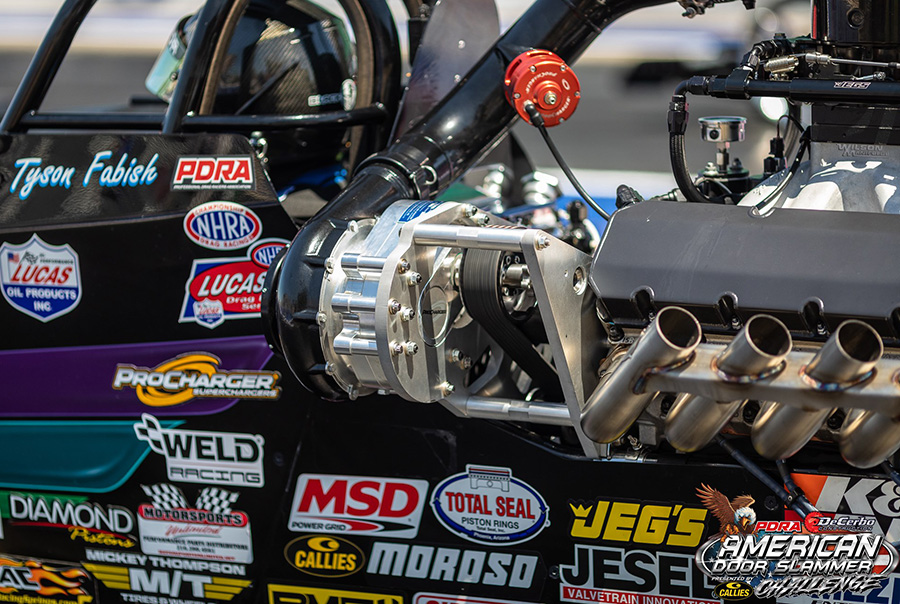 SPEAK TO AN EXPERT
Click to call our sales staff or email us if you need any help. We will be happy to assist you with any questions you may have.
Mon – Fri 8am – 5:30pm CST
Phone – (913) 338-2886
FIND A DEALER NEAR YOU
Looking to make a purchase or a shop to install? We have a large group of dealers ready to serve you with your ProCharger needs. Click below to find a dealer near you!
EMISSIONS COMPLIANCE
ProCharger offers Executive Orders for Emissions Compliance (EO) from California Air Resources Board (CARB) for many of our most popular car, truck and SUV applications. If you live in California, we can only sell you products with EO certification. Check out our full list of EO offerings.