CRANKDRIVE
SUPPORTS ALL F-1, F-2, F-3, AND F-4 SERIES PROCHARGERS
 The award winning CrankDrive™ gear drive is capable of supporting 3,500+ horsepower, allows for a variety of accessories, has easy to change gear ratios, and provides maximum efficiency at extreme power levels. Compatible with the all F-1, F-2, F-3, and F-4 ProCharger superchargers models, the CrankDrive is available for most drag racing engine applications.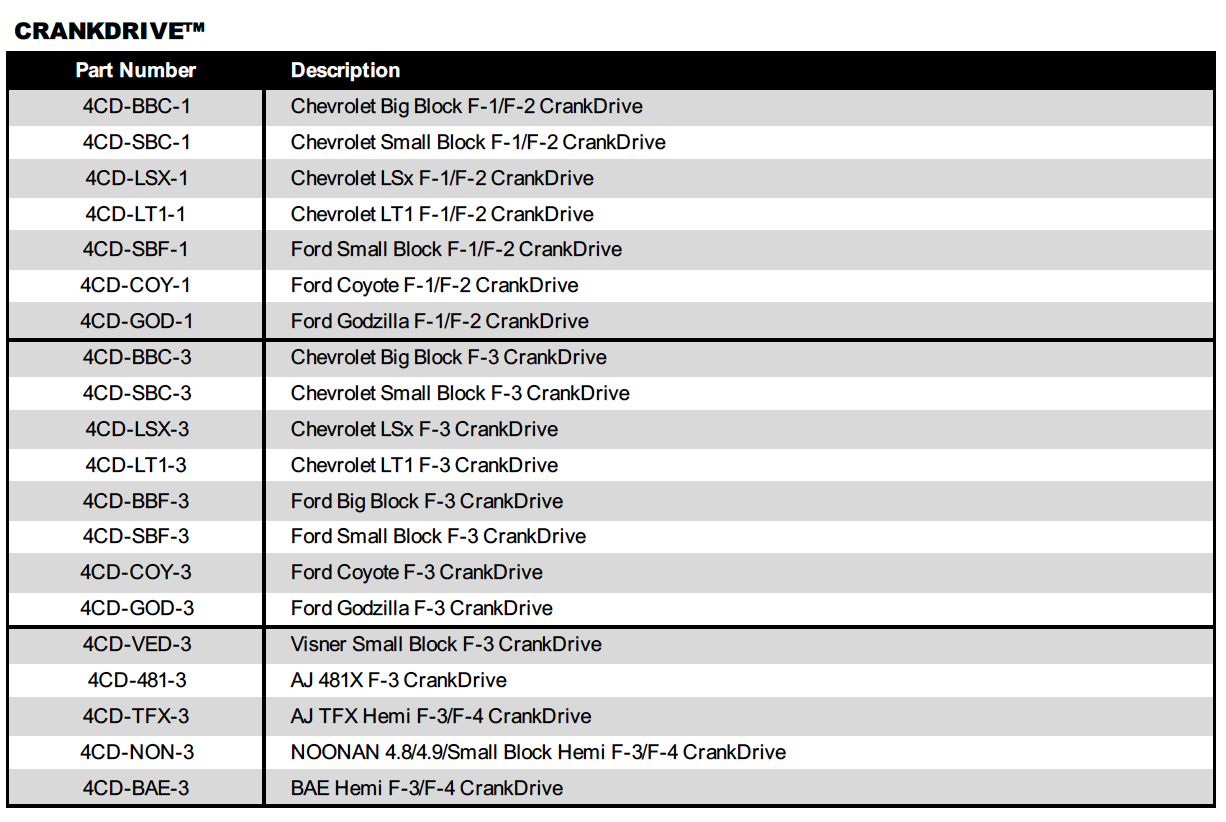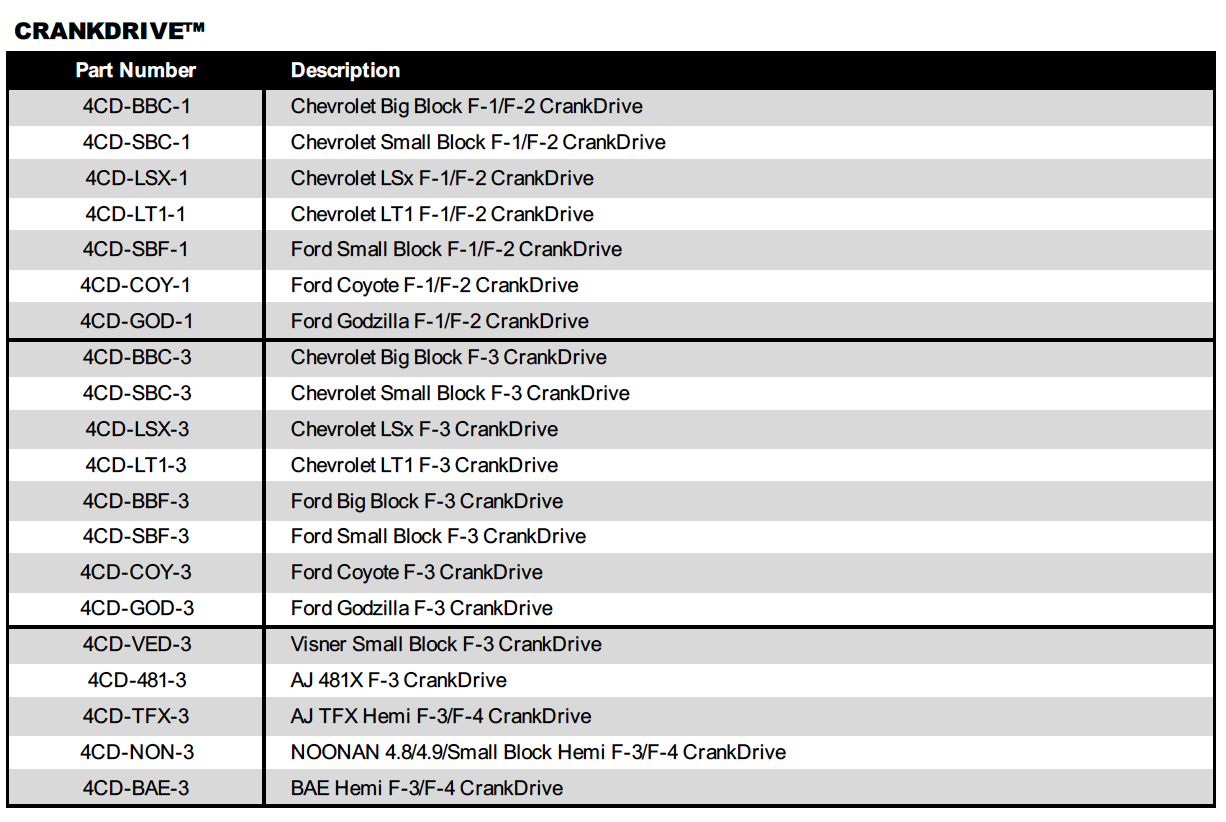 KEY FEATURES
  The ProCharger CrankDriveTM positions the supercharger higher than other gear drives to allow for better steering component and frame clearance
  Lightweight design
  Easy to assemble, disassemble, and swap gear ratios
  Complete assembly for specific engines, no sourcing additional components
  Optional alternator drive
  Optional fuel pump drive
  Allows engine to rotate both directions for servicing
ProLine Pro Mod car equipped with ProCharger CrankDrive and F-3X-140 supercharger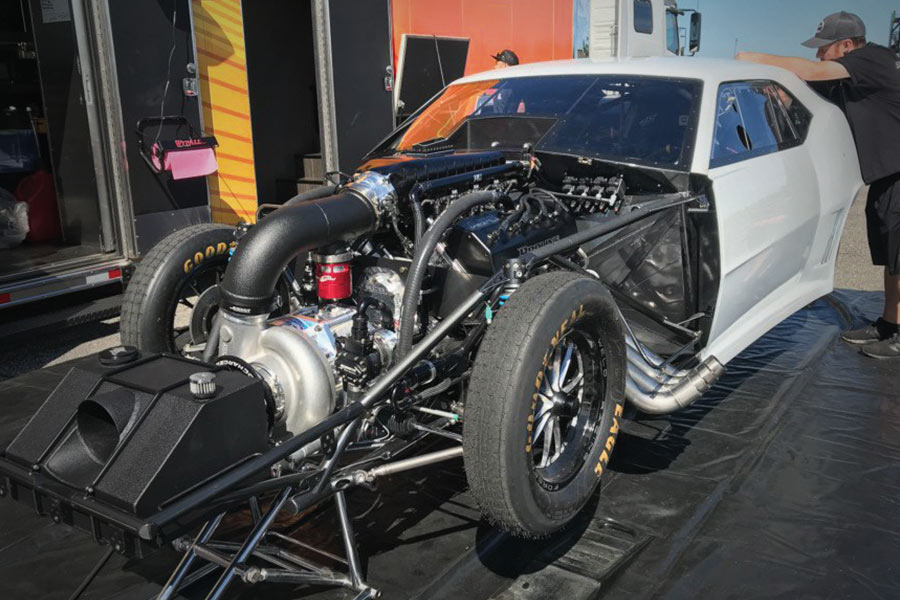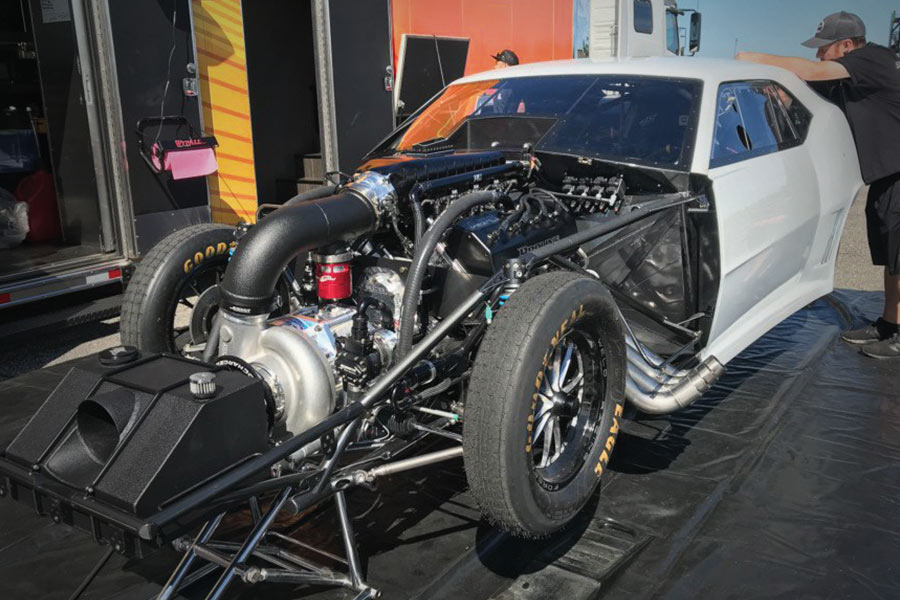 DIMENSIONS AND LAYOUT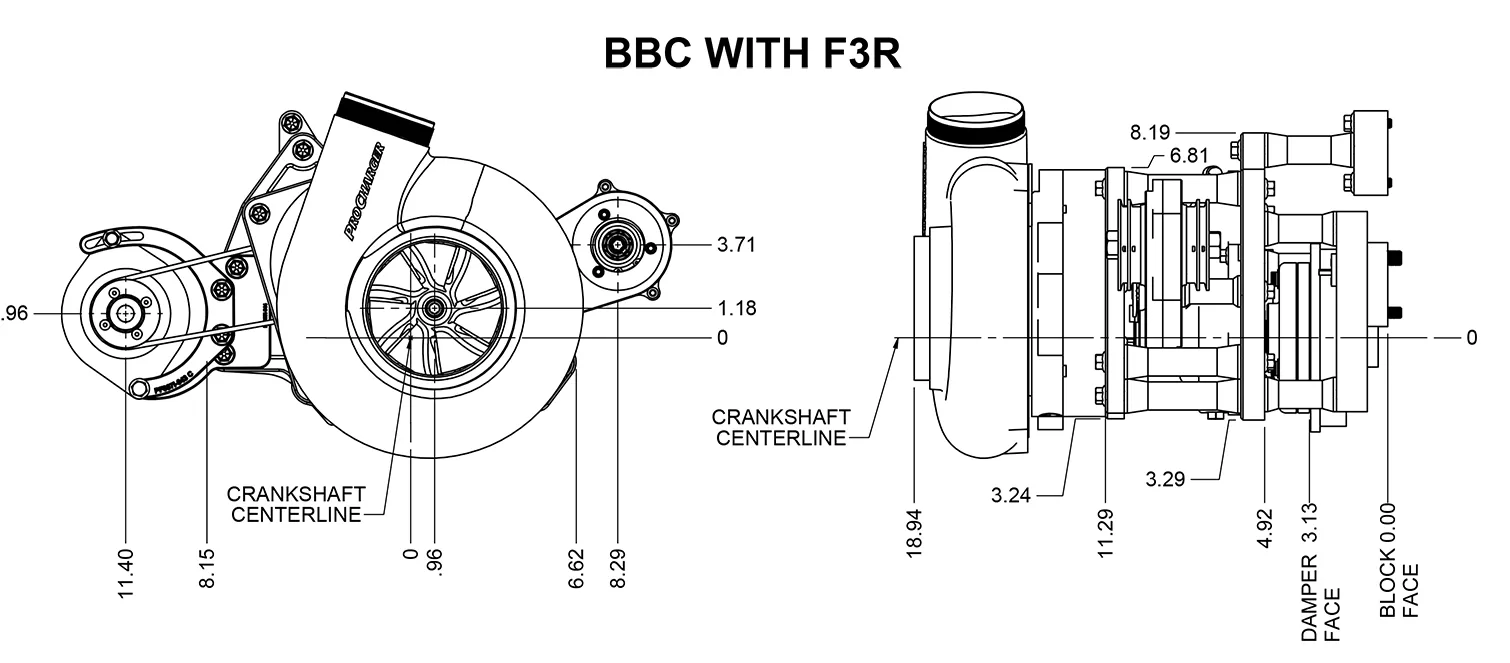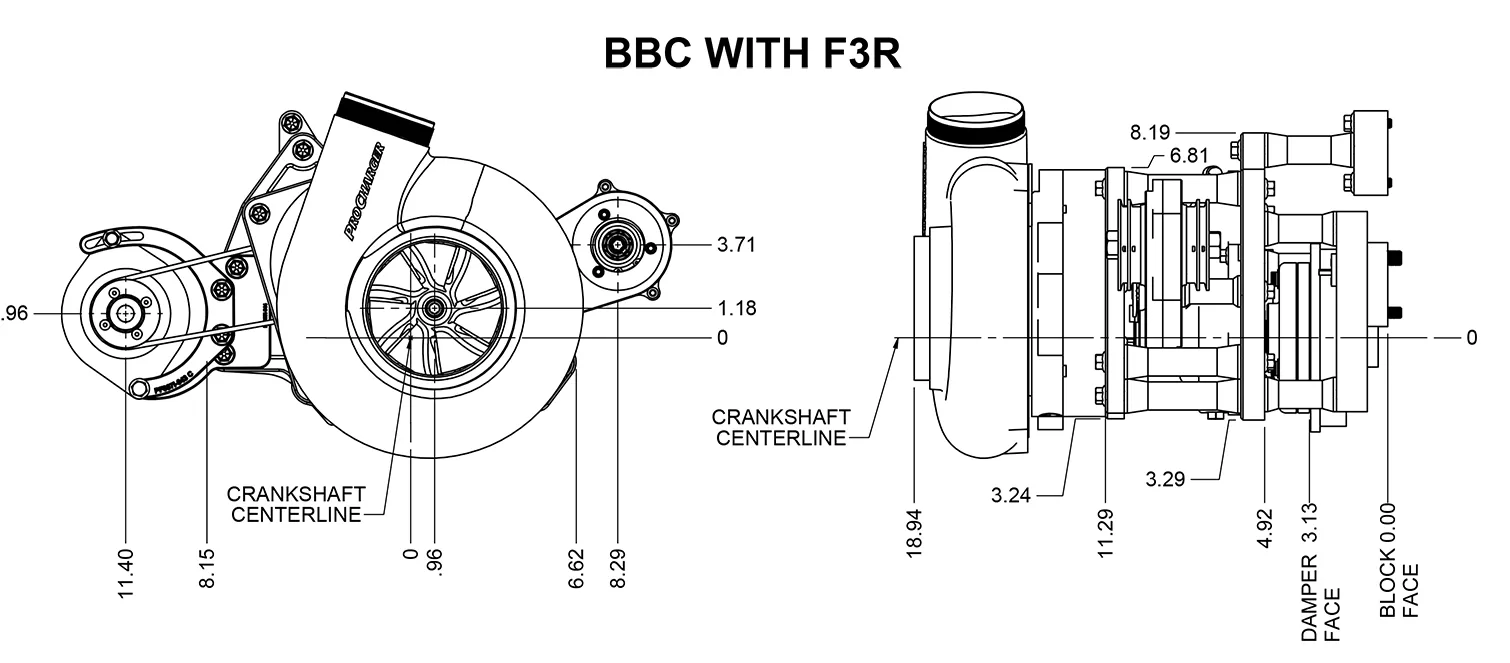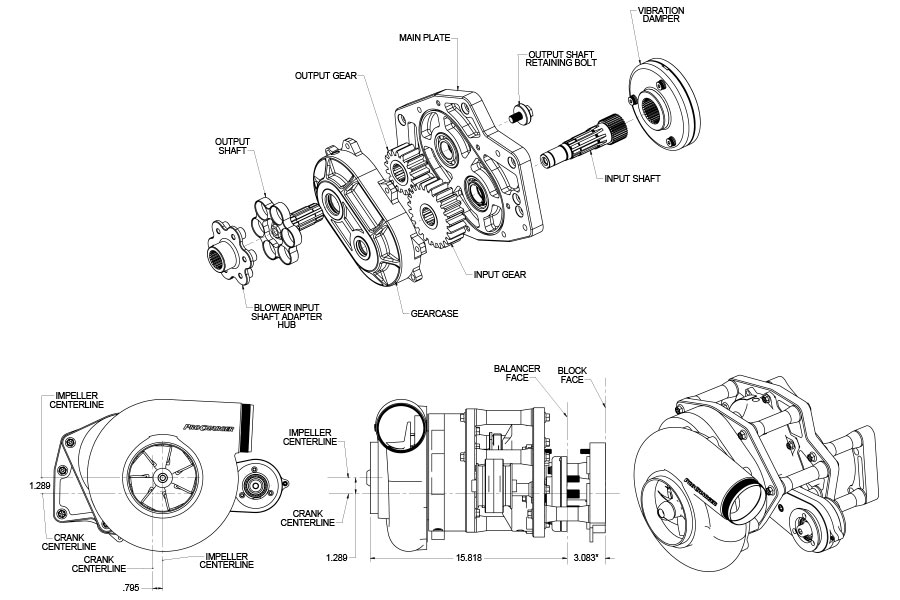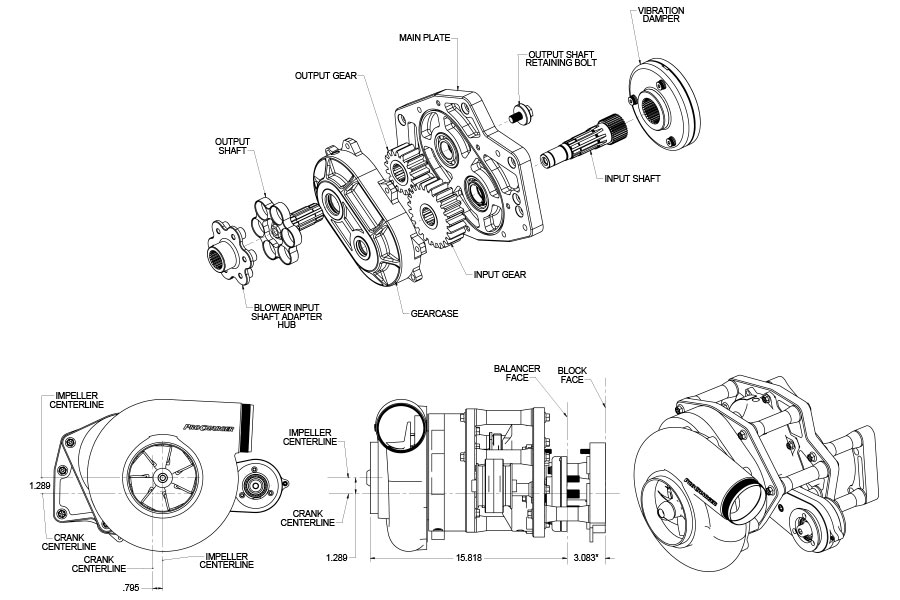 RACEDRIVE VS. CRANKDRIVE, WHICH ONE SHOULD I CHOOSE?
RaceDrive (Integrated gear drive and supercharger combo) is ideal for someone space constrained in front of the crankshaft and is running a bracket style class such as Top Dragster or Top Sportsman, where absolute power is not essential to winning. Click here to learn more about RaceDrive.
CrankDrive (External gear drive) is ideal for most applications where space is less of a constraint.  The CrankDrive is completely separate from the ProCharger supercharger head unit, allowing any ProCharger F-series supercharger to be used interchangeably.  The CrankDrive will support any horsepower range and works with a wide variety of race engines.
Recommendation: First, start with the class you are competing (see chart below), pick your supercharger, and then choose gear drive or cog belt drive based on that supercharger type.  It's pretty simple or give us a call to help you figure it out.
CRANKDRIVE OPTIONS & PARTS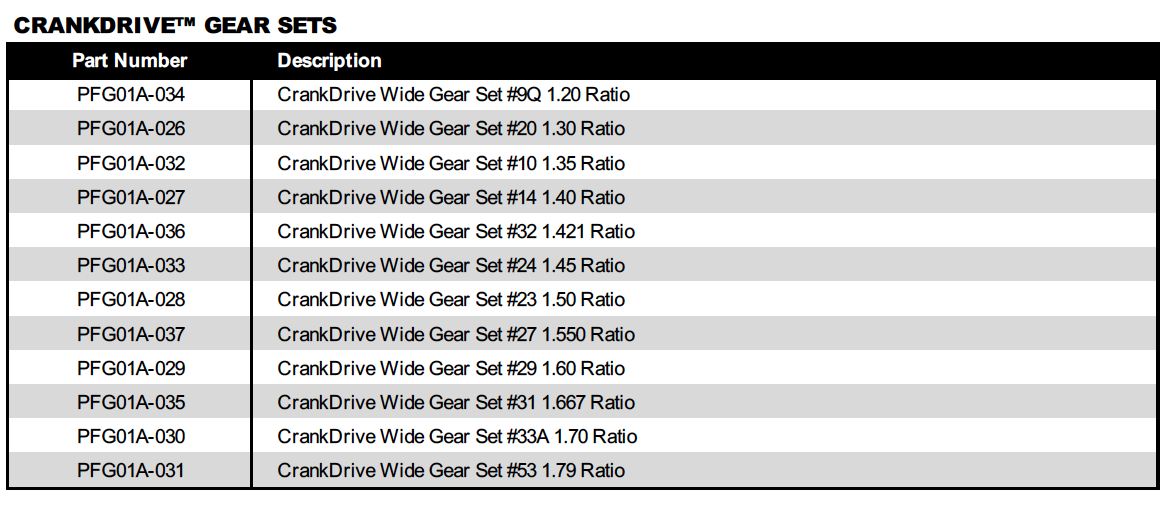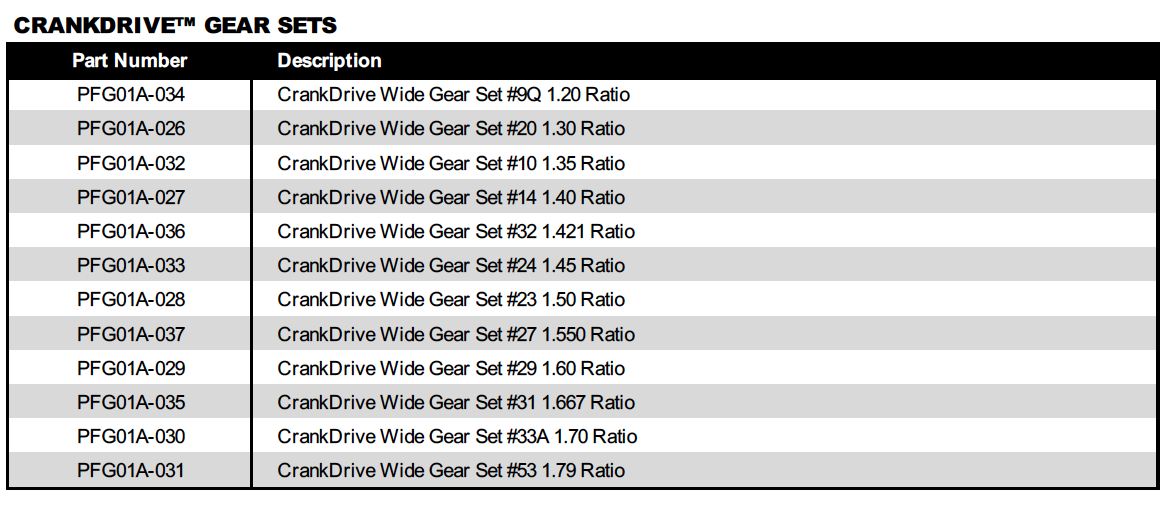 TECH TIP: CRANKDRIVE™ GEAR CHANGE VIDEO
TESTIMONIAL
"I wanted to compliment you guys on the CrankDrive setup. The 481 we just finished was the first time I had worked with one hands on. Everything fit excellent, the kit was very complete, and the instructions made it very easy to install. Thanks for making our job easy!"
– Joe Hessling
SPEAK TO AN EXPERT
Click to call our sales staff or email us if you need any help. We will be happy to assist you with any questions you may have.
Mon – Fri 8am – 5:30pm CST
Phone – (913) 338-2886
FIND A DEALER NEAR YOU
Looking to make a purchase or a shop to install? We have a large group of dealers ready to serve you with your ProCharger needs. Click below to find a dealer near you!
EMISSIONS COMPLIANCE
ProCharger offers Executive Orders for Emissions Compliance (EO) from California Air Resources Board (CARB) for many of our most popular car, truck and SUV applications. If you live in California, we can only sell you products with EO certification. Check out our full list of EO offerings.