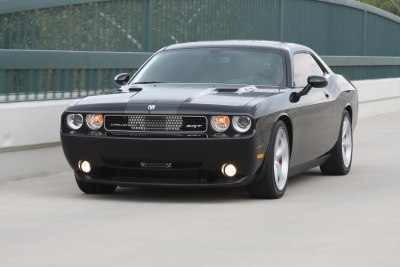 DODGE CHALLENGER H.O. SYSTEMS SHIPPING NOW
You've heard about it, you've read about, and now it's here! The industry leading self-contained and intercooled supercharger system from ProCharger is now shipping for the 2008 Dodge Challenger SRT8. Continuing ProCharger's success on the Charger, 300C and Magnum (hundreds of dyno pulls and countless vehicles in the field without a single engine failure reported by customers or dealers since we began shipping Hemi systems a year ago) we are now able to bring you a solid and reliable 150+ horsepower gain for your fresh from the showroom 6.1L Hemi Challenger. Featuring the self-contained P-1SC-1 ProCharger supercharger, a large 3-core air-to-air intercooler, and DiabloSport Predator tuning, this supercharger system is the most advanced, safe and reliable system on the market. Tuner kits, which exclude programming and fuel injectors, are also available for modified applications. Click here for more information.
Call ProCharger today at 913-338-2886 to find a dealer near you.