DAILY DRIVEN PROCHARGER SUPERCHARGERS = RACE WINNING RESULTS!
IS BIGGER REALLY ALWAYS BETTER?
It doesn't take more than 5 min. on the internet forums/Facebook pages to come across several 1000/1500/2000HP ProCharger supercharged cars and trucks. And don't get us wrong, we absolutely LOVE all of the big power/big rides we come across each day. But, what's becoming very impressive is the increasing number of customers and their "daily drivers" that are producing amazing results with our entry-level street systems.
These street systems feature race-proven technology such as the P-1SC-1, P-1X, D-1SC and our new D-1X head units. This blog is going to cover just a handful of the amazing track results from ProCharger customers thanks to these well-engineered street supercharger systems.
---
DESIGNED FOR THE STREET, PROVEN AT THE TRACK!
ProCharger engineers go out of their way to make sure you get the best. No matter if you are talking about an entry-level P-1SC-1 system, or a tricked out F-Series race kit. You can be sure that loads of HP and reliability come standard with every ProCharger supercharger kit. From the robust bracket designs to highly effective air to air intercoolers these systems are born to push the HP limits. Even with our base head units, customers have been putting up extremely impressive track times. So in no particular order, let's dive into some killer track times with these "baby" blowers as the internet calls them.
---
MATT KASATIE – 2015 MUSTANG [email protected] WITH P-1SC-1
Tipping the scales at 3,818 lbs (without driver) this fully loaded S550 Mustang is the definition of a daily driver. On a diet of 93 octane pump gas and a meth injection system, this P-1SC-1 supercharged machine inhales 14psi of boost. That artificial aspiration leads to 803 rear wheel horsepower on the dyno. A number that without question is legit based on that 144mph trap speed when Matt unleash this monster at the track.
Here is a great video of this car on a mid 9-second pass, with our Standard Stage 2 system and standard P-1SC-1 supercharger.
---
MAK PERFORMANCE – 2018 MUSTANG [email protected] WITH P-1X
Running a 10 is no easy task with a new platform…running a 9 right out of the gate even harder. Well, the gang at MAK performance did just that and then some with their daily driven 2018 Mustang. As soon as this car was purchased it instantly got a ProCharger P-1X system and ran a string of mid and low 10 second passes. After its 3rd trip to the track, the guys were honored with that "single digit" time slip as it dipped into the 9's.
We have heard the MAK performance team will be hitting the track again soon with this supercharged machine, and maybe with a bit more boost. How fast can this base ProCharger HO system go? Time will tell!
---
BRETT "PRAY PERFORMANCE" – 2016 CAMARO [email protected] WITH P-1X
So, so very close! Brett is knocking on the 9-second barrier with his daily driven P-1X supercharged 6th generation Camaro! Even though this car has very basic mods, its track time is proof that it is very dialed in. The owner does his own custom ECU/TCU tuning, to keep that boost in check and make sure everything is tip-top. The car does feature a Circle D torque converter, which helps yank those front tires in the air.
We heard the car is going under some changes right now, however, will be going after that overall P-1X record soon!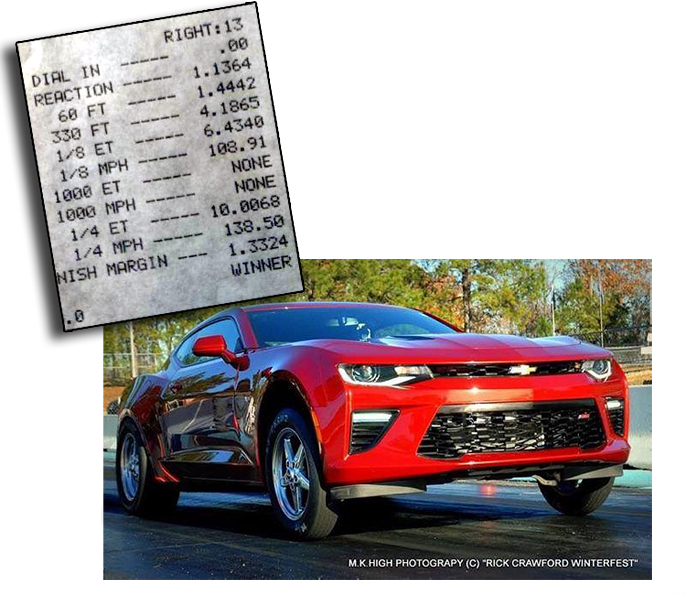 ---
JESSICA JOY – 2016 CAMARO [email protected] WITH D-1SC
Owning a daily driven Camaro that runs 10's is fun for Jessica. What brings her even more joy is that her car is officially the quickest manual transmission equipped 2016+ Camaro on the planet! This mildly modified car is setting the bar for all other stick shift Camaros of this generation, and it's doing it with a ProCharger Stage 2 kit, and a D-1SC head unit.
As Jessica gets more and more seat time with this car at the track we look forward to her pushing that record even further!
---
KATE TOUT – "TURNS DOWN" HER 10 SECOND CHALLENGER!
Normally in racing you are all about turning it up the most you possibly can. However, in the case of Kate's daily driven Challenger it's just the opposite. The class this Challenger normally runs in is limited to 11.50 times, so thus her D-1SC ProCharged 6.1L had to have the raines pulled back a little. With help from HEMI supercharging guru's at HHP, Kate has been able to put her Furious Fuchsia Dodge at the head of the pack.
---
READY FOR RACE-READY PERFORMANCE ON YOUR DAILY DRIVER?
Give our sales staff a call or an email at the following contact methods below. We will be happy to assist you with any technical questions you may have about our systems, and results you can expect. Thanks for reading!
Phone – (913) 338-2886 M-F 8:30am – 5:30pm CST
Sales Email – [email protected]
Tech Email – [email protected]
---
LOVE RACING? LOVE TRUCKS? LOVE CARS? LOVE BOOST?
Here at ProCharger superchargers, we are looking for some like-minded enthusiasts to add to our team. With offices located in Kansas City as well as San Francisco we have a number of positions we are looking to fill. Please take a moment and check out our careers page by clicking HERE, or drop us a call to 913-338-2886