Customize Your ProCharger with "Build & Price"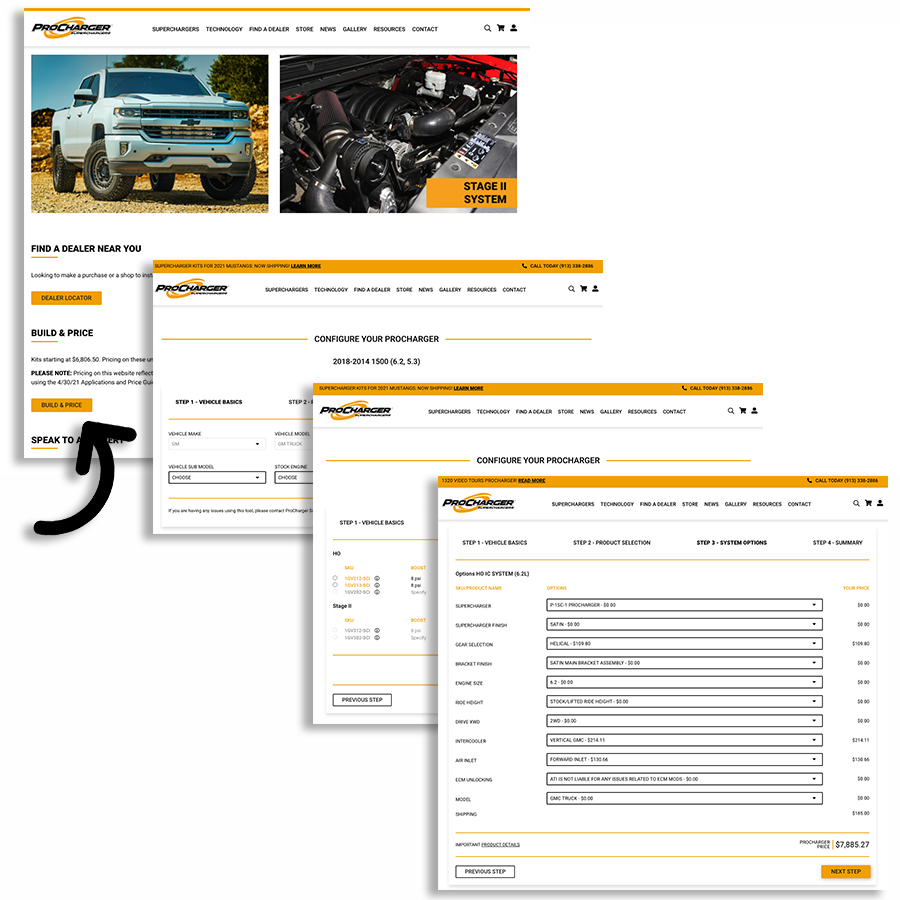 ---
CONFIGURE YOUR PROCHARGER
One of the best things about ordering a ProCharger is your ability to customize it. For most vehicles, and depending on where you live, we offer multiple options for every product. Navigating these complex pricing and options has been a challenge with the Applications Price Guide, but no more… Now you can simply identify your vehicle setup and configure your ideal ProCharger using our simple 4-step process.
STEP 1 – Click on "BUILD & PRICE"
STEP 2 – Fill out the details of your ride
STEP 3 – Select the kit that best fits your needs
STEP 4 – Add or remove the options you wish
Yup, it really is that easy…



EMAIL YOUR QUOTE
Once you've specified your ideal ProCharger, you have a couple options available to you. A common choice is to email or download a copy of the quote. You can send to yourself and/or your dealer. Dealers are experts at installing ProChargers, and with one of the largest dealer networks in the industry, there are dealers globally.



BUY ONLINE
Another option is to buy online, direct from ProCharger. After completing STEP 4, click on "Add to Cart" and complete the purchase. ProCharger staff will contact you to confirm the order. Most products are shipping within a few days. You can be installing your new ProCharger by the weekend!
---
RATHER TALK TO A HUMAN? WE'RE HERE FOR YOU!
Feel free to give our sales staff a call or email us at the following contact methods below. Or you can click HERE to find a dealer nearby to help out with your vehicle. We will be happy to assist you with any technical questions about supercharger systems and the results you can expect.
Phone – (913) 338-2886
Mon – Frid 8am – 5:30pm CST
Sales Email – [email protected]
Tech Email – [email protected]