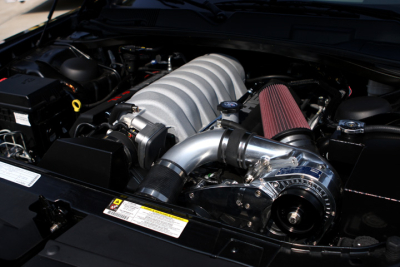 CHALLENGER SYSTEM SHIPPING END OF AUGUST
ProCharger Hemi madness continues in the shop with our engineers putting the finishing touches on the 6.1L Challenger ProCharger supercharger system. Our dyno is no stranger to the Hemi, with over three years of 5.7L and 6.1L experience, and these Challengers have been putting down some big power over the past few weeks. Now you can get those legendary safe and reliable ProCharger power numbers from your 6.1L Challenger, an increase of 150+ RWHP can be expected by bolting on this system!
The self-contained and intercooled ProCharger supercharger system for the 6.1L Challenger will start shipping August 25th, call ProCharger (913-338-2886) today to find a dealer near you.