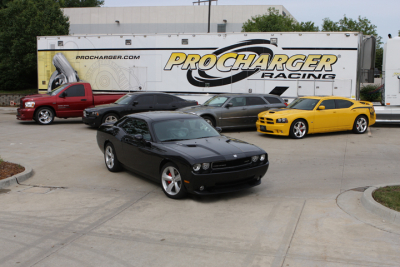 CHALLENGER PROCHARGER SYSTEM COMING SOON!
Challenger intercooled supercharger system coming soon! The ProCharger engineering team is working hard on the new Challenger, leveraging the experience of three years of Hemi R&D and over a year of reliable power in the field with intercooled ProCharger systems for Hemi Rams and Chargers – the most experience of any supercharger manufacturer. Don't own a Challenger but wonder if we have a system for your Chrysler or Dodge vehicle? Checkout the lineup behind the Challenger in the photo above…all of these Hemi vehicles are currently serving as system development vehicles and are making some great power with our self-contained and intercooled ProCharger systems!
Check this blog often. We are constantly posting ProCharged updates like this and if the ProCharger 500 RWHP SRT8 Charger system is any indication of what this Challenger is capable of, then we can't wait to get this car strapped to the dyno!