CENTRIFUGALS: THE MOST MPG FRIENDLY PERFORMANCE ENHANCEMENT
Now more than ever, rising fuel costs and the approaching CAFE restrictions have prompted automotive enthusiasts to think more about fuel economy along with horsepower. There are many performance enhancements that can create big power but at the cost of fuel economy or drive-ability. It's no secret that ProCharger self-contained and intercooled supercharger systems not only produce the big power numbers we all crave, but under normal operating conditions, owners are seeing little to no degradation of fuel economy. On some vehicles, depending upon usage, the addition of a ProCharger will actually increase fuel economy. If fuel mileage and big power are on your mind, you have to take a look at the car below.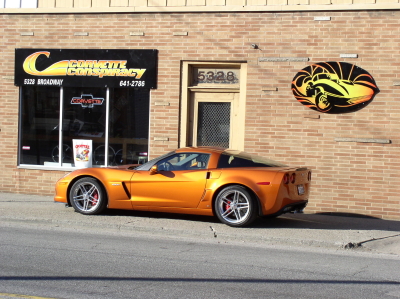 The photo you see above is a 2007 Z06 Corvette built by Corvette Conspiracy in Cleavland, OH. This car is running a ProCharger D-1SC intercooled supercharger at 8 psi of boost, along with a few other bolt-ons. The car makes 656 RWHP and averages 32.5 highway MPG. Nearly 700 RWHP and over 30 MPG! Corvette Conspiracy specializes in high-end Corvettes like this one and it was no surprise that they turned out such an interestingly powerful and economical beast.
We found more examples of big horsepower numbers with low fuel consumption on this year's Hot Rod Power Tour. A Wyoming-based ProCharger customer drove his '06 Corvette with a D-1SC ProCharger feeding a built LS2 motor on the Power Tour. This car makes 578 RWHP and averages 32.8 highway MPG! Also on the Tour was ProCharger's own carbureted Harley Davidson Street Glide. This bike runs an intercooled and self-contained ProCharger B-1 supercharger, makes 119 RWHP and averages 40.2 highway MPG.
Other cars we collected fuel mileage data on were ProCharger's 2006 Dodge HEMI Charger and 2008 Mustang GT. The 5.7L Charger averaged 21.4 MPG on the tour. This car runs a self-contained and intercooled P-1SC-1 pushing 6psi of boost, the stock fuel economy is rated at 17 City/25 Hwy according to Edmunds. Our 2008 Mustang GT, which was at SEMA in 2007, has a P-1SC-1 ProCharger running 10psi of boost. This car realized a 72% horsepower gain with the addition of the ProCharger and is averaging 21.1 MPG! The factory rated MPG for a stock '08 Mustang GT is 15 City/22 Hwy.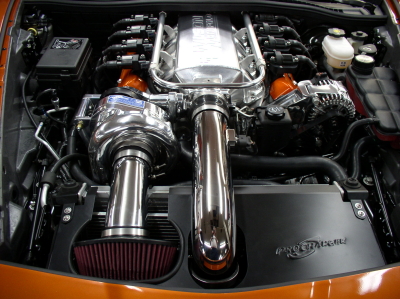 Have an interesting story about the fuel mileage of your vehicle after installing a ProCharger? Click the "Add Comment" link below and tell us about it. Please include your contact information along with your experience because your car could be featured on this blog!