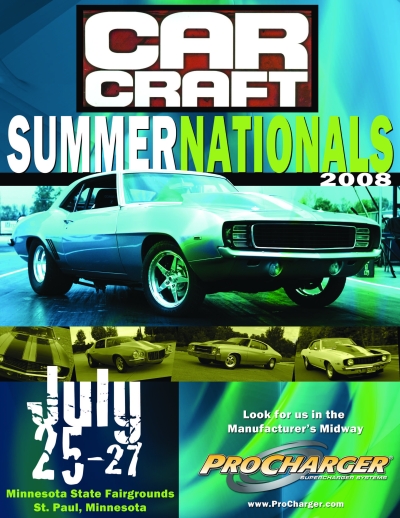 CAR CRAFT SUMMER NATIONALS
July 25th-27th, the Minnesota State Fairgrounds in St. Paul will again play host to the Car Craft Summer Nationals. With so many ProCharger owners already planning to attend we are going to join the fun, load up the 53′ Procharger race trailer and bring some of our baddest ProCharged toys to display, and show our support of the street machine and muscle car crowd at this event.
The event features over 4,000 street machines and muscle cars of all makes and models. With 45,000 car enthusiasts in attendance, this is sure to be the highlight of your summer! Make sure you check out the DynoMax Power to the Wheels Challenge, where you will see some of the baddest street cars at the event producing amazing horsepower numbers. With four of last year's top six finalists being ProCharged you are sure to see many more ProCharged vehicles on the dyno this year.
Click here to see other events ProCharger will be attending.