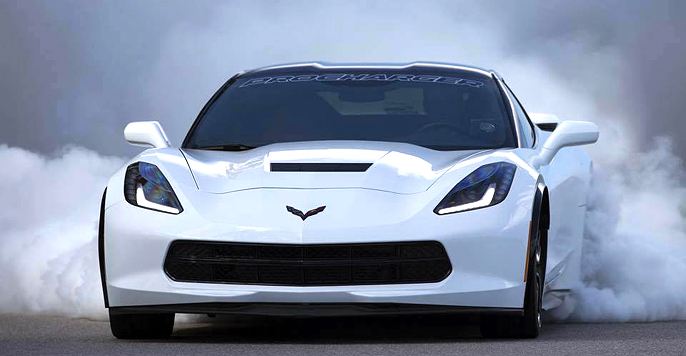 C7 CORVETTES, THE I-1 PROCHARGER SYSTEM HAS ARRIVED!
HERE COMES INTELLIGENT BOOST FOR C7'S
Some of you reading this blog might not know what the "i-1" supercharger system is. So before we go any further about this new Corvette supercharger system, let's touch base on what exactly is an "i-1" supercharger. The ProCharger i-1 has literally redefined the book on supercharging, by creating an all new category of supercharger. The category is best described as a "Programmable Ratio Centrifugal Compressor". Now what that means to you the customer, is that not only can you program the boost level you would like to achieve, but also the boost "curve" itself. (being able to control that curve is really handy in traction limited situations)
This technology was dreamed about for decades, however after 4+ years of R&D ProCharger brought it to life, and now it's ready for Corvette C7 owners. We could go on explaining how this technology works, however this short video is a great way to visually explain what goes into an i-1 system. So please enjoy this video below.
If you have enjoyed that video and want even more detials on these units, please visit the following link HERE.
---
THIS BLOG IS A BIT OVER DUE…
Over due because a few of you reading this blog might be thinking "I just saw a write up on this supercharger." And you would be correct, since recently two separate ProCharger i-1 supercharged C7 articles just hit both the news stands, and the digital scene. Although both of these Corvettes are white in color, and are both supercharged with an i-1 ProCharger, they are infact very different. These cars are at opposite ends of the country, equipped with different transmissions, and get used in very different ways. Let's dive into some of these details on these two builds.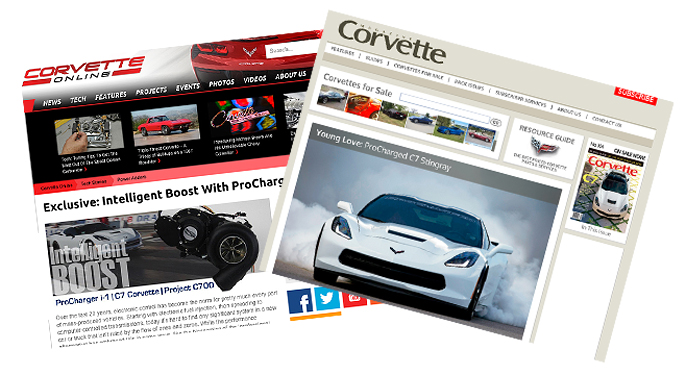 CORVETTE MAGAZINE: "YOUNG LOVE"
Manual Trans
1/4 and 1/2 Mile racing focus (and some road racing)
100% factory LT-1 and exhaust
Daily Driven
The first car we will talk about is owned by Florida resident Garrett Mitchell. Some people might even recognize Garrett's name from his now internet famous scenes on 1320Video's page, known as "Cleetus McFarland" as he roams the internet talking about horsepower, bald eagles, and his ProCharged C7. Corvette Magazine made the drive to FL to get some more details on what exactly makes "Cleetus" tick, and whats under the hood of his ProCharger i-1 powered machine. Meanwhile in true 1320 fashion, Garrett's car not only stole the cover shot of the magazine, but the centerfold as well with a nice smokey burnout shot! (as seen above)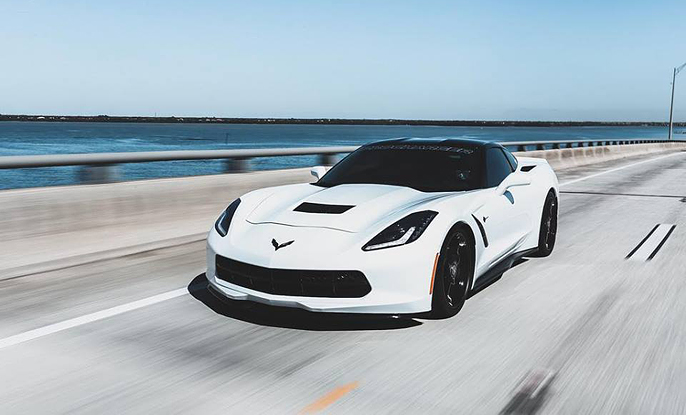 With simple style modifications in place, Garrett searched for more power. And the quote below sums up exactly what makes an i-1 system so amazing. Big power numbers, huge TQ, with low boost numbers on pump gas.
"When I bought the [car], I was impressed with the speed, but I knew it had much more potential. That's when I got in contact with Matt at Florida Speed and Power. Today the car makes 660 horsepower and 640 lb-ft of torque at only 2,800 rpm, mostly thanks to [the] wonderful i-1 ProCharger system under the hood.
Obviously we know that people will play with their cars a little more and add more items. So after adding a methanol system to deal with the fuel in FL, we have now learned that this white C7 has turned the rollers to 645 rwhp, and 703 foot pounds of TQ at the rear wheels! Yes you read that correctly, that stump pulling TQ has the owner beyond excited, however not the factory tires, as seen below in the next quote.
"Unfortunately, right now on the current tire setup it's really only good for smoky burnouts," he says with an ear-to-ear smile.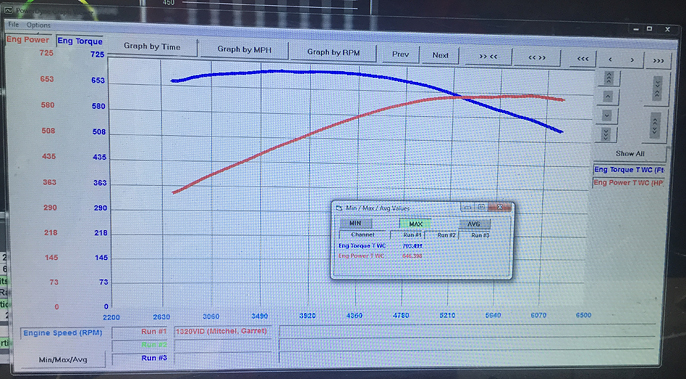 The most impressive thing about this car is that its 100% stock mechanically other then the addition of the ProCharger i-1 supercharger system. The factory LT-1 engine has not been opened up or touched in anyway, nor has even the factory exhaust! This car represents true bolt on horsepower that any customer can experience on low boost and pump gas. That's the kind of power and performance that leads us to the next quote on Garrett's ProCharger experience.
"I remember the weekend that I got the car back from having it supercharged and tuned. I took it to the drag strip and placed Second in a 'No Prep' race. [The experience] was a blast, and that's when I knew I was truly in love with the Vette."
We can't wait to see more results from this white C7 as it takes on more races here in the future such as the Florida 1/2 mile racing event, as well as racks up the miles as a daily driver for young Garrett.
(Spy shot, as 6 months after the i-1 installation – Garret was part of the beta testing program for this new supercharger system – has recently added the ProCharger LT-1 intake manifold)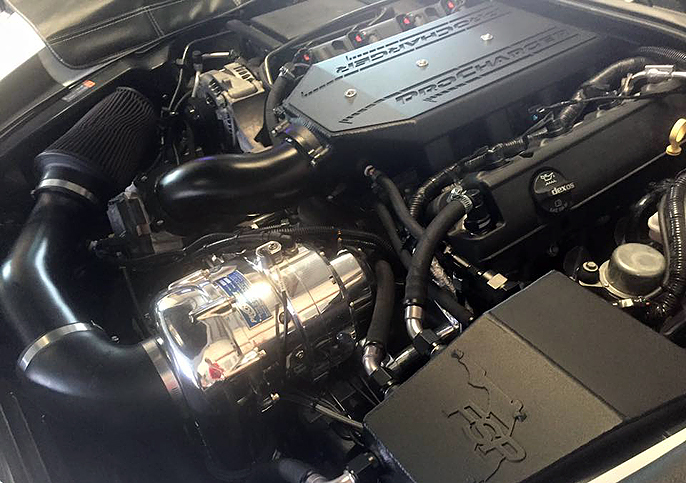 CORVETTE ONLINE: INTELLIGENT BOOST
Automatic Transmission
Road Course Focus
100% unopened factory LT-1
Weekend Toy
Remember earlier when we said that these two cars other then color, were very different? Well as you can see from the side bar listed above that couldn't be more true even down to the location of the next car. This next i-1 supercharged Corvette hails from the great land of California, and is tearing up road courses with it's new i-1 supercharger system.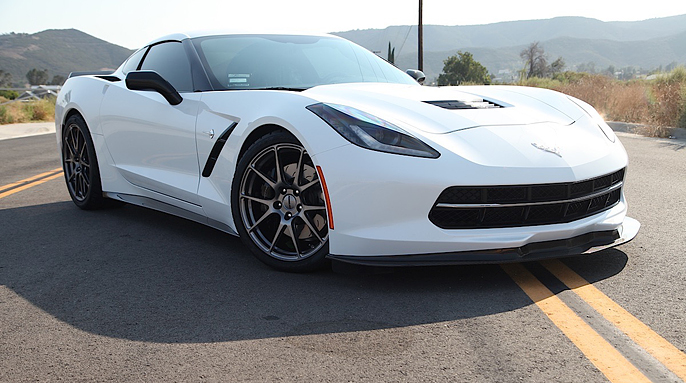 This car is known as "Project C700" over at Corvette Online, because of the cars focus to make 700 crank horsepower, as well as other fun modifications. The gang over at Corvette Online did a wonderfully detailed write up of all that goes into installing a ProCharger i-1 supercharger system, with great high quality images. To check out this install click the link HERE, or the image below.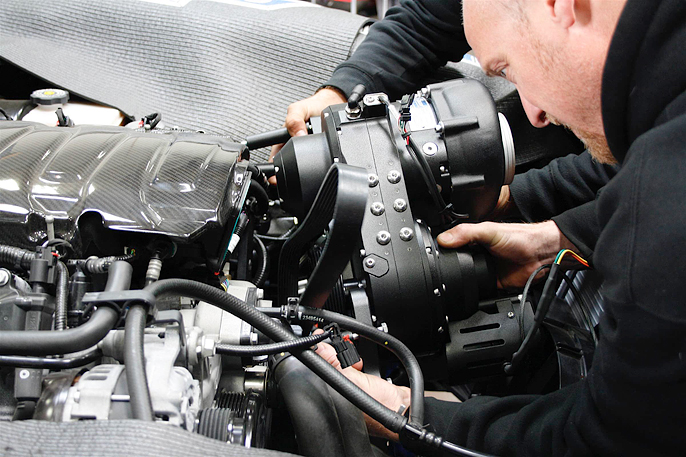 The gang at Corvette Online are no strangers to the power gains that can be found from an i-1 installation, since they recently did a 5th Gen Camaro install at their sister magazine LSX TV. One of the best features of this i-1 supercharger is the ablity to bring in boost with a pre-programed curve. This ability has allowed this car to feel at home on the road course, without to much power coming in to soon. This makes for nice and easy transitions coming out of tight corners on the road course.
Another great part about the i-1 supercharger system is that it is 100% reversible. So that means if you ever decide to trade your Corvette in, or are selling it without the supercharger system, simply remove the unit, put the factory tune back into the ECU, and it's like it was never there. ProCharger engineers spend the time to make sure no bending, drilling, tweaking, or modifying has to happen for a customer to enjoy these great power gains. How much power do you ask? Well below is the graph from this installation on straight 91 octane California fuel. Some of you that are familiar wtih the fuel in Cali, are aware that sadly they get the short end of the quality stick. But even with that handy cap, this C7 was still able to belt out some mighty impressive power numbers.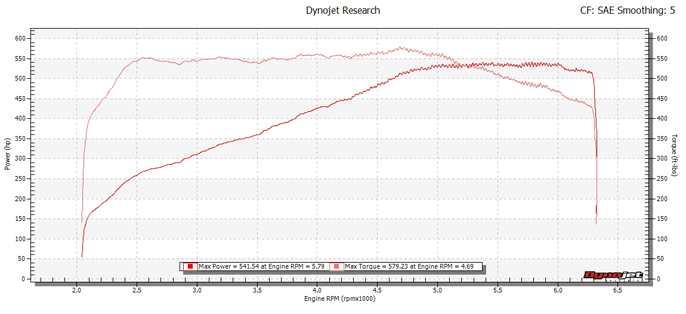 The other car talked about in the previous story opted for the polished finish on the supercharger head-unit to stand out in the engine bay. However you can see the guys at Corvette Online choose again the opposite because they wanted the stealthy look of the satin black to blend in with the rest of the OEM engine bay. We still can't decide which version we like better, and still a person can also pick satin aluminum finish as well. (So yes, three color options for both he supercharger and bracket systems)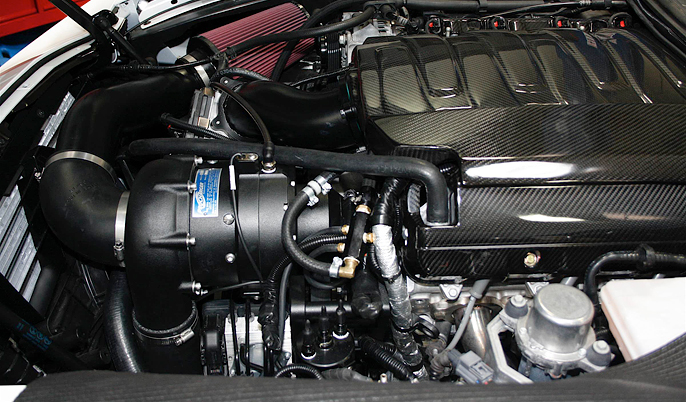 OK, I know we stated that this car has a focus on going around the road course, well thats 99% true. Even though this car is set up to be stiff, and carve corners, the guys wanted to see what she would do at the drag strip. The video below shows off that even this corner carver can still knock down 126 mph trap speeds! That extra 144 hp and 201 ft lbs is really coming in handy at the strip!
If you want to follow more of "Project C700" please keep watching Corvette Online's page for more details. For over the rest of this year, they plan on adding a couple extra goodies to make this C7 even better!
---
If you have anymore questions or comments about this blog, please reach out to us at the following methods
PHONE: 913-338-2886
EMAIL: [email protected]

Estimated Shipping times for these systems due to demand is:
End of March = For all Manual Transmission orders
End of April = For all Automatic Transmission orders