BURNING RUBBER AND FINDING YOUR BOOST WITH A 500 HP 3.6L V6 CAMARO
Most people buy a V-6-powered car for economy, not performance. But ProCharger customers are not "most people." Sure, the 3.6L 2016 to 2019 Camaro gets better fuel mileage than the V8-powered SS version, but it's a dog when you desire hard acceleration. What if we told you that you can keep the fuel mileage of the V6 while making more power than a stock Camaro SS? That's having your cake and eating it too, thanks to ProCharger!
https://i.vimeocdn.com/video/861613231?mw=700&mh=395
ProCharger has two supercharger kits that turn that little V6 into a monster that will outrun an SS while you wave your gas receipt out the window, mocking the SS driver as you storm away. The complete HO Intercooled systems use a P1SC-1 supercharger, a huge intercooler, are easily installed in your driveway in a matter of hours, and bump the power output by 50% (165+ HP) to the 500hp range (more with the Tuner Kit, which requires custom tuning for maximum boost and power). The kits have been shipping for over a year now, and offer the most power increase and ease of installation of any V6 Camaro kit on the market.
Multiple head units available (P-1SC-1, P-1X)
Massive air-to-air intercooler with 630 cubic inch core
Fully reversible with no permanent modifications
Up to 50% (165hp) or higher gains on 7psi of boost
Full systems including tuning available
Multiple head unit finishes available (Black, Polished, Satin)
Self-contained head unit, with CNC billet gear case and impeller
All brackets, hardware, tubing, flanges, bolts, nuts, etc. needed for complete installation are provided
Easy install with common hand tools
No cutting of radiator hoses, or trimming of factory coolant fan
100% bolt on and reversible, requires NO permanent modifications to the car.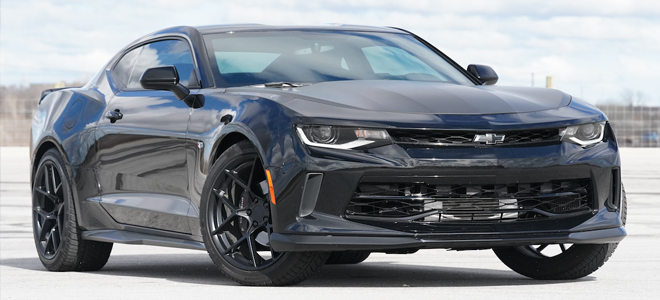 Driving the ProCharged V6 Camaro around town, you'd never know there was a supercharger under the hood—it feels like a showroom-stock car—but when you mat the gas pedal it turns into a whole different animal and really gets with the program. And as you can see above, burnouts are not a problem.
Click HERE for more product info on our product page
BOOSTING THE V6 CAMARO
Give our sales staff a call or an email at the following contact methods below. We will be happy to assist you with any technical questions you may have about our systems, and the results you can expect. Thanks for reading!
Phone – (913) 338-2886
Mon – Thur 8am – 6pm (Fri 8am – 5:30pm) CST
Sales Email – [email protected]
Racing Email – [email protected]